Haye-Bellew Is the Fight That British Boxing Deserves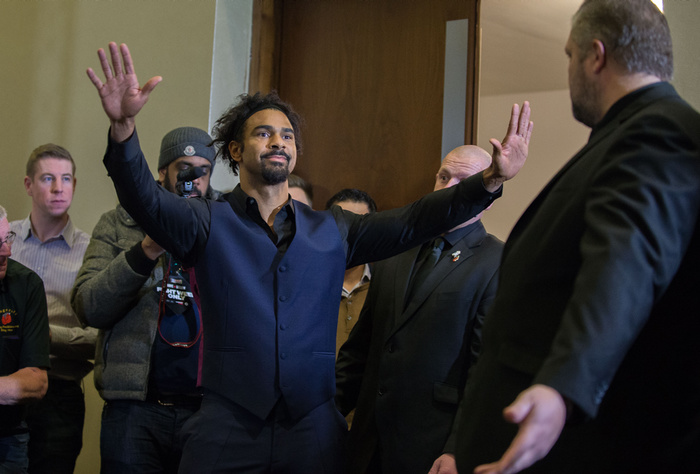 Before David Haye's defence of his WBA Heavyweight Championship against John Ruiz in 2010, the sandwich board outside my local pub advertised "Live Boxing, Here Tonight". My father drolly questioned whether the pub had a TV or whether they were expecting a rough night. Back then, David Haye was the coming man in British boxing, the good-looking and fast-talking talk show favourite that we thought might restore the glamour division to the heights not seen since Lewis and Bruno. Needless to say, it never happened.
Anthony Joshua now occupies that role and all power to him. His meeting with Wladimir Klitschko on April 29 might well be the day that boxing returns to the British sporting mainstream, but in the meantime, Haye is back at the domestic top table and we find ourselves gearing up to a fight that tells us a lot about why boxing has found itself on the margins.
This Saturday's fight between David Haye and Tony Bellew is a synecdoche of 21st century British boxing, where the months in the media before are more important than the rounds in the ring. It is somewhat strange for an outsider to understand why this fight would stir the British id so much, but it speaks to the way that Brits consume boxing. We get the fighters that we deserve.
There is a part of the casual British sports audience that sees boxing as a pub punchup held in a ring. It runs through all of our sports. Our football was marked by violence for decades, our rugby is still an organised scrap. It's surprising that we get to the end of five days of cricket without breaking the bats over each other. So when Haye and Bellew's promoters get around a table to discuss how they might make anybody part with £17 of their hard-earned to watch a third rate heavyweight clash, the tone descended rapidly.
Needless to say, the first press conference was an interesting one. Bellew aimed a headbutt at Haye before ducking out of the way of the punch that came back his way. In the weeks that followed, the insults have been both hilarious and playground. Bellew has called Haye a "gobshite" and a "bad human being" and "Sideshow Bob". Noel Coward it was not. Haye fought puerile with puerile; calling Bellew "bellend" and branding him a "skinny fat constantly angry scumbag". In the fight week press conference, where again the fighters had to be kept apart by security, Haye called Bellew supporters—who understandably greatly outnumber Haye fans—"fucking retards". The famed British wit and repartee has seen better days. Promoter Eddie Hearn showed a promoter's traditional instinct for the understatement: "It does kind of bring boxing into the gutter a little bit."
Haye took it from the gutter into the sewers, later stating: "Let's see who's around your hospital bed on March 4. His life is on the line." The British Boxing Board of Control are investigating Haye's comments, which come at a time when the whole sport in the UK is under fire following the death of Scottish fighter Mike Towell and the enforced retirement of Nick Blackwell, both after injuries sustained in the ring.
This is David Haye's base level. He had T-shirts printed featuring the severed heads of the Klitschko brothers before his lopsided defeat to Wladimir in 2011. Close followers of Haye's career will remember his meeting with Dereck Chisora in 2012, where a pre-fight brawl that began a promotional slanging match that ended in one of the most ludicrous press conferences of all time—two 200+ pounders separated by a single mesh fence—and a broadly underwhelming bout. Less avid Haye watchers might have forgotten about the time he told Audley Harrison that their fight would be "as one sided as a gang rape" or when he said that he would beat Jean-Marc Mormeck like "Rodney King in the LA Riots". Subtlety and style are not commonplace in boxing, but Haye is about as classless as they come.
Bellew too is not above lowering the tone. He was one of the few pros to back up Tyson Fury's homophobia and is prone to bizarre Twitter rants about killing peadophiles. His in-ring career has wavered between the spectacular and the tedious. He currently holds the WBC Cruiserweight belt, knocking out Ilunga Makumba spectacularly last year, though that fight is the only action he's seen against another top 20 fighter from the division. He rarely fights outside of Liverpool and his only meaningful contests have come at light heavy against Adonis Stevenson (who destroyed him in six rounds) and two fights with Nathan Cleverly, the second of which memorable only for the total lack of action over twelve rounds.
Bellew managed to add power when he made the move up from light heavyweight to cruiser, and will need to do so again to trouble Haye. He has sparred with Haye in the past and will know what the Londoner has in store for him should he get caught. If he wins, it is unlikely that he'll stay at heavyweight and will return to his more natural level and if he loses, he has expanded his profile immensely.
Haye, on the other hand, is lacking in options. He was a legitimately good fighter, but with the emphasis on was. His last proper fight was five years ago and is now 35. Lose here and it must be the end of the road. Win and the chances of a final payday against Joshua or Fury are suddenly a lot more realistic. If he can produce anything like his form of the late 2010s then he'll win easily. The bookies have Haye within 6 rounds, at which point we can all stop encouraging them and go back to watching a sport rather than a soap opera.
We won't though. In truth, nobody will tune in for a boxing match. When Haye says that he'll cave Bellew's skull in, that he'll put him in the hospital, it is because he knows that is what the British public want to see. The o2 Arena is sold out and the PPV buys will be huge. Boxing fans in the UK—myself included—want blood, guts and knockouts and the chances are that we'll get all three on Saturday night. Like I said: we get the fights we deserve.
Check out these related stories:
What Exactly Is Going On Between Manny Pacquiao and Amir Khan?
Does Deontay Wilder Have the Skills to Be THE Heavyweight Champion?
The Elements of Style: The Jab