I Left Wall Street to Become an MMA Fighter in Peru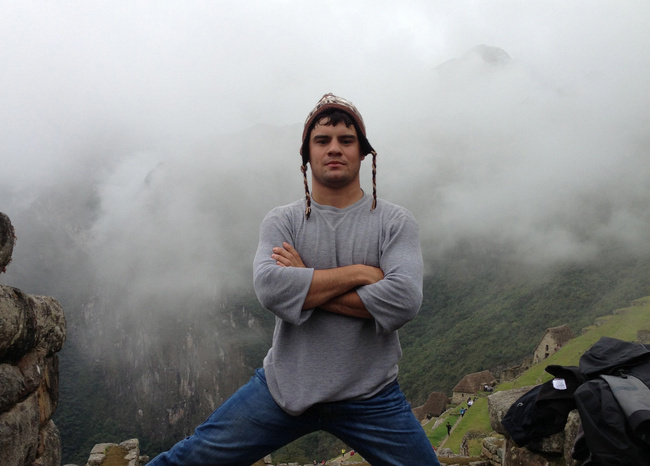 Three months ago, I was sitting at my desk in New York City trading bonds for a Wall Street bank. It was everything I'd ever wanted, but something was missing. So, I left in search of that puzzle piece and for the past two months I've been living in Lima, Peru training mixed martial arts full-time. I've won two amateur fights, and have my professional debut on April 16th. This is my life now, it wasn't always this way, and it was all because of a South American fighter named Ivan "Pitbull" Iberico.
Back in October, I went on a vacation to Peru with some college friends. We all wrestled together at the University of Pennsylvania and one of our old teammates, Ben Reiter, lived in Lima. After college, Ben moved down as part of a charitable program to teach English in a small village. While living in Peru, he started training mixed martial arts and soon won the Middleweight title for a local promotion called the Inka Fighting Championship. On my last day there, he convinced me to come train at the local MMA gym with him.
I hadn't worked out much in the two years since college, but I started to roll with one of the younger guys. I wasn't very experienced in jiu-jitsu, but my wrestling instincts took over and I was able to score takedowns. I soon drew the attention of the gym. Ben pulled me aside, "They want you to go with Ivan. He knows wrestling and has trained with the Cuban Olympic team."
Ivan and I locked up. On our feet we traded shots, each ending in a dead end scramble. I grabbed a single leg and dove for his back, scoring a takedown. Then another. Eventually, he got in on a deep double leg takedown and I back-pedaled, trying to keep my balance. I reached down, grabbed his triceps, and pulled him up so we met chest-to-chest. I threw him on his back. He stood up with a grin and shook my hand.
Ivan wanted to take us out for drinks before our flight home that night. When we arrived at the bar, he ordered two bottles of Johnny Walker Black and filled everyone's glasses to the brim. He started speaking to Ben rapidly in Spanish. Ben turned to me and translated. "He said that he is going to get you to come fight here."
I rolled my eyes, "You know that's ridiculous, right?" I said across the table.
Ivan looked up at me and stared into my eyes, daring me. "He said that when he was young, he left to train in Brazil with 100 dollars in his pocket. He can tell that you still have the itch to compete."
I thought back to my fateful final college wrestling match at the NCAA tournament two years earlier. I had gotten pinned. If I had won, I would have been an All-American. It was the third year in a row I had lost in the very same round and I was devastated. For the rest of my senior year I drank myself into oblivion, trying to dull the pain. To this day, I tried not to think about it. And I usually didn't, but while sitting in the bar, the memory reawakened. Ivan tilted his head to the side and laughed. "He says that he is confident you will find a way."
I returned to work the following week and caught up with all the numbers that blinked across my computer screen. It was no use though, the seed had been planted and I couldn't seem to shake it. If ever there was a time to do something like this, it was now. I could live in a different country, learn a different language, immerse myself in a foreign culture, and have life-changing experiences. Here was an epic opportunity for adventure staring me in the face, daring me to blink.
I had always wanted to work on Wall Street. I had a pretty wide choice of colleges since I wrestled, but I chose UPenn so that I could study Finance at The Wharton School. I spent four summers interning for various firms and eventually graduated with a job at the Royal Bank of Canada. I wound up trading investment grade corporate bonds on the proprietary-trading desk. After two years, I was about to get my own portion of the portfolio to manage. I had met all of my own goals, but I felt like there was more the world had to offer than a number on a pay stub.
I ran through every justification as to why moving to Peru was unreasonable and stupid, but it was too late. I had made up my mind. I sat down and booked a one-way flight. The die was cast.
Two months have gone by, and I haven't had a sip of alcohol since my first day living here. I haven't even been to the bar yet. I train under Ivan full time now at the Pitbull Martial Arts Center. Right away, I started worked on my striking skills. I had done a little boxing back in New York, but I still knew next to nothing. At the end of my one of my workouts the first week, Ivan brought a small child over to spar with me. He was scrawny and couldn't have been more than 16 years old. I had never really sparred before, so this seemed like the perfect warm-up.
BAM. He caught me with a hard right to the jaw. I was shocked. I steeled up quickly and went after him. I pressed forward and threw wild spastic punches. Each time, he dodged and planted another one on my chin.
When it was over, Ivan delivered a lecture. "He hit you hard on that first punch and you let it get to you. Your form sucked after that," he explained. I was embarrassed by the whole fiasco. Had I quit my job for nothing? Sensing my panic, he added that I did impress him with the way I had kept moving forward. So there was that.
Since then, I've sparred many times with the more seasoned Peruvian fighters and have improved by leaps and bounds. At the end of February, our gym hosted a series of amateur fights. It wasn't until the morning of the event that Ivan told me I had a fight. Apparently, last minute is how things go around here.
When the bell rang, we traded a few jabs on our feet, but I used my wrestling to take him down. On one takedown attempt towards the end, I caught an uppercut to the mouth, busting my lip open. In my heavy breathing, I exhaled and sprayed blood all over his abdomen. It was another less than ideal first experience, but again, I was proud that I had been hit hard and still finished the takedown. I won the fight.
I'm still down here in Peru, and I continue to train hard, improving a little bit each day. I eventually scheduled a professional fight, fully committing to my new lifestyle. Last month, I talked to an old friend from work, "Your fight poster has gone viral on Wall Street." I hadn't even fought yet, but hearing this feedback from my old life was strangely satisfying. It finally felt real. It was as if my entire adventure had been compressed into this simple picture. "I am a fighter now," I thought.
Check out these related stories:
Fightland Worldwide: Takanakuy