In the Shadow of Lumpinee: Building Champions in Singapore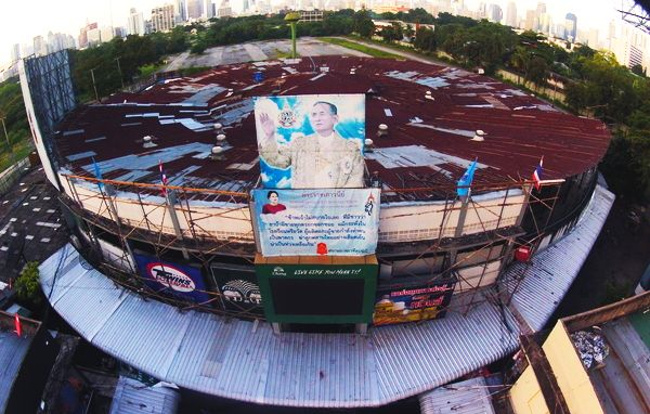 Fighters with backgrounds in Wushu, Karate and Taekwondo have all enjoyed success inside the ring, but most mixed martial artists use Muay Thai as a base for their striking and will cross train in the sport known as "the science of the eight limbs."
One camp in Singapore has taken the idea of using Muay Thai as a striking base for MMA to a completely new level by recruiting some of the most talented fighters to emerge from Thailand in an entire generation and putting them to work training top level mixed martial artists.
The names of the Thai trainers at Evolve MMA might not mean much to your average fight fan but back in Thailand they are legends. Attachai Fairtex, Namsaknoi Yudthagarngamtom, Chalee Sor Chaitamin, Saenghiran Lookbanyai, Orono Wor Petchpun and Dejdamrong Sor Amnuaysirichok were among the best Muay Thai practitioners of their era and all held titles at the sport's ultimate proving ground of Lumpinee Stadium.
They are all full time employees at Evolve MMA and every Monday, Wednesday and Friday afternoon the camp's fight team, which counts Shinya Aoki, Ben Askren and Tarec Saffiedine among its members, are put through their paces by this highly decorated group of Thai trainers.

Photos via Evolve MMA
Namsaknoi, a two time 'fighter of the year' winner, is perhaps the most recognizable of all the former Muay Thai champions at Evolve MMA and he admits he never expected to find himself working with what was an unfamiliar sport.
"Before I came to Singapore I didn't know anything about MMA, but I have learned a lot from watching fights and seeing the training and from being in the corner when the Evolve MMA fighters fight," he said.
This experience has helped Namsaknoi to adjust his style as a trainer to suit the mixed martial artists he works with on a weekly basis.
"Muay Thai fighters can kick very hard, and learning to do that is the same for any sport, but there are some big differences because in MMA you have wrestling and takedown so there are some techniques from Muay Thai which are not as effective. For instance, in Thailand we are taught to kick to the body because that technique scores a lot of points, but in MMA it is better to kick to the leg or to the head because those kicks are more difficult to catch," he said.
The Thai trainers have all been taught how to throw in faked takedowns when holding pads to keep the fighters on their toes but Orono, who has spent some time training in wrestling and BJJ, believes that the differences between studying pure Muay Thai and doing striking for MMA are not that great.
"Muay Thai makes you very fit and strong and fast and it gives you power and these things are all important in MMA. When I see a fighter from Evolve MMA using good Muay Thai technique in an MMA fight it makes me very proud and happy," he said.
While the experiences that Saenghiran had during his Muay Thai career might be dramatically different from anything a mixed martial artist will go through he still feels he can use his knowledge to guide the younger fighters.
"When you have a big fight at Lumpinee or Rajadamnern people will sometimes bet millions of Baht and everyone wants to win the titles so the competition is very hard and there is a lot of pressure on you. It is very important to stay calm and relaxed because otherwise you will not perform to your best and this is something I try to teach the MMA fighters about," he said.
Fighters in Thailand start so young and compete so frequently that their experience is immense and the only frustration for Namsaknoi is how little time the mixed martial artists he works with have to develop their striking skills.
"In Muay Thai you start fighting when you are five or six years old and every fight teaches you something new—I think I have had around 400 fights. Some of the MMA fighters only have around two or three years of experience so they have a lot to learn but we try and teach them as quickly as possible."
Techniques from Muay Thai are gradually starting to make their way into MMA, with the teep (or pushkick) to the face immortalized by Anderson Silva in his famous UFC 126 victory over Joe Silva, while Dong Hyun Kim also scored a memorable spinning back elbow KO of John Hathaway at UFC Fight Night in Macao.
Fight finishes like this might leave Joe Rogan salivating but the only surprise for Namsaknoi is that we don't see more Muay Thai techniques utilized inside the Octagon.
"For me, the standard of striking in MMA is still low, sometimes the fighters look like beginners when they are trying to punch or kick and there aren't many MMA fighters who know how to use their knees or elbows. I hope that by sharing some of the things I have learned in my career I can help the team at Evolve to improve and to show the world that Muay Thai is the most dangerous martial art."
Check out these related stories:
Sun, Surf, and MMA: The Leone Brothers Move to Bali
A Cuban Defector is Building a Cambodian Boxing Champ