Jack Slack: Gunnar and Rory's Big Weekend

Photo by Michael Campanella/Getty Images
It's another double card this Saturday, as the UFC attempts to lock down the weekend of all the fight fans out there.
The cards aren't remarkably strong, but the main events of both are well worth a study. So today we'll look at some of the details of Rick Story versus Gunnar Nelson, and Rory MacDonald versus Tarec Saffiedine.
MacDonald versus Saffiedine
Probably the fight I am most looking forward to. Saffiedine is one of the finest kickers in mixed martial arts, having chopped down numerous tough guys with low kicks, where MacDonald is a devestating ground and pounder who is rounding out his arsenal on the feet.
MacDonald has faced some critique in recent years for his Lennox Lewis problems. That is, he can keep an opponent on the end of his jab all fight, but if that's working he will often refuse to step in and land heavier shots. Most who followed any of Lewis' career will remember the late, great Emmanuel Steward almost losing it at Lewis between rounds, telling the heavyweight to throw his right hand.
One of MacDonald's most memorable performances was against the hugely overmatched B.J. Penn. In that bout, MacDonald hit Penn with everything except the kitchen sink. Though Penn has always responded to opponents with a reach on him almost as badly as he has responded to getting hit in the body.
MacDonald loves his front kick, to keep the opponent upright, and then his Brazilian kick follow up. The Brazilian kick is the act of picking the leg up as if to front kick, then swivelling the hip all the way over so that you are almost kicking down on the opponent. The most famous practitioner of this kick was the Brazilian Kyokushin karateka, Glaube Feitosa. Notice that Feitosa's kick is less roundhouse and more downwards.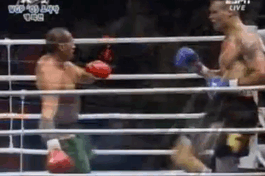 Yep, that's the 6'11 Semmy Schilt he's kicking in the head.
Speaking of karate, Tarec Saffiedine is a karateka with astonishingly crisp low kicks. Saffiedine found popular acclaim in his absolute destruction of Nate Marquardt to take the Strikeforce welterweight title. In his sole fight in the UFC, Saffiedine took on Hyun Gyu Lim and had Lim struggling to carry himself upright by the end. Two things are particularly enjoyable and unusual about watching Saffiedine's game. The first is the dexterity with which he low kicks. It's not a simple case of step in and swing a power kick—which Anderson Silva and Tyrone Spong have both shown can lead to bad things. Saffiedine will peck with kicks, slap with kicks, and only dig in the big ones when he's already got his man limping.
The second interesting facet of Saffiedine's game is that he is one of the few fighters I have ever seen use a classical double forearms cover up effectively in MMA. In boxing and kickboxing, you can hide behind your forearms and gloves all day. Just look at Joshua Clottey versus Manny Pacquiao. In MMA, the gloves are too small and the punches leak through. It's like using a colander to cover your head in a storm. Half of Stefan Struves numerous knockout losses are due to his covering up along the fence and it just not working.
Saffiedine, meanwhile, uses his forearms in front of his face to deflect the force of straight blows, and as the opponent is recovering to their stance, he'll snap in a quick kick to their leg. It works beautifully and after two or three, the opponent only gets slower.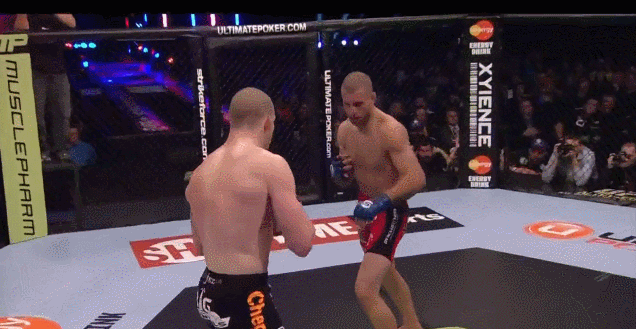 The principle for this is exactly the same as the usual method of landing low kicks—to get an opponent backing up. When an opponent retreats, one leg is trailing and it is very hard to check with that leg, while retreating. You can get the opponent retreating by forcing them back—but most fighters like to bounce in and out with their punches as they have been taught to. If you bounce in and connect with someone's guard, you bounce out and that leg is trailing just as if you had started the exchange on the retreat. Retreating legs are appetizing targets.
So the problem in this fight is—how do you kick effectively against someone who will have an enormous advantage if they get on top of you? One method is to kick below the knee—kicking the thigh can easily ride up into the opponent's hand, kicking the calf is hard to catch and has the additional benefit of breaking the balance.
A quirk in this bout which I don't expect to see exploited, but is good for fight fans to start noticing, is MacDonald's recent tendency to raise his lead elbow to deal with right punches. Against Woodley it was very clear. A good right straight into a right round kick to the body could be a fight changer againt MacDonald, and if anyone has the kicks to get it done, it's Saffiedine.

Right elbow rises, asking for a winding shot to the ribs.
Realistically this match comes down to not just can Saffiedine stay upright, but can he stay out of clinches long enough to do his best work. Wrestling is the single most important skill in MMA because even if you don't have the edge on the ground, you can hold a fighter against the fence and work from there. Nobody can play guard standing against a wall... except Shinya Aoki.
Nelson versus Story
And that brings us on to the second most interesting match on this weekend. Gunnar Nelson versus Rick Story. Story is king of the spoilers. By grinding and making ugly fights he has managed to pick up wins over some truly world class welterweights including current UFC champion Johny Hendricks.
He's been pretty hit and miss recently, but his modus operandi has been swinging hard and moving to the fence. Gunnar Nelson, meanwhile, with his traditional karate roots and terrific BJJ pedigree, has always been about keeping the distance, intercepting with a wicked reverse punch, and moving straight to the ground. When he gets dominant position he is something to behold.

Punch and clutch, straight into the trip. Channelling the spirit of Fedor.
Against Omari Akhmedov, for instance, Nelson did exactly what you want to see from a smart fighter in top position. He got on top early, ground away with brutal ground and pound, then as the end of the round approached he moved to knee on belly. Knee on belly has famously been used by men like Marcelo Garcia to encourage an opponent to turn into a guillotine. Giving a little space in one direction is an excellent way of forcing action.

"Thirty seconds!", Nelson immediately goes for the finish. Six seconds later he has it.
At any point in that round, Nelson could have worked for the same submission. He could have transitioned to side control or knee on belly whenever he wanted. Here's the thing: if you dive to your back with a submission attempt early in the round and you don't get it, you will often spend the rest of the time in that round on your back. If you're on your back for more time than your opponent—even against a mediocre top player—you are almost guaranteed to lose the round unless you did something really special when you weren't on your back.
It's something you hear guys like Matt Hughes talk about a lot, but it gets missed a good deal by younger, more promising prospects who just don't have the good sense. We all remember Alan Belcher throwing away his bout with Yushin Okami by giving up top position to attempt guillotines. Time management is an extension of ring craft. If you want to really go all in on a submission attempt, do it when the opponent has nothing to gain from coming out on top.
Those kind of smarts from Nelson, as well as his will o' the wisp karate instincts on the feet (I love an elusive fighter) suggest he has a good future ahead of him at welterweight. What Story does represent is a good test of Nelson's wrestling and his fall back if he can't get Story down. Unless he's wobbled with a good punch on the way into a trip, Story is likely to make Nelson work hard for any transition to the ground game. And on the feet, Story will swing hard even while taking punches so fighting one punch at a time could be risky for Nelson too.
A solid gatekeeper against a hot young prospect—what's not to like?
Pick up Jack Slack's ebook, Fighting Karate at his blog Fights Gone By. Jack can also be found on Facebook and Twitter.
Check out these related stories:
Jack Slack: How Conor McGregor Scratched 'The Diamond'