Jeff Monson Gets Naked in Russia With a Guy in a Bear Suit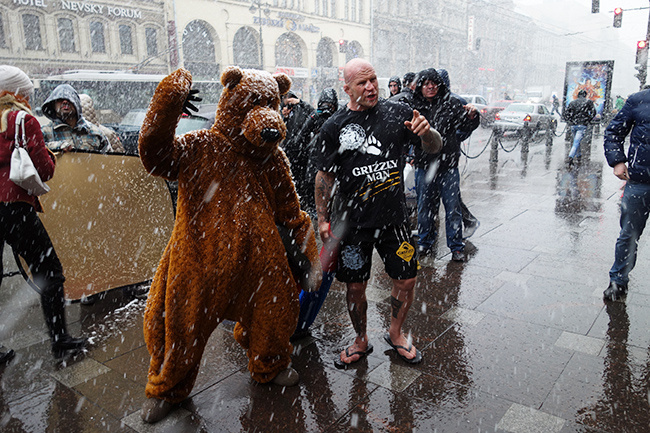 Jeff Monson waited beside Nevsky Prospekt, St. Petersburg's grand avenue, promenade of czars and revolutionaries, in a wet April snowstorm. He wore flip-flops, shorts, and a T-shirt, the collar falling below a neck tattoo that read "Destroy Authority." A few feet away stood a diminutive Russian in a bear suit. Together they held the feet of another Russian, who lay on his back on the pavement and wore a Spiderman costume. A photographer busied himself around them, giving instructions in Russian and English through the din of traffic. A crowd of onlookers gathered, snapping pictures on camera phones.
"Jeff! Jeff! Can you point there with your left hand?" the photographer asked Monson, motioning to the entrance of the Grizzly Bar, a restaurant thirty feet away. "Like, 'Let's go there, bro!'"
Monson and the bear pointed. The photographer bent to arrange Spiderman's arms.
"More up!" the photographer instructed Monson. He stepped back and snapped pictures. Monson and the bear dragged the Spiderman toward the entrance of the restaurant. When they arrived, Spiderman got up and brushed himself off. The bear pulled off his head and conferred with the photographer.
Monson walked into the Grizzly, a chain of Americana-themed diners for which he is the public face. Customers sat in plush booths upholstered in red leather. The waitresses wore red, white, and blue cheerleader outfits. "Kokomo" played over the sound system. The walls were hung with Betty Boop posters, a Confederate flag, knockoff NFL team logos, an aluminum sign with crossed revolvers and the words "Smith & Wesson Spoken Here." Display cases showed off Star Wars and X-Men collectibles. A shelf held busts of Scully and Mulder.
As Monson got warm, he watched one of the restaurant's flat-screen televisions. They played a loop of random television and movie clips—a snippet of Home Alone gave way to The Simpsons to a few minutes from Grease, on to Winnie Cooper in The Wonder Years and then Tango & Cash. Interspersed with these were scenes of Monson himself—giving an interview, shadowboxing, walking out from the locker room before a fight.
Monson watched clips his last fight in Russia, from November 2012, against Aleksander Emelianenko, which Monson won with a North-South choke in the second round. On the television, Monson threw a hook at Emelianenko that failed to connect. In the restaurant he groaned: "Oh, that's ugly."
Two teenage girls hesitantly approached. "Excuse me, may we make a photo with you?" one asked. Monson posed with them and they hurried away, giggling as they looked at the picture.
A minute later a squat man with an excited air came into the restaurant and put his face about six inches from Monson's. "I am Andrei!" he said. Using pidgin English and hand gestures, Andrei communicated that he was a massage therapist and would be happy to give his services to Monson for free. He gave Monson a business card. Monson spoke slowly: "I will call you later this week. Thank you."
The photographer was not happy with the circus building around his photo shoot. "I think someone tweeted that Jeff is here," he grumbled.
This was the third time I'd been in Russia with Monson. And with each trip the Snowman's fame had, well, snowballed. Hotel staff asked for his autograph; restaurants put him in private rooms so he could eat undisturbed; rough-looking men stopped him on the street for photos, posing with their arms draped over his shoulders. He'd recently been a guest on Russia's version of The Tonight Show, a few days after Halle Berry appeared to promote her new movie. Monson may just be the most popular American in Russia. "It's a shock, really," he says. "It's just one of those cases, I know that it's not forever."
Monson's political activism as an anarchist has led to a longstanding interest in Mother Russia—he is certainly the only fighter who cites Tolstoy's The Kingdom of God is Within You, Mikhail Bakunin, and the 1917 revolution as major influences—but he'd never been to the country before his November 2011 fight with Fedor Emelianenko.
For Fedor, a true Russian MMA hero, that fight was part of a calibrated effort to restore his reputation after his eight-year win streak was broken by three consecutive losses. In front of a live crowd in Moscow that included Vladimir Putin and a broadcast television audience of some 10 million, Fedor stayed away from Monson's ground game and punished him for three rounds with punches and low kicks. Monson broke his tibia but finished the fight. As he was being helped to the locker room, Putin climbed into the ring to a cascade of whistles and boos, a public jeering that drew international media coverage. A Kremlin spokesman the next day suggested the crowd had been booing Monson for leaving before the decision was announced.
Over the next week, while Monson nursed his injuries, Russians flooded his Facebook wall with thousands of supportive comments:
Jeff, I respect you!
You are strong, hard fighter.
Putin - the coward and the liar who tries to be covered with you. He is - a country shame.
Yours faithfully, Martin.
St. Petersburg, Russia
Mr. Monson, respect from all russian anarchists. Your intentions are honourable, you are admirable. No one can live without defeats, but you are a real man, and this one will make you even stronger. Don`t give up!
Jeff, you're a great fighter and a very kind person. You fight with a lot of respect, and Russians will never disrespect a great sportsman who lost. We boo the one who has no respect and fight for our freedom.
Monson, who started his career as a mixed martial artist in 1997, had wanted to fight Fedor for years and was bitterly disappointed about losing. ""It's kind of ironic," Monson he tells me, referring to his celebrity status in Russia. "It was one of my worst fights, worst strategy, worst sticking to the game plan. I guess they respected me just being in the ring with him, he's such a celebrity there. Life is strange sometimes, and that was certainly a strange twist."
Monson returned to Russia and won fights in March, June, and November of 2012. For one of the fights, he chose the old Soviet National Anthem as his walkout music (Be glorious, our free motherland/A reliable stronghold of peoples' friendship!/The Party of Lenin, the strength of the people/Leads us to the triumph of Communism!), in another an old rock song lamenting the invasion of Afghanistan. In interviews, he spoke of his love for Russia and a desire to get citizenship. In his free time he gave grappling seminars, met with anarchists, and visited historical sites. It's no wonder a country that has weathered revolutions, feudalism, Communism, and invasions by Napoleon and Hitler took MMA's ultimate grinder to heart.
The most common comment Monson hears from Russians is "You are a real man." In America, MMA is a hybrid of sport and entertainment often served with a wink, be it Rampage's chains and howling-at-the-moon shtick or Chael Sonnen's WWE impersonation. In Russia, fight crowds treat MMA as a serious, even stern, athletic endeavor, remaining quiet during fights until a good strike or takedown and then applauding in appreciation. It's no coincidence that Putin likes to be seen at fights, when he's not out engaging in shirtless horseback-riding or measuring polar bears.
Back in the Grizzly Bar, the photographer was setting up the next part of the shoot. Spiderman was to slump at a table—either knocked out or drunk, it was impossible to tell—while the bear posed next to a spread of cards and a pile of gambling chips. Monson was to stand there naked, handing his shorts over to the bear, as if he'd lost everything in a poker game.
Monson gave his iPhone to Dmitry, the Russian tasked with getting him around town. "I want you to get ready to film when I say," he told him.
Leonard Cohen played as the photographer started to shoot. "Rolling, rolling, rolling," he said. Monson, already shirtless, slowly peeled down his shorts. "Working, working, working," the photographer said. "One leg … second leg. Slowly, up, up, up. Legs together."
Monson stepped out of the shorts and cupped his privates with his left hand. With his right, he held the shorts out to the bear.
"Steady! Everybody freeze!" the photographer said. "Nobody moves, nobody gets hurt!" The flash fired.
Satisfied, the photographer called a wrap. The man in the bear suit removed his head, sat it on the table, and leaned back in his chair, hair plastered down with sweat. Monson looked at Dmitry, who was ready with the iPhone, then walked over to the bear, straddled him, and vigorously humped the startled Russian's chest.
Monson grabbed his shorts off the floor, pulled them on, and retrieved his iPhone from Dmitry. He watched the video, laughed, and posted it to Twitter. "We have to get them to give us that bear suit for tonight," he said. "Do you know how much fun we could have with that?"
Check out these related stories:
Julie Kedzie, Silvio Berlusconi, and the Early Days of Women's MMA