Jon Jones Rekindles His Rivalry With Daniel Cormier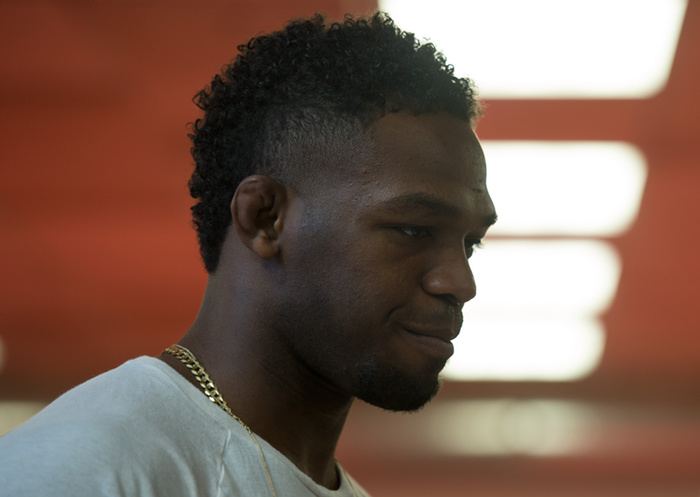 Jon Jones has had a rough time of late. From testing positive for cocaine to his infamous car crash that saw him suspended by the UFC and his light-heavyweight title revoked, it has no doubt been a tedious time for the prodigal former champion.
In terms of ability, 'Bones' is arguably the greatest talent on the UFC's books. Stories have been batted around for years about how little he trains and yet when it comes time to get down to business in the Octagon, the rangy 205er usually looks in a completely different league to most fighters on the planet.
When his Albuquerque road accident ruled him out of his UFC 187 meeting with Anthony Johnson, Daniel Cormier was brought in to take his place. It made sense at the time given that Johnson had stopped Alexander Gustafsson in one round back in January, and although 'DC' clearly was on the losing end of his bout with Jones in the same month, he still managed to go the distance with the controversial light-heavyweight king.
For the majority of fans, a win for Johnson was needed to keep the division interesting. The only man who hadn't been defeated by Jones inside the UFC's top five rankings at the time, a win for Johnson would have kept the bout with Jones interesting. Cormier's domination of Johnson in the grappling department set him apart from the Blackzillians man back in May, and despite being the obvious winner of the contest with a third round submission victory, it wasn't long before social media feeds were filled with criticism of the new champion due to his previous loss at the hands of Jones.
The despair seems to have wound down a bit since his split decision win over Gustafsson at UFC 192, his first defense of his title. Cormier is without a doubt one of the fiercest competitors under the promotional banner, and it was evident from the UFC 182 press conference how heartbroken he was after suffering his first and only loss as a pro MMA fighter to Jones.
There is no doubt that 'DC' brings the best out in Jones. Now, when I say 'best', I'm talking in terms of entertainment. The infamous 'Hey pussy, are you still there?' amid off-air death threats as the UFC 182 championship pairing waited to go live on ESPN was the greatest unintentional piece of marketing UFC ever had. For the first time a lot of MMA fans felt they saw Jones how he really is. The god-fearing, grateful and humble champion that he once portrayed didn't seem to make sense alongside his devastating showings in the Octagon, but this arrogant, name-calling and aggressive Jones certainly did.
Many feared that Jones would go back to his old, grateful demeanor given the controversy that surrounds him now, but last weekend Jones and Cormier took off right where they left off, just a week after 'Bones' was reinstated by UFC.
On Friday, Cormier sparked the rift between the two when he claimed he would be making an appearance at the grand opening of the new Jackson/Winkeljohn gym in Albuquerque. Although Cormier was probably firing back at Jones after the former champion claimed he would beat him in his old stomping ground, the OSU wrestling room, Jones tweeted the gym's address and told 'DC' to "stop by" after his claim that he would show up at the opening.
"I'm gonna be there but I need u to make it to the octagon, we don't wanna violate parole now do we," Cormier fired back at Jones, and it seemed the dig at his legal situation had the desired impact.
Jones replied with somewhat of a throwback to their off-air back and forth from December last year:
"Too pussy to fight at the garden but flies all the way to Albuquerque to prove he's a man #Scratchingmyhead you on your way pussy?"
Later the same day, Cormier tweeted a crudely photo-shopped picture of himself with the Albuquerque gym's 'JW' logo in the background along with a message that exclaimed in jest: "I'm here they won't let me in! Next time he has to come to the Bay!"
Jones hit back with two tweets of his own:
"Did this idiot seriously just Photoshop a photo? Funny how not one of the thousand people who SHOWED UP saw you today."
And finally, with a 'Fresh Prince of Bel-Air' reference to boot:
"I'm done talking with you for now Carlton Banks. You are losing this battle, let's just prepare for the real one."
Whoever won the back and forth between the two is really not important, but seeing Jones come back and re-embrace his dark side with Cormier at the top of the division definitely adds something to the rematch.
Say what you will about Jones' track record, but as fans of the sport you can't help but look forward to seeing him back at work in the Octagon. His Instagram has acted like a constant teaser for his return last week, and by all means, Jones looks in great shape from what he has posted. Whether Cormier has improved enough to retain his belt remains to be seen, but I for one can't wait to see it when it happens again.
Check out these related stories:
Jones and Cormier's Twitter Barbs Don't Bode Well for Bader
Jon Jones Once Again Steals Cormier and Gustafsson's Limelight