Jose Figueroa: From Bronx B-boy to Chen Style Master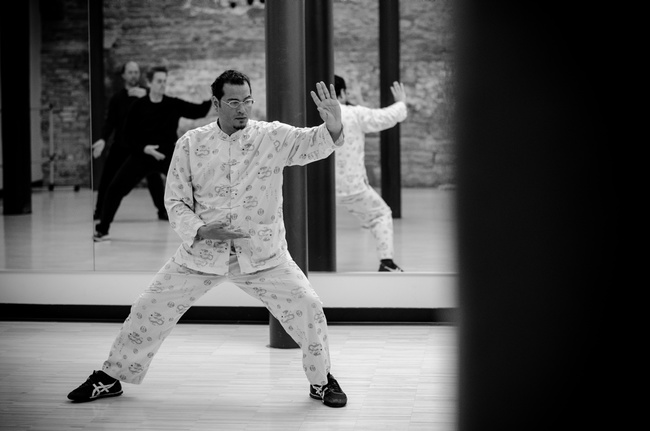 I stumbled across Jose Figueroa's studio while wandering around the old Schmidt Brewery and Artist Lofts in west St. Paul. The lofts hold seminars and events from time to time and Sundance was in town holding a filmmaking workshop. I left to catch some air and found myself at the end of a hallway, staring slack-jawed at a bunch of kung fu memorabilia taped up to the walls outside of one of the studios.
Photos and clippings from the 70s and 80s, a large poster of Sanshou champs Jason Yee vs. Cung Le from the 1997 Kungfu Championships, the first ever televised kung fu event. To one side movie posters for films I'd never heard of like "Final Weapon" with Lou Reed, "Hunting Buddies" and a documentary called "Urban Dragons," all produced or choreographed by a Chen style Taiji master named Jose Figueroa. I looked at the pictures of a man with a ponytail in a "whip" pose sporting shiny white taiji robes and contemplated how the universe works in such mysterious ways. Did a quick search, sent a text, set up a meeting.
Jose was born and raised in Santurce, Puerto Rico, where he "grew up like Mowgli in the Jungle Book" with his three brothers. They moved with their parents to the Bronx when Jose was little, but he remained in Santurce with his grandmother for a few years ("It was a family thing, she said this one stays with me"), not joining up with the rest of the family till he was eight or nine years old. Growing up in the Bronx in the 70s meant you were probably at The Art movie theater watching old kung fu movies, at the jams dancing or fighting or deejaying, or on the streets bombing all night.
"When I first came to the US I couldn't speak any English, didn't have any friends really, until I met this one kid who befriended me. What happened was, I walked in on what I thought was a fight, but it was a actually a group of kids breakdancing, and I didn't know what that was. But I remember one kid who was really good, who stood out, and his name was Jojo. Jojo Santiago. Founder of the Rocksteady crew and he taught me everything about breakdancing."
One cool story from that era:
"At Morton Place I was B-boy Spiderweb. Jojo was B-boy Spiderman and I was B-boy Spiderweb. Kool Herc was one of the guys that was famous for doing the jams outside. Every weekend you'd have some Dj plugging in to the outside light poles for electricity and doing free jams at Cedric Park. I eventually moved to the Patterson Projects and I changed my B-boy name, I was B-boy Flash and my youngest brother was B-boy Kid Flash. Grandmaster Flash was deejaying during this time, he was plugging in at this place called 18 Park. One time he saw my shirt, on the back of my T-shirt it said B-boy Flash, and he said, 'What's a B-boy?' you know he didn't know what a B-boy was, we were the first B-boys I guess he saw. He was like, 'I'm Flash,' and I'm like 'Well, I'm B-boy Flash,' and then I said play Apache, that was one of the tracks all the B-boys know. He played it and we just took it to the floor, took his crowd. After that every time there would be a jam he would give us a shout out, 'B-boy Flash and B-boy Kid Flash in the house!' It was really cool, we were almost like celebrities or something."
New York in the 70s. A melting pot of cultures and styles and art forms and for Jose there was a ton to choose from but in the end, as they say, "you don't choose the art, the art chooses you." The B-boy thing eventually morphed into martial arts - also huge at the time in New York - and the various art forms and expressions that would be Jose's great passion, the thing he does today to pay rent at the St. Paul studio and what infuses every project and dream he talks about. There are graphic novels in the mix, movies and TV pilots. We start our first session in the Schmidt Lofts gym space where Jose teaches several adult classes, and end our last session when his students show up at the door. He's 50 now, but ain't nothing really changed since those days with Jojo at the Art in the Bronx.
"The cool stuff we did as B-boys, sometime it would be just us watching a Jackie Chan movie and doing drunken style. A move he did in Drunken Master, we'd be like, 'oh that's a headspin,' and we ended up coming up with some moves from these films. Not completely you know, but it was a way of creatively coming up with some stuff, then after years of doing the B-boy stuff i discovered Shotokan karate at Davison's community center in the Bronx. A guy named Francisco Gonzalez was the sensei. At the time I didn't know kung fu existed. The movies I was watching, I couldn't tell you if it was kung fu or karate, I was that ignorant."
"When I did discover kung fu, it was in the barrio. I ended up moving to 116th street in Spanish Harlem with my grandmother, so I would go back forth between the Bronx and Spanish Harlem. I saw a local martial artist and he was doing a hybrid martial art and I didn't know what it was, but it looked fluid. I was like, 'What's that?' and he said kung fu. And so that got into my head. A few years later when I was 21 or 22, my sister in law introduced me to her master who was doing Yang style taiji at the community center, Master Derek Trent and Grandmaster J.B. LaPuppet. They were teaching a style that, the main part of it, was Yang style. I sat in on one of the classes, and they had traditional components in the style, but there was also something they had developed called the Alpha Blocks, which was a series of forms you had to learn. So I took that from white belt to black belt over seven years."
"When I met Master Derek, I saw something in what he was doing. When he did the Yang style taiji, the traditional stuff, I was like, 'Whatever that is I want to learn it,' but he was like, 'Nah you don't wanna learn this.' Nobody wanted to learn that because it was boring, it was slow. Everybody was impressed with the Alpha Blocks. I saw how cool the Alpha Blocks was, but I was more impressed with the taiji stuff, because I found it mysterious, you know? Why is he moving so slow? I wanted to know, but he's like No. Finally he caved in and said, 'Ok come meet me here.'"
"I lived in the Bronx and he lived in Manhattan. And that was, I mean you had to take buses and trains and ... so I arrive maybe five minutes late. He's walking down with an apple, eating, and he's looking at his watch and he's like, you're late. Then he goes, Go home. And he walked back upstairs. It's five in the morning, I made this whole trip, I get there and he's like go home. I'm a grown ass man, you know, and I'm just like, fuck. Next time I come back on time and the first lesson I got with him was patience. We started doing the very first opening of the taiji movement and everything I am doing is too fast. Too fast try again. So eventually I get to the point where I can move my hands molasses slow. That's the first time I got introduced to the taiji."
"Over time I realized that the style Master Derek was teaching was a hybrid style and I was more interested in the traditional styles, so I did some researching and found out that Chen style taiji was the original form of taiji."
New York in the 80s. Where a Ren Guangyi, disciple of the Chen style Grandmaster Chen Xiaowang finds a home, sets up a dojo, and teaches the first four American students who would actually dedicated themselves to the art, become capable of passing on Chen style taiji: Joe Chue, Greg Pinney, Jose Figueroa and Stephan Berwick. Last night as I was transcribing some of this I received messages from taiji practitioners on Facebook, "Hey man, are you interviewing Jose?" and "Jose is like my kung fu 'uncle' tell him I said what's up."
I find myself at a crossroads. No, more a web of intersecting lives as I sit in Jose's studio, carved out of the innards of a defunct brewery, Latin and Native and Chinese accoutrements and symbology arranged just so. There is a pile of medals in one cabinet. Swords on the wall, on the dining table, beside a pile of books. A white wolf pelt on a chair catches the afternoon sun and Jose sits there posing with a flute and a gift-sword from China inscribed with the name "Heavenly Blade of the Jade Dragon," and I remember my trip to Chenjiagou to meet Chen Xiaowang a couple years ago. Photos of a young Chen Ziqiang, the nephew and heir to the empire, foreshadows the macho representative of a "soft slow" taiji style I would meet just a few months before he arranged a bout between Muay Thai fighters and his Chen style students.
Jose is telling me about the last time he met with Jojo Santiago, at a special presentation detailing the connection between breakdancing and the martial arts at the Warrington Hudlin's "Fist and Sword" series at the Museum of the Moving Image in New York, when his phone chimes in.
"Oh my god dude, check this shit out, who was I just talking about man? Warrington Hudlin." He shows me. "Facebook notification: Warrington Hudlin mentioned you in a comment." At a later session we find out that his kung fu brother Stephan Berwick traveled to Xi'an in the early 1990s with Donnie Yen and studied wushu with a man I met recently named Zhao.
Jose's stories require books, a TV series, a feature length film. A documentary he worked on, Urban Dragons, tells part of the story, but there's more to it. Now he's working on a project called Shadowlords, based on the old Shaw Brothers Five Masters of Death movie he watched as a kid in the Bronx. There is another documentary in the works about the old school pioneers that brought kung fu to the US public. It never really ends - we start talking about Jet Li and Ang Lee and the work he did as a correspondent for Kungfu/Taichi magazine and the stories pour out as the afternoon the sun sets over the blue collar neighborhood surrounding the old brewery and downtown fills up with Rush fans.
I drift off during one of the stories and start imagining crouching tigers and hidden dragons, locked away in the corners of old buildings surrounded by trophies. A kung fu script pops into my head and I never really come back to St. Paul until a knock at the door signals Jose's adult class is about to start. I gather my stuff and head out into the evening, my head full of breakbeats and taiji forms and the mysterious ways the universe works sometimes.
Check out these related stories:
A Kungfu Contribution to MMA: The Eight Swords
A Shaolin Monk Tries Mixed Martial Arts