Kathy Long: Defying the Boundaries
For long-time martial art enthusiasts, Kathy Long is a household name. A five-time women's kickboxing champion and black belt in three different disciplines, Long's list of accomplishments in the fighting world is an illustrious one. She is the first woman to be featured on the cover of Black Belt Magazine, served as a color commentator at UFC 1, and has appeared on screen in a number of recognized films and television programs. Today, Long is currently training for a return to the mixed martial arts cage. She will be turning 51 this week.
Long trains at the HQ Brand Training Center in downtown Los Angeles, one of a few places where the former champ also teaches kickboxing classes during the evening. During the day she attends a striking session with renowned MMA legend Josh Barnett, who acts as her coach and part-time manager in finding her a return fight.
"We're actively trying to find fights for her. It's very tough," Barnett tells me. "She was a very high level kick-boxer, but it's been a while and she's only got one fight in MMA. Finding an opponent that's 1-0 or 2-0 is challenging, and sometimes the real difficulty is promoters have their favorites. They don't want to do a solid for Kathy and give her a fair fight. They want to try and use Kathy as an opportunity to make someone else's name."
In the fight game, the business equation is a logical one: the longer a fighter is around, the more potential promoters have in cashing-out on a championship name. Investing in a fighter is essentially an investment on youth, and with Long on the horizon of her 51st birthday, it is unclear how many fights her return entails, or if she still retains the athletic capacity to compete at an elite level. It's been almost six years since her last competitive outing and that contest was her first inside the MMA cage. However, these considerations don't seem to concern Long.
"It means nothing to me, it's just a number," Long says when I ask about her age. "You see me in there and I'm working with these guys and I feel fine. My body is responding to what I want it to do, and I feel fantastic. When my body is not responding the way I want to, when my body says I can't do this anymore, alright. I'm done. But right now I'm not done. Right now my body says, 'Yeah I like this, let's go.'"
Long is inside the cage with about ten other students going through striking drills. Her sparring partner is a male fighter that looks about half her age and outweighs her by a good twenty pounds. Barnett yells out a sequence of kicks and punches, and though the pattern is predetermined, the shots still come in at full force, flipping her hair around as she blocks the impact. Long takes a hard kick to the shin and limps to the corner, grimacing in pain as she stretches her calf against the fence. "Occupational hazard," she says to me with a grin. When she returns to take her turn to strike, the intensity is returned in favor. The way her legs give a slight twitch before she shoots show that she's been doing this for decades.
Though Long is mostly recognized for her extensive career in competitive kickboxing, her introduction to fighting started in the traditional martial arts. She holds black belts in Aikido and Shorinyu Karate, and also has a master rank in Kung Fu San Soo, a practice that employs quick applicative attacks, such as eye gouges and sharp thrusts to the windpipe. While the triple-black belt has long ago mastered lethal techniques in multiple disciplines, her initial draw to marital arts was born of the contrary.
"When I was in high school, a friend of mine was studying Aikido and she invited me to her class and I fell in love. But I didn't fall in love with Aikido, I fell in love with the really nurturing environment that the teacher created – super gentle, very caring, very understanding, very kind, very nurturing," Long comments regarding her draw to martial arts. She continues:
"If you understand human nature, everybody wants to belong, everybody wants to be accepted and part of something, maybe something that's bigger than them, to help them grow and evolve. Martial arts is just one venue where people can be accepted for who they are and they belong to something that's wholesome, that's healthy, that promotes good will, that promotes discipline, that promotes being pushed beyond your comfort zone and being supported at the same time. I didn't have that kind of atmosphere at home, so I clung to martial arts for that."
Long describes the environment at home as a "dictatorship", appointing her father as the tyrant and her continued involvement in martial arts as the means for escape. Over time, Long went on to gain considerable recognition in the traditional martial arts community until an observer challenged her to a kickboxing match during a karate tournament. After a ten-day crash course inside a boxing gym, Long took the match at a 70-pound handicap, and by her description, the two "beat the crap out of each other." Though there was no official victor declared in the exhibition, the experience kept Long in the sport, and she went on to compile a final record of 18-1, (though according to Long, the real number is around 35-1-1) while picking up five separate world titles along the way. In a time where competitive women fighters were an anomaly and largely unsupported, one becomes curious to what kept her going in the sport for so long.
"What kept me going? My boyfriend [and trainer at the time] was horribly insecure and jealous, sociopathic and controlling, and because of all that, I did it despite him," Long says. "At first I did it because it was something new and I love to learn new things but after a while it was I discovered I had phenomenal genetics and I could do whatever it was that he asked me to do. You know 'Hell Days'? I was the only one doing 'Hell Days' because none of the other fighters would jump in. It just got to the point where I was the only one willing to do all of the torture that he put me through."
"Hell Days", described by Long, included sprinting up, down and across football bleachers for five three-minute rounds. After the five rounds, the ritual was repeated with a sparring partner thrown over her back. Then the routine was taken onto the field where the fighters ran four 40-yard sprints with a minute rest in between, each successive sprint required to be within ten seconds of the first. Wind sprints starting at the 5-yard line and ending at the 100-yard line followed. A full-field duck-walk capped off the workout.
"A lot of the guys would quit and throw up in the middle of it and stop. I was able to do it all, I don't know why," Long laughs. "I think it was in spite of him, because he was horribly abusive—emotionally, physically, and spiritually. He was just doing everything he could to drag me down. I guess in his mind it was a motivation for me, and in a way it was because I did it just to prove that I could do it, even though he said I couldn't."
Long's professional kick-boxing career began winding down in the early 90s and she would go on to make a string of appearances on film and television, most notably as Michele Pfeiffer's stunt double in "Batman Returns", and alongside Church Norris in "Walker, Texas Ranger." In 1998, Long made a brief year-long return to the professional boxing ring, compiling a 2-1 record with a sole loss against Lena Akeeson, who was 7-0 at the time of their meeting. Fast forward eleven years, and Long would take her first, last and only MMA match against Avery Vilche, winning a 3-round unanimous decision. Though she had intention of continuing after her debut in the cage, a torn ACL has since kept her on the sidelines. Now approaching her 51st birthday, Long is fully-healed and ready for another run.
One factor to consider in her return is that the landscape of women's fighting has changed considerably since Long's reign. Before, an elite female fighter was seen as an oddity in an industry dominated by men, but now she is entering an era that has significantly shifted its gender politics, chauffeuring in a large talent pool along with it. And with the top fighters of the sport still in their prime, the path to a championship appears as a near impossibility for 51-year-old fighter. But for Long, the change is a welcomed one, focusing more on the bigger picture than any challenges it might present toward personal aspirations.
"Oh my god, I have to say, 'Gina Carano, thank you'. I mean everybody is saying Ronda Rousey has paved the way, but she hasn't. There were people like Gina Carano who were first getting into organizations that would feature women and recognizing that women can be just as good an athlete as a guy, for their body style, for their bone temperament, for whatever," Long says in regards the current landscape of women's fighting. "A lot of people say, 'Well she's good for a girl'. You're either a good athlete or not a good athlete. I think it's about time that the general public recognizes that there are superior athletes that happen to be women. People don't ignore the Olympics. They see women competing in the Olympics and they're highly recognized and they're treated well, but for some reason with contact sports it's not the same. That's changing a lot and I'm grateful. I don't care if I'm not the one that does it. I do care that it is being done and I'm grateful."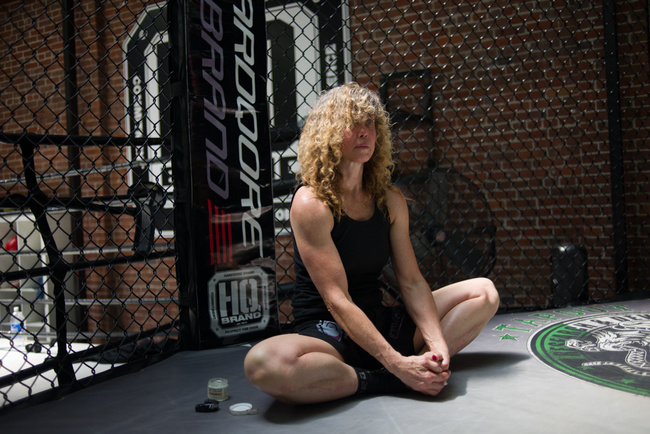 Competing in combat at an advanced age has been done before. Kim Woods fought her third MMA bout at 49 and perhaps the best example of age defying youth is boxing's Bernard Hopkins. But Woods never cleared the level of small local cards and Hopkins never had a six-year exodus from fighting. While it is still to be determined whether or not Long goes after a title shot, she certainly isn't planning to return just for the sake of it either. The point is, the cliff that Long intends to climb is a steep one.
But when looking at the life and career of Kathy Long, obstacles are merely challenges to be overcome and she has survived much more outside of the sport than inside. If there's anything to be learned from her story, it's that doubts are only given the power equal to the belief placed behind them. That is, at least, what Long believes her return communicates.
"I think my comeback to MMA is understanding that if anybody places a limitation on you then you have that limitation. If you accept that limitation, then it's yours, because I'm 51-years-old and who knows how far I can go with this, but I suspect I'm going to take it as far as I can. And if it means breaking all the rules then I'll do it."
Check out these related stories:
Inside Eddie Bravo's 10th Planet Jiu Jitsu
Phoenix Jones: Portrait of a Superhero
The Bumblebee Boxing Club: Reaching Beyond the Sport in Seattle