King Mo, Heath Herring Replace Wanderlei Silva and Shane Carwin in Rizin Grand Prix
The figures behind the scenes at Rizin Fighting Federation must have been scrambling about once it had emerged both Wanderlei Silva and Shane Carwin, two of their openweight Grand Prix's biggest names, had no intentions of competing on the Rizin FF 3 show on December 29th at the Saitama Super Arena in Saitama, Japan.
Both men were set to fight within Rizin's Grand Prix tournament bracket, of which is now at the quarterfinal stage, despite having not competed in the opening round of the competition. However, Silva pulled out of the tournament earlier in December citing injury, while it's unclear as to why Carwin will not be making the trip to Japan.
Silva's would-be opponent, Mirko Cro Cop, will now be facing Muhammad "King Mo" Lawal in the tournament's quarterfinals and the victor of that round will then go on to face the winner of the fight between Baruto, an Estonian sumo wrestler, and Tsuyoshi Kosaka.
On the other side of the tournament bracket, the returning Heath Herring has stepped in for Carwin's absentee lunchbox fists to take on Iranian former world champion wrestler Amir Aliakbari. The winner of that quarterfinal match-up will then face the winner between Polish heavyweight Szymon Bajor and Russian light heavyweight Valentin Moldavsky.
The tournament semi-finals and final will both be fought on the same night two days later on New Year's Eve as part of Rizin FF 4 at the same venue made famous during Pride's heyday.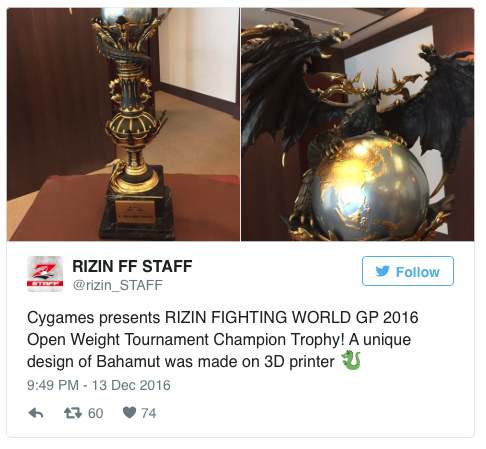 Cro Cop is presently riding a four-fight win streak and advanced from the opening round of the tournament with a stunning arm triangle submission victory over South Korean fighter Hyun Man Myung in the first stanza. Meanwhile, King Mo is fighting fresh off a decision win over Satoshi Ishii in Dublin, Ireland, under the Bellator banner just a few days ago.
King Mo won Rizin's inaugural heavyweight tournament last year, defeating Brett McDermott, Teodoras Aukstuolis and Jiri Prochazka as he traversed his way to glory.
Meanwhile, Herring, who has been in the commentary booth for Rizin of late, will be stepping up and fighting for the first time since August, 2008—where he suffered a unanimous decision loss at the hands of Brock Lesnar. Long a fan favorite in both his native USA and Japan, it will be interesting to see how The Texas Crazy Horse—now aged 38—will fare in his first fight in over eight years.
In other big news, Rizin announced their December 29th show will be showcasing the skills of 18-year-old Japanese kickboxing sensation Tenshin Nasukawa in what will be his first ever MMA fight—competing against little-known Ukrainian fighter Nikita Sapun.
Despite his age and still attending high school as a student, Nasukawa has already compiled a professional record of 17-0—complete with 13 wins by knockout—to compliment his stellar amateur record of 99-5. At 18, he is already fighting—and beating—top-level Muay Thai fighters from Thailand. He is one of world kickboxing's most exciting talents and will most definitely make an impression come December 29th.
Check out these related stories:
A Brief History of Shinobu Kandori
52-Year-Old Shinobu Kandori Will Fight 31-Year-Old Gabi Garcia and We've Lost Faith in Humanity
Charles "Krazy Horse" Bennett Is Rizin's Deranged Spirit Animal