Leech on a Harley: Li Jingliang Dreaming Big in Halifax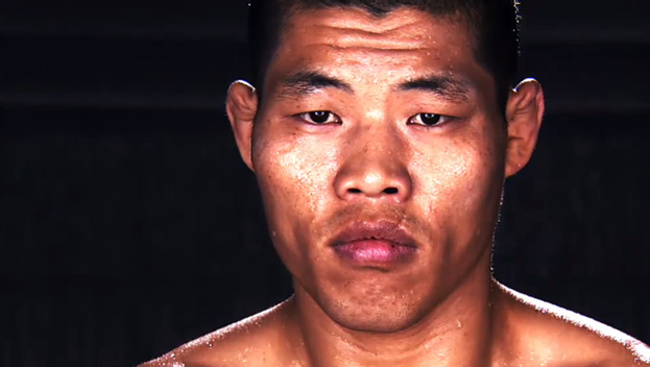 Chinese MMA fans and fighters believe Li "The Leech" Jingliang is the one to elevate this country's status from MMA "might be" to a bona fide source of (and market for) MMA greatness. The UFC has faith too. They gave the welterweight a do-able debut in David Michaud - whom the Leech barely defeated in a tight split decision - and now he's on the main card with Nordine Taleb for the upcoming UFC 54 in Halifax.
A win and there will be an uproar in the China MMA world and a whole lotta backslapping in the UFC's Singapore and Las Vegas offices. A loss? And then it's back to the drawing board, and back to the hunt for the Chinese Conor McGregor; the fighter who can do for 1.3 billion people what Conor did for 30 million. Just food for thought: 30 million is a large municipality in China ...
"Leech is 1-0," said his manager David Stern. "There are no other stars in China, no one on his level. Imagine what it means for the UFC if he takes out a top 30 fighter on the main card in front of 12,000 fans?"
"Imagine if he has a mic on him and is actually comfortable and talks like himself?"
The Leech is a funny guy. I spoke to him, via Skype again, while he was in his hotel room with David and Zhang Tiequan, the OG of Chinese MMA, a boulder of a Mongolian with an unfortunate 1-3 record in the UFC. The Leech made fun of my hair. Sighed about his inability to approach Canadian girls due to his lack of English, and helped me needle David for his burgeoning belly.
When the Leech is in his element, he is as personable and as confident as any other high-level MMA competitor. Big problem is English, which he can't speak a lick of, and just the shock of a UFC Fight Night, an event and spectacle that dwarfs any other fight show on the planet right now in terms of production quality, scale, and media presence. All it takes to change that is a big win, on the big stage.
Can it be done?
"This is a KO match," said the Leech. "He is known for stand-up, but I'm coming in here to let him and everyone else out there know that my stand-up is great, and my strength is beyond these guys. I'm trying to get that big bonus."
The Leech has been training out of the China Top Team gym in Beijing for some time now, Zhang Tiequan's gym. There are a lot of bosses in the Chinese combat sport world, guys with big cash and flashy gyms, guys who seem to treat fighters like a trophy to be shown about, or like a nice painting. Something to be displayed but never damaged.
Tiequan, on the other hand, is a gruff fighter - probably still the best fighter in China today - and a big brother to all of the Chinese fighters who have stepped into combat sports in the last decade. The family-style relationship is a big deal in China. It means no one touches a piece of stir fried pork until Tiequan does. It means he gets the best seat at the table, he sits up front in the SUV (or cab, depending), and the younger fighters might try and carry his bags around for him.
The relationship goes both ways, though. As big brother, Tiequan has to take care of everybody and lead by example. Yeah, he lost three times in a row in the UFC, but he was the first fighter signed directly by the UFC, the first fighter to break through, and the first to win a UFC fight on foreign soil.
The second to be signed directly and win outside of China? Li "The Leech" Jingliang.
"Jingliang is an experienced athlete and fighter," said Tiequan. He knows what to do out there. If he is relaxed, he can beat anyone in the division, I am confident of that."
That's the key isn't it, for every fighter. Keeping your head straight, enjoying the scene, fighting your fight. Nothing new to hear, but every fighter has to reboot the system and find that space for every fight. Every damn time.
The Leech seems relaxed, two days out. He has a couple fans from Toronto in his hotel room, Chinese guys who have lived in Canada for more than ten years. They're yapping excitedly with Tiequan about the fight, about MMA in general, and about what they miss from back home. When I ask them how they got into MMA, one of them, a dude named Lake Meng, replies:
"Well, GSP got me interested. But it was TUF China that really got me hooked. I watched that and I am into all the fighters, all of them."
Tiequan, David and the Leech all watch Lake get excited about watching a Chinese fighter kick some ass on the big stage and chuckle a bit.
So if you do get that bonus, Leech, what are you gonna spend it on?
"A Harley. I love Harley's. I want to be the first Chinese fighter to ride and be sponsored by Harley-Davidson."
Any ideas for the walk-out, press conference or weigh ins? Rin Nakai came in samurai armor. McGregor comes out dressed like an ivory leprechaun. What are you thinking?
"I was thinking the local hockey jersey, people might like that."
Silence. Sure man. Any other ideas?
"Or maybe a Bruce Lee suit. But there is a black fighter who already did that right? We'll see. First win the fight, get the bonus money, help some people out and get MMA moving forward (in China), and then we'll see about how to package myself and all that."
The Leech. On a Harley. Riding through Vegas with a Halifax hockey jersey on. In one universe, that is a reality. We'll see Saturday if our's could be that universe.
Check out these related stories:
China's New Breed: Enter The Leech
China's Top Fighters: A Conversation with Former UFC Scout David Stern