Legends of the Fall: Judging the Current UFC Champions
The invincibility myth is a beautiful thing: Achilles slaying troops outside the walls of Troy, Mike Tyson dropping opponent after opponent in the first round, Lance Armstrong trouncing both cancer and hundreds of spandex-clad riders… only to spectacularly fail. Each hero's downfalls told and re-told with more fervor than any of their wins. Such is the beauty of myths. Tear back those shrouds and show us your beating mortal hearts!
It's for these moments we wait, and wait, and wait. Pay-per-view after pay-per-view. When will Mayweather fall? This weekend, at the hands of Marcos Maidana? Or how about Rousey? Will anyone find the chink in her armor?
Despite the incessant grumbling—too many cards, I can't keep up, etc., etc.—at least in this context, it's an awesome time for MMA. Nine UFC champions, and arguably six fighters reigning with no end in sight.
To judge the invincibility of each current UFC champion, I hooked up with Jack Slack, the resident Fightland analyst, and got his take:
Jon Jones
1. Invincibility rating: 97%
2. Achilles' Heel: Nobody has been more battle tested against the elite than the UFC light heavyweight champion. A punishing attrition kicking game, smothering hand and elbow fighting, and stellar wrestling: he's a nightmare match up for anyone. The 3% accounts for the possibility of getting into another boxing match with Alexander Gustafsson.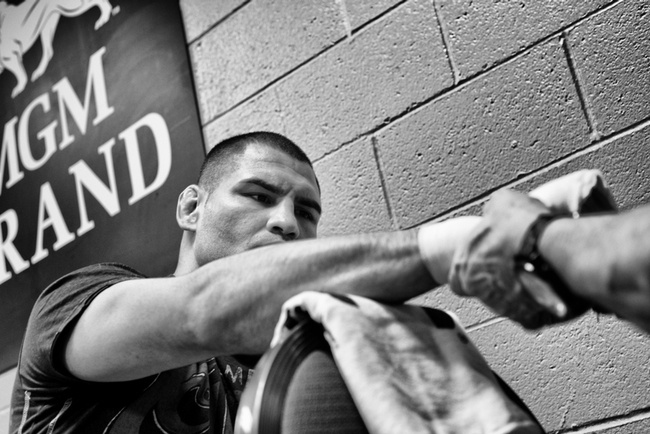 Cain Velasquez
1. Invincibility rating: 95%
2. Achilles' Heel: If Velasquez has shown any weakness it is a tendency to eat strikes coming in, as he did against Kongo and over three fights with Dos Santos. The problem is that if you don't knock him out as he comes in, he'll grab a hold of you, push you to the fence, pound on you with his free hand, and dump you on your head when you're not looking.
Chris Weidman
1. Invincibility rating: 80%
2. Achilles' Heel: Weidman has been flawless to date, and it takes an incredible fighter to beat the stuffing out of Anderson Silva twice. There are still so many stylistic match ups which we haven't seen him take, though—as great as he is, his division is full of potential fights and tests for the time being.
Johny Hendricks
1. Invincibility rating: 60%
2. Achilles' Heel: Hendricks' game is no secret: it's the wrestling and the left hook with some low kicks thrown in—but he keeps imposing his will and decking folks while he's at it. Gifted wrestler-punchers, Josh Koscheck and Robbie Lawler were able to take him to close decisions which they arguably deserved to win, though.
Anthony Pettis
1. Invincibility rating: 70%
2. Achilles' Heel: Pettis is the best ring cutter in the game: putting his opponent near the fence to remove one direction of movement and herd them into a power kick. But he isn't far removed from being laid all over in guard by Clay Guida—it's not a convincing way to lose, but that's the MMA game. In a division stacked with wrestlers it's always a possibility.
Jose Aldo
1. Invincibility rating: 90%
2. Achilles' Heel: To my mind, the finest technical striker in MMA with all the head movement, pivots and set ups one could ever ask for. The rapid improvement of previous opponents Cub Swanson and Chad Mendes might be enough to challenge Aldo on the feet and in the clinch respectively.
Renan Barao
1. Invincibility rating: 75%
2. Achilles' Heel: Barao has the grappling, the low kicks, and one of the best jabs in MMA. He doesn't do so well in rapid fire boxing exchanges... but also loves to get into them. Plenty of chance that he will get caught as he did against McDonald and not be able to recover.
Demetrious Johnson
1. Invincibility rating: 90%
2. Achilles' Heel: Johnson's constant stance-switching means he can be timed with strikes or low kicks while his feet are close together, but then... who is fast enough to pull it off? And he ain't getting out muscled at 125lbs.
Ronda Rousey
1. Invincibility rating: 95%
2. Achilles' Heel: Cris Cyborg. But that fight will be avoided at all costs.
Check out this related story: