Life After Fighting: Muay Thai Legend Pornsanae Sitmonchai Retires
When Pornsanae Sitmonchai stepped into the ring in Bangkok's Omnoi Stadium last Valentine's Day, not even the owner of his gym knew he intended it to be his last fight. The Sitmonchai team prepped him backstage, wrapped his hands and rubbed him with oil. Pornsanae, normally exuberant and outgoing, pulled into himself and concentrated on the battle ahead.
It was a high-stakes fight; he was defending his Omnoi title. He freely admits he's afraid of losing every time he steps into the ring, "but this fight was different," he said. "It was even worse because I knew it was my last." It was a lot of pressure, and he was bearing it mostly alone.
He'd been on the fence for weeks about retiring, hadn't even fully decided to retire until a few days before the Omnoi match. About a week before the fight, he approached his close friend and fellow fighter Jun (Thepnimit Sitmonchai), and told him about his plan to retire. He asked Jun not to tell P' Ae, the gym's owner. Jun agreed to keep quiet. He and Pornsanae had grown up together, training and living alongside one another at Sitmonchai for the past nearly 20 years. For the few days leading up to the fight, Jun and a handful of Pornsanae's other closest friends at Sitmonchai were the only ones who knew this fight would be his last.
None of Pornsanae's friends was surprised to hear he wanted to retire. At age 34, Pornsanae has amassed around 300 fights and a reputation for a wildly entertaining, aggressive, unrelenting fighting style. With that style, however, comes the danger of injury, especially the cumulative effects of knockouts and concussions.
Recently married and now with a young family, Pornsanae had been questioning his decision to keep fighting since his daughter was born nearly two years ago. In the ring, his aggressive tactics suggested fearlessness. Outside the ring, however, he worried about the effects such a career might have on his health. "When I was younger," he said, "I was never afraid of anything. But now that I have a family, I'm afraid I'll die soon if I keep fighting." His interactions with other pro fighters, mostly Western-style boxers, gave him pause. "You can tell when you talk to these boxers that most of them don't function at a hundred percent anymore. It scares me that someday I might become like that."
The first sign of trouble happened during a plane flight in early 2013. Pornsanae had just lost a fight by decision to Michael "Tomahawk" Thompson in Australia. It was a full-rules, caged Muay Thai show in which the fighters wore MMA gloves, far smaller than the gloves Pornsanae had been using in his 20-year career.
On the plane home from Australia, Pornsanae's head started aching. This was unusual for him, and he worried about what it signified. Thompson hadn't knocked him out, but Pornsanae had been given two standing eight-counts during the three rounds. Once back in Bangkok, he hurried to the hospital.
He told the doctors he'd been fighting since he was 11 years old—more than 20 years of shots to the head. The doctors understood his career as a Muay Thai fighter meant he had to continue fighting to support his family. They told him to keep coming back for regular checkups, gave him pills they said would increase blood flow to his brain.
Pornsanae's fans and fight critics were taking notice. Comments and blog posts started showing up, calling for him to retire, alleging that Sitmonchai Gym was forcing him to fight. In Thailand, however, it's not always a straightforward transition from earning a living as a fighter to earning one as a trainer, or any other job. Hundreds of high-level Muay Thai boxers retire every year, often with no certain method to support themselves. Some fighters become trainers; many do not. Motorcycle taxi stands and fruit stalls are populated with former fighters trying to get by.
Like many other fighters approaching the end of their career, Pornsanae felt the pressure. "You get to a point where you can't fight, so you have to find some new experiences, do something else. I can't be a boxer forever, and I have to find other ways to make money. Most of all, I have to think about my family."
"People were analyzing his knockouts and fighting style, talking about his life and what he should do, without actually talking to him to see what his wants and needs were," said Abigail McCullough, foreign liaison of Sitmonchai and a resident of the gym for the past five years. "They have no idea what his life is like. I was getting pissed off at these people who were writing about Pornsanae's life from their positions of privilege, espousing to know what's best for him. It's creepy moral arrogance. It's all well and good to say he should be retiring, but are you going to pay for his kid's food? If you've been here [in Thailand] any length of time, you know these fighters fight for survival. It's how they provide for themselves and their families. Other people's values, all the critics saying he needs to retire from fighting, it doesn't apply in his world. Everyone knows he's getting old and that he needs to stop fighting. But this is the current state of Muay Thai. It's changing all the time, and now luckily these retired fighters are finally getting better options for their post-fight careers. But the transition is not always easy."
When he stepped into the Omnoi ring for the last fight of his career, Pornsanae wasn't thinking about what he'd do after fighting. He told himself this was it, his last fight, so put in one hundred percent. He wanted to leave a legacy, what he called "a beautiful history."
From the red corner, Pornsanae squared off against his opponent, Petch GL Suit. The fight lasted only two rounds. Pornsanae knocked Petch down with an elbow in the second round. Petch jumped back to his feet quickly but shakily, received a count from the ref. Looking to end it before Petch could fully recover, Pornsanae pushed forward, fired a sharp low kick, stepped in and leveled Petch with his punches.
Petch collapsed onto his back. The ref waved it off, fight over. Pornsanae raised his hands and danced around the ring, leaped onto the neutral corner and faced the cheering gamblers in the stands, mouth agape in the half-crazed ecstasy of knowing he did it, he retired as a champion, an old fighter at 34 and now permanently a legend in Muay Thai.
Back in the dressing room after the fight, Pornsanae broke the news to gym owner P' Ae that he was officially retiring from fighting. P' Ae and Pornsanae had grown up sharing a room; they were like brothers. Keeping the secret from him had been hard. Pornsanae apologized for not telling P' Ae sooner, saying it would have been too stressful before such an important fight. P' Ae was understanding, and completely supportive of his decision to retire.
Pornsanae was relieved to let his secret out to everyone at the gym. Making the decision to retire and then keeping it from his fight family had been an emotional burden. "He was afraid even to tell me," said Abigail, Jun's partner and close friend of Pornsanae. "But the truth is, we all wanted him to retire. We wanted him to take care of himself, didn't want his health to suffer. He himself had said a few times that he was getting too old."
According to Abigail, one of the biggest hurdles to Pornsanae's retirement was money. "He didn't have anything that would pay as well as his fighting career so we all knew he was inclined to keep fighting. He has a new family so of course he wants to make as much money as he can while he still can."
What prompted Pornsanae to hang up his gloves once and for all was a call from Evolve MMA in Singapore, a highly regarded gym famous for its coaching staff of retired champions. The day after Pornsanae's Omnoi fight, Evolve MMA announced he would soon be joining their team as a trainer.
In his 23-year career, Pornsanae has seen the sport of Muay Thai go from being nearly exclusively Thai to internationally famous. This foreign interest in Muay Thai is providing him a smooth path from famous fighter to highly sought trainer. Pornsanae, who was born into a poor family in rural Kanchanaburi Province, will be making a base salary of approximately 100,000 baht a month (about $3,100), not counting additional private lessons. He'll potentially make more in a month than many of his countrymen make in a year. Not bad for a high school dropout who grew up fighting for a living.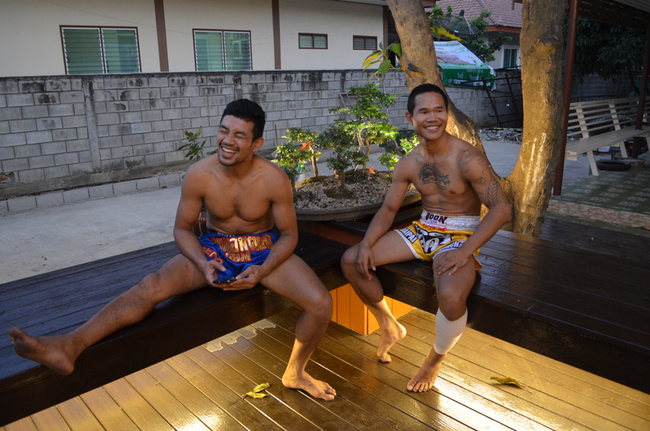 Pornsanae is scheduled to depart Thailand in March 2015. He plans to work the next few years in Singapore, taking a break every four months to visit his family in Thailand. Working as a fighter and now a trainer abroad present challenges to his family, but both the financial and emotional stability of his family are paramount to him. "When I was growing up," he said, "my parents were never very warm and we were not very close. Now that I have my own family, I want to give them the warmth I didn't have growing up. Unfortunately while I was fighting, I had to be very focused and disciplined, so I didn't have much time for my family. Now I'm going away to Singapore, which is necessary because I have to provide for my family, but I plan to come home as often as I can, and have them come visit me too."
Knowing the kind of person Pornsanae is, some of his gym friends have started making bets as to how long he'll last at his new job. "Some of us think he won't last more than a few months away," Abigail said. "He's such a homebody! He hates being away from home."
The high salary and good working environment are appealing to Pornsanae, but what he's most looking forward to about Singapore, he says, is being so close to Universal Studios. "I can't wait to bring my family there. I've been to a lot of countries, but Singapore is my favorite because Universal Studios is right there and I can go all the time now.
"I won't stay in Singapore forever, though," he said. "I'm doing this to earn money for my family, and we will ultimately stay in Thailand. Kanchanaburi is my home; Sitmonchai is my home. I will always come back here."
Thai-English interpretation provided by Tanachot Kanjanavijit; and Supawadee and Timo Ruge of Muay Ties.
Check out these related stories:
Life of a Pad-Man: A Muay Thai Trainer's Remorse
In Old Issan: The Genesis of a Muay Thai Gym Owner
Confessions of a Muay Thai Gambler