Loser Leaves Town: Johny Hendricks and Hector Lombard Fight for Their Jobs in Halifax
Back in April of 2014, the UFC welterweight division was a very different place.
At that time, a ferocious Johny Hendricks had just claimed the vacant welterweight throne with a hard-fought decision win over Robbie Lawler. On the same night that Hendricks won the title, former Bellator middleweight champion Hector Lombard revivified his career by dropping to welterweight and scoring a dominant win over the ever-dangerous Jake Shields. Ranked as the number 1 and number 5 welterweights on the planet at the time, it's possible that both Hendricks and Lombard were enjoying the finest moments of their impressive careers thus far. Unfortunately, both fighters began sharp downslides shortly thereafter.
Let's start with Hendricks.
After winning the vacant welterweight title with his defeat of Lawler, he spent the next several months nursing a torn bicep. When he finally returned to action, he surrendered the title to Lawler in an equally competitive rematch. While this was an undeniably difficult time for Hendricks, things began looking up when he scored a dominant decision win over the surging Matt Brown. Regrettably, this win was followed by an even uglier stretch for the former champ.
First, he forced the cancellation of a planned bout with Tyron Woodley when his weight cut went so disastrously that he was carted off to the hospital before he could step on the scale. When he was finally healthy enough to compete again, Hendricks then stepped into the cage with future title challenger Stephen "Wonderboy" Thompson, only to succumb to strikes for the first time in his storied career. From there, the former champ looked to get back on track against Kelvin Gastelum on the undercard of the landmark UFC 200. Unfortunately, he once again failed to make weight after a brutal cut, and didn't even win the fight for his troubles.
Suddenly on the first two-fight losing streak of his career, he then attempted to get back on track yet again, this time against Neil Magny. Yet once more, he failed to make weight—infamously covering his face in shame as the number 173.5 was read aloud—only to lose the fight the following night. With this latest disaster in the rear-view, Hendricks then elected to abandon the welterweight division forever and head north to middleweight, where the cut would be less severe.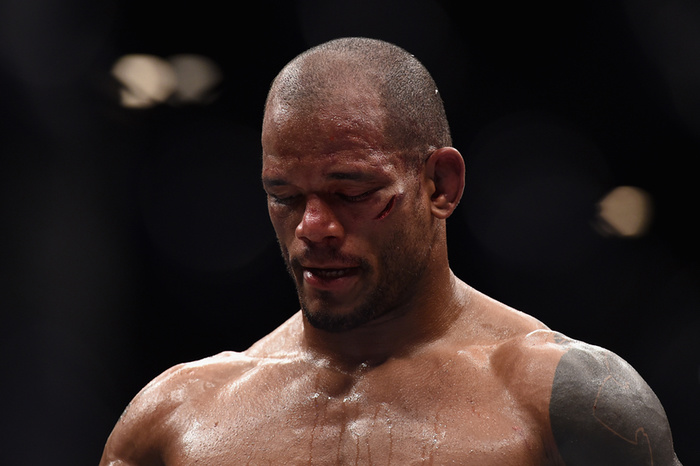 Things haven't gone any better for the once fearsome Lombard. After his career-changing defeat of Shields, which followed a shaky start to his UFC career, he withdrew from a planned bout with Dong Hyun Kim with an injury. From there, he returned to action with a respectable defeat of the unranked Joshua Burkman, only to have this win overturned when he tested positive for the banned substance desoxymethyltestosterone.
As punishment for this violation, Lombard was handed a year-long suspension. When he finally returned to the cage, he started extremely strong against Neil Magny, only to gas out completely and be finished off with strikes less than thirty seconds into the third round. This loss would then send him packing to the middleweight division where he was abruptly knocked senseless by a strange Den Henderson back-elbow.
The point here is that in the span of a little less than three years, Hendricks and Lombard have tumbled from the top of the welterweight rankings to the chasmal lows of borderline-irrelevance. At this point, it's safe to say that an additional loss could result in either fighter being ejected from the UFC roster—and that's where things get interesting.
As fate would have it, Hendricks and Lombard have been paired together in a fight that could well be the loser's last in the Octagon. This do-or-die battle will serve as the co-main event of the UFC's Sunday trip to Halifax, Nova Scotia, Canada.
Now, you may be thinking: Hendricks and Lombard have both fallen off pretty severely, but both are still the kind of big names the UFC is probably keen to keep out of the hands of its competitors—namely Bellator. Yet consider the following:
For his recent losing effort against Magny, Hendricks pocketed $80,000. Had he made weight, he would have made $100,000 for this loss. Lombard, meanwhile, took home $53,000 for his loss to Dan Henderson. While these sums are certainly a far cry from Conor McGregor and Ronda Rousey money, they're not amounts that the UFC is keen to pay to fighters than can't produce wins. Considering the fact that the promotion recently released Ryan Bader and Misha Cirkunov—two winning fighters in the talent-starved light heavyweight division—it seems even more plausible that Hendricks and Lombard could be fighting for their jobs this Sunday.
Check out these related stories:
Johny Hendricks to Fight at Middleweight Against Hector Lombard
Johny Hendricks Is Done Fighting in Las Vegas
My First Fight: Johny Hendricks