Mark Munoz Explains How to Pick an MMA Gym

Photos by Nick "The Tooth" Gullo
It's a simple question, with no easy answer: Hey, I want to start fighting MMA, where do you think I should train?
Fact is, joining a gym is a profound decision, even for the layman: you work eight-plus hours a day, commute half an hour each way, and after hitting the gym for a session and a shower, that leaves a only few hours for family… sleep and repeat.
Which means you better choose wisely, because, let's face it, all gyms are not created equal. There's no question that the instruction you receive at an elite-level gym eclipses that of a mid-tier gym. Just imagine how you'll feel after an entire year of training, you enter a jiu jitsu tournament, or even take an amateur MMA fight, and after a devastating loss you realize that if you'd only paid the extra $50 a month for the gym down the street you might be two, three times better.
For the layman, that lightning bolt stings.
For the professional fighter it could mark the end.

Mark Munoz
Other than advising you to seek out a gym with a good reputation, I don't have the answers, so I dropped by Reign Training Center, in Orange County, California, and watched head coach and Middleweight UFC fighter, Mark Munoz, oversee a training session with his team, which includes UFC fighters Tom Watson, Patrick Cummins, and Kailin Curran.
After practice, Mark broke down his criteria for choosing the perfect gym into four tiers: chemistry, team strength, attitude toward sparring, and locale.
Chemistry
This is more important than you might think. Teammates are family, and as with any family, rivalries soon arise, resentments fester, so trust and communication are critical—unfortunately, that's hard to judge with a drop-in visit.
"You need to meet the people," Mark told me, "watch a practice and mingle to see if you gel. Sit with the coaches, talk about your goals, and see if this is somewhere you want to call home. Because as a professional fighter you'll end up spending day in and day out with those guys, so you've got to make sure the gym works on a personal level. That's number one."

Kailin Curran
Team Strength
Unfortunately, this isn't rote math, and a gym's strength bears an inverse relationship to your deficiencies. By that I mean, if you hail from a muay Thai background, you'd better hone your wrestling or risk spending your next night under the lights with your back on the mat, searching for spent bulbs.
"Look for a camp that's going to address your weaknesses," Mark said. "The guys at Alpha Male are awesome at wrestling, so if that's your weakness then that's a great choice. But you also have to consider the [physical] size of the team. I trained at Alpha Male, and I love those guys—they're like brothers from another mother—but I needed bigger guys to give me a proper feel for what I'd face in the cage."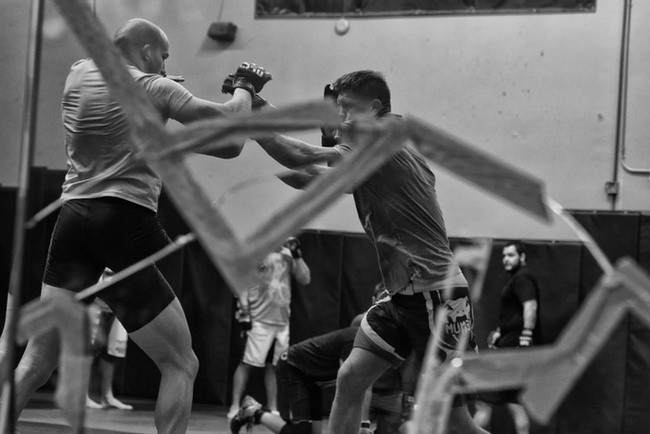 Attitude Toward Sparring
All the training in the world isn't worth a damn if you're always hurt. Some gyms, the fighters bang until someone's slumped against the fence or limping into the parking lot. It's an ego thing: you go hard, I go harder, you go harder still, etc., etc.
"I always say, 'If you break your toys, you have nothing to play with.' There's a distinct line between going hard, and hurting your friends," Mark said. "And it's the coach's job to make sure everyone is helping out. You want to create an environment where everyone's going hard, but where they also care about one another. Some coaches will say, 'Okay, Jimmy, you're going against X and I want you to break him, hit him hard as you can.' Thats not good. That's how guys get hurt, and it happens all the time. Especially with new guys, they're fresh meat in many places."

Patrick Cummins
Locale
This isn't about choosing a gym that's close to your house. If your goal is the crown, you need to sacrifice and move to the camp that best suits your needs, as have countless elite fighters. It's a short career, so don't squander it because you're homesick. And by locale, I mean the quantity and quality of various gyms in the area.
"Some gyms are the only game in town, so they have everything under one roof," Mark said, "that's how it is for Alpha Male and Greg Jackson—they're in the middle of nowhere. But here in Southern California, or in Vegas, there are ten gyms in a five mile radius. That's why fighters around here train kickboxing in one place, and jiu jitsu in another, then they come into Reign for wrestling and MMA. I help fighters put all the disciplines together, because a jiujitsu coach isn't going to know what to do when the punches start flying."
So that's the deal. Four simple criteria… and still, no easy answers.
Check out these related stories:
Rachael Cummins: SoCal's New WMMA Fighter