Marvel Studios President Comments on Ronda Rousey's Campaign To Become Captain Marvel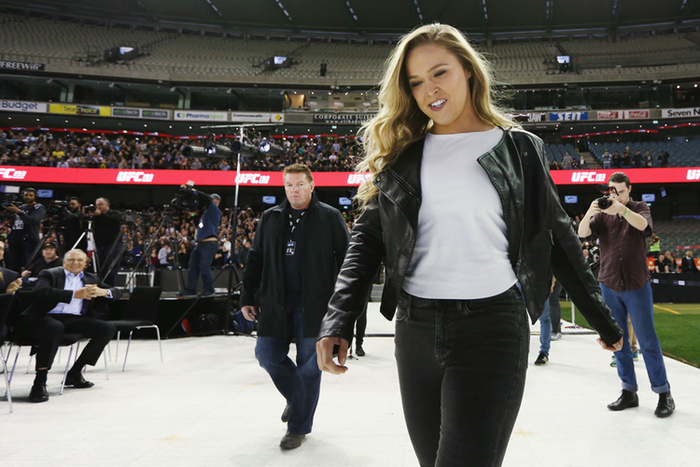 UFC Women's Bantamweight champion Ronda Rousey's quest to dominate Hollywood as soundly as she dominates her sport appears to be continuing apace.
The fighter, actress, and brand new Australian Men's Fitness cover star (she's the first woman to land the spot in the magazine's history) has been generating an increasing amount of buzz in the wake of recent announcements that she will play herself in Paramount Picture's film adaptation of her autobiography My Fight/Your Fight and take over Patrick Swayze's role in forthcoming Roadhouse remake. And now she's caught the attention of Marvel Studios head Kevin Feige.
When asked about Rousey's current campaign to land the role of Carol Danvers, aka Captain Marvel, in the ever-expanding Marvel-verse at a recent event promoting the Blu-ray release of Avengers: Age of Ultron, Feige had nothing but positive—if evasive—things to say.
"I love it. That happens occasionally, and I think that's a testament more to the strength of the characters, he told IGN, pointing out similar campaigns that other actors and luminaries had launched for roles like Wolverine in the past. "It's a testament to how great the characters are that it appeals to such a wide range of talented, talented people."
As to whether or not he could envision Rousey as the star of the Captain Marvel movie, slated for release in 2018, Feige remained politely ambiguous. "You look at the ways we've cast our films in the past and it's always about who's the best person to inhabit the character, whether that is an actor like Chris Hemsworth who bulks up, or a wrestler like Dave Bautista who played Drax who ends up being an amazing performer, an amazing actor and a clever and witty and pointed comedic actor. For us, it's sitting down with people and starting to meet people and as the script takes shape and as we start to build who the character should be and finding the right person to match it up. We haven't necessarily started sitting down with people yet and meeting on that part."
In an interview with MTV, Feige went on to say that Marvel won't be making any Captain Marvel-related casting information any time soon. "I think right now we're scripting the film, figuring out who we want Carol Danvers to be, and really what the structure of the movie will be and what her part will be in some of our other Phase 3 films. And it would be next year that we start to really think about casting."
Feige and fellow Marvel producer Jeremy Latcham went on to encourage fans to keep making suggestions, though. "We go through it, we read the comments, we look at who people like," Latcham told MTV. "Sometimes it's really enlightening. Sometimes it's the exact same person that they've been saying over and over again that we don't think is right. It's always fun to kinda go through it and see what people are up to."
Rousey first declared her Marvel-related intentions this past summer, during her Reddit AMA. When one fan asked her what super hero she'd like to play in a movie, the champ responded with "well... a lot of the good ones have been taken, but I'd like to vie for Miss Marvel."
There are a number of Captain and Ms. Marvels in the Marvel Universe, but, after a fair amount of discussion, Marvel and MMA geeks concluded that the specific Miss Marvel she was talking about was, in fact, Carol Danvers, now known as Captain Marvel. With that settled, fans began making artwork imagining Rousey as Danvers. The fighter shared a number of those impressive and rather convincing images on her Instagram.
With the actual casting of Captain Marvel remains an abstract concept at this point, we won't be counting Rousey out just yet, given her proven ability to turn her seemingly ludicrous campaigns into reality in the past. Remember when she was just an unknown fighter who told Dana White that she was going to be a UFC champion?
Check out these related stories:
Ronda Rousey Will Star in Patrick Swayze's Role in 'Road House' Remake
Everything Tank Abbott Got Wrong In His Anti-Ronda Rousey Rants
Beyoncé Celebrates Ronda Rousey In Concert