Matt Riddle, MMA, and Marijuana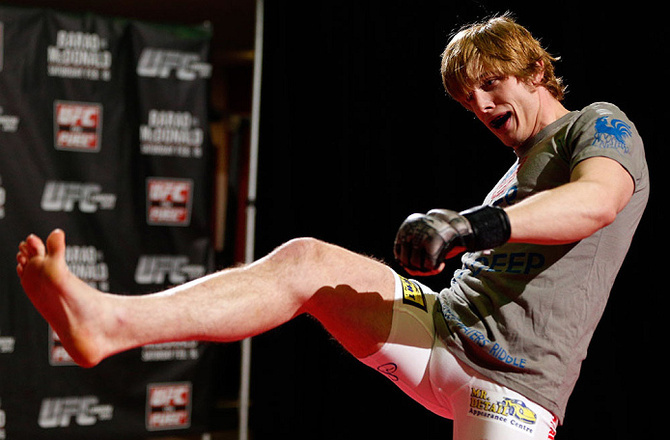 After grinding out a split-decision victory over Che Mills in front of a hostile London crowd two weekends ago at UFC on FUEL 7, Matt Riddle looked forward to grinding up some Cheese.
"To be honest, I'm a Cheese guy," the welterweight wrestler says. "I like Exodus Cheese, I like Blue Cheese. You can't go wrong with your Killers, your Killer OG. I like Tangerine Dream. I like it a lot. I don't discriminate too much." Cheese, in this case, is an indica-dominant family of marijuana favored for its potency and stress-relieving high. Sativas are nice, Riddle says, but they don't slow him down and relax him the way a good indica will. Sativa-dominant strains of marijuana are generally thought to provide a buzzier, more cerebral high that lends itself to creativity and physical pursuits, while an indica high offers a mellower, more relaxing, more physically lethargic experience. Riddle prefers the latter because they keep his overactive mind from racing and let him get some sleep.
The fact that Riddle openly uses a drug (or "medicine," as he prefers to call it) that is legal in some form in 22 states and that he's even been sponsored by companies that make gear for growing and vaporizing pot and yet must abstain from his doctor-prescribed marijuana for weeks at a time before reporting to work is one of the strange ironies of MMA's current drug-testing policies.
Riddle was suspended for testing positive for marijuana following his UFC 149 victory over Chris Clements back in July. More accurately, he was suspended for testing positive for inactive metabolites that stay in the body long after a pot high; he had no active THC or other cannabinoids that are actually responsible for the drug's effects in his system. The fight is now officially considered a no-contest.
In the United States, UFC fighters are tested by state athletic commissions, which screen not only for steroids and other performance enhancers but also for recreational drugs. Despite being located in a medical-marijuana-legal state, the Nevada State Athletic Commission will disqualify a fighter for having marijuana metabolites in his system. And despite UFC President Dana White's outrage that penalties for pot are equivalent to those for steroids (not to mention his belief that random drug testing for pot would result in the suspension of 80% of his promotion's roster) there seems to be little sign of athletic commissions catching up with society's changing attitudes and laws.
Matt Riddle doesn't want the UFC to quit drug testing, just to be smarter about it — he would like to see it focus more on performance-enhancing drugs.
"They should test for all drugs, as they do now," he says. "But I think if you have a medical note you should be allowed to use the drug prescribed by your physician or doctor."
Which isn't to say he would be lighting up right before a match.
"I don't think you should be able to use drugs during a fight," he says. "Maybe a week before or something like that, but I still don't think you should be under the influence when you compete. It's a liability. Your reflexes have to be 100 percent, and your perception is off [when high]."
On second thought, Riddle suggests, maybe that medical-note exemption shouldn't cover every drug. For example, testosterone replacement therapy, or TRT, may be medically supervised but it gives fighters an unfair edge.
"The problem is that in Vegas and other places, you're allowed to test positive for 6:1 [testosterone levels six times higher than normal]," he says. "And you got to realize, you might test 6:1 but if you did at the beginning of camp you might test 20:1. ... You're cheating yourself, because you're not winning fair."
With that relatively lax approach to testosterone levels, Riddle doesn't think any commission's concern is to maintain a level playing field and keep fighters safe. "They're trying to have bigger fights, stronger fights," he says. "They want people to go in there and keep going and going, and I for one don't think that's fair."
Riddle does have a positive outlook on the likelihood of change, though, after airing his views to UFC Vice President of Regulatory Affairs Marc Ratner, but he thinks it will be a slow process, maybe five years off — probably too late to be of benefit to his career.
"Until the states recognize it and it becomes more legit, more legal, it is what it is," Riddle says. "Until they change the rules, I'm gonna play by the rules and I hope others do to. Otherwise you're only costing yourself time and money."
Still, Riddle wasn't worried about his test coming up positive after his victory in London last week. He had taken a three-week break from using to ensure he didn't piss dirty.