McGeary vs. Davis: The Return of the Guard
There are only two fights that you need to care about this weekend. The first is that tremendous lightweight match up between the methodical pressure of Rafael dos Anjos and the erratic violence of Tony Ferguson. The second, and our focus today, is the Bellator 163 light heavyweight title fight between Liam McGeary and Phil Davis. This, along with Koreshkov versus Lima and Chandler versus Henderson, makes up Bellator's remarkable November line up.
Now Liam McGeary is intriguing for a couple of reasons. Firstly, he is a British world champion in mixed martial arts. That was quite a feat until His Fistic Majesty, Michael Bisping, walked off a film set to send the American playboy Luke Rockhold to the mat for Blighty. Secondly, McGeary is a fighter whose sole big win came over Emanuel Newton in taking the title. Since then he had a gimme against Tito Ortiz, who in 2016 has not one victory to write home about. But the reverse triangle that he won that fight with certainly drew attention to McGeary, which had to be the point of the fight. The final reason McGeary is so fascinating is that he is a six-foot-six light heavyweight, who regularly catches opponents in submissions from his back.
How many fighters can you name in MMA who genuinely excel at attacking from their back in 2016? Now how many aren't gimmicks on the Japanese circuit? And finally, how many of them fight at middleweight or above? The silence if deafening, and that is where Liam McGeary exists. In a division of wrestlers, McGeary is happy throwing up reverse triangles and trying to tear off shoulders with Americanas from his back.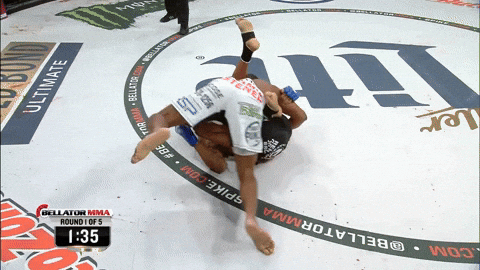 But McGeary has been a big fish in a small pond. Until recently the best light heavyweights in Bellator were Emanuel Newton and Muhammad Lawal. In September 2015, at the same card that McGeary submitted Tito Ortiz, Bellator held a light heavyweight tournament with an interesting twist. Bellator's regular crew was there. Lawal, Newton, Linton Vassal, but they would be competing with new arrival Phil Davis. Davis had just jumped ship from the UFC where he had fought the absolute best in the division and had decent results. Luckily Davis didn't face the same fate as Benson Henderson—a top ten lightweight who was put into a match with a welterweight, and then a featherweight on arriving in Bellator—making it impossible to draw direct comparisons between the UFC and Bellator lightweight divisions with Henderson as a current measuring stick.
In the opening round of the tournament, Davis fought Emanuel Newton. Liam McGeary had won the title from Newton over five rounds of frantic action, setting a promotional record for submissions attempted. But Davis manhandled Newton. Phil Davis' difficulties in the UFC had always come when his telegraphed takedown attempts failed, but when Davis can get a man to the floor he is a different type of animal. Newton is as wily as they come and attempted to squirm back to his feet any way he could, but Davis was always one step ahead. Take for instance this granby attempt, might have surprised any other fighter Newton has met, but Davis rode through it with uncanny grace.
The state of the bottom game in MMA, for most and particularly in the light heavyweight division, is that everyone wants to get back to their feet. Submissions just aren't that common at the highest levels of the game in 2016 and no one wants to waste time throwing up subs and losing rounds from the bottom. But trying to wall walk or perform a stand up is giving Davis exactly what he wants. Davis excels at breaking opponents down with a seatbelt grip on their far arm across their back, which he can turn into a kimura. He demonstrated this beautifully against King Mo.
Here Davis breaks Lawal down as he attempts to get up, with his right arm across Lawal's back and inside his right biceps.
With Lawal's right arm pinned to the mat, Davis grips Lawal's right wrist with his left hand, then releases the seatbelt on Lawal's right arm from behind Lawal's back, transitioning to the kimura grip. From here Davis attempts an armbar as Lawal comes up.
Famously, when Davis was able to trap Tim Boetsch's arm underneath his back in the same way he was able to finish a kimura underneath Boetsch. Similarly, as Emanuel Newton got his back to the fence and began to wall walk, Davis caught one of his hands as it was posted on the floor and that was all she wrote.
Davis has had just as much success from the front headlock, a position which is readily available on many occasions as an opponent attempts to get to his knees. Davis is one of very few fighters to have two victories on his record by way of anaconda choke, one of those being over the great Alexander Gustafsson.
Here's the interesting thing though: McGeary probably can't stop Davis from taking him down, but McGeary also rarely tries to get back up. McGeary's guard game is rarely as straight forward as hand push triangles and arm drag armbars from closed guard. It is as often about what he can do while his opponent thinks they are passing his guard. Similar to the great grappler, Braulio Estima, McGeary shoots his best reverse triangles from an intermediary position with a knee shield in and a leg over the face, or a knee shield in front of the shoulder and a shin across the opponent's belly. Not what the average fighter would recognize as 'the guard' but still for all competition scoring purposes a guard.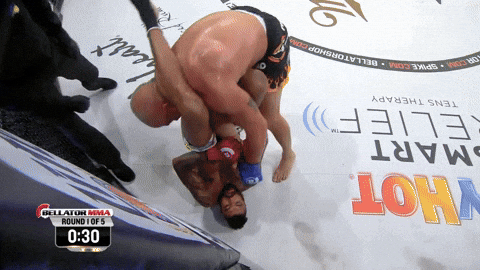 Tony Ferguson, who also fights this weekend, has occasionally shot a reverse triangle from this intermediary non-guard.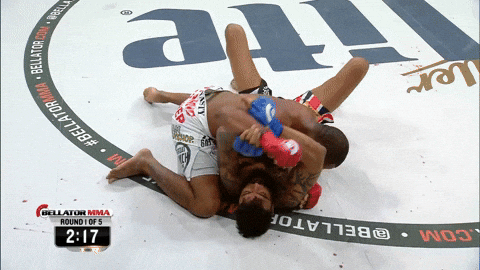 And even if his timing is off or he misses his moment, McGeary has yet to be held down for any real length of time. Rather than powering up to his knees or turning into his opponent, McGeary will attempt things that you don't often see out of the extremely lightweight and women's divisions. For instance the Marilyn Manson escape—using control of the opponent's near hand and inserting a hook over their back.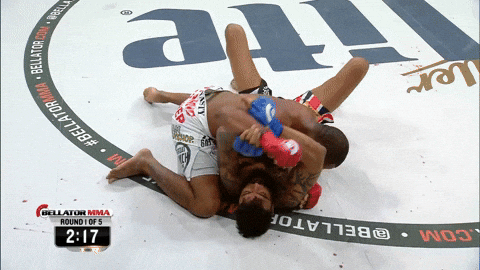 Jessica Penne used this technique beautifully in Invicta to roll back over her shoulders and attack a crucifix.
There is nothing to say the fight must go to the ground though. Davis might not want the takedown and it is hard to imagine McGeary getting the stronger wrestler to the mat. Moreover, Davis has reason to find more confidence on the feet given his last two performances. In the second round of the light heavyweight tournament, Davis was able to catch Francis Carmont circling along the fence and knocked the Frenchman stiff.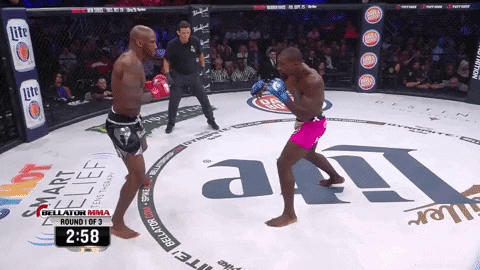 Often when Davis is striking he looks like Dominick Cruz but with none of the grit or the grace. Circling far away from the opponent, throwing mainly kicks and then the odd wide, lunging hook and ducking well off to the side. After two rounds of ineffectual work on the outside against King Mo, Davis actually got comfortable throwing combinations from within striking range. After a few sequences of doubled up kicks, Davis checked Mo's lead hand out of his mummy guard, then uncorked a one-two with the right landing over the top of Mo's and wobbling him. An uppercut connected and Davis was able to get his first takedown of the fight. Davis has power, and decent punching form and combinations when he's got his eye in and isn't too nervous to step into the pocket.
McGeary's striking has always looked dangerous, and he looks like he enjoys a good tear up far more than Davis, but he is not always the most crisp. He tends to drop his hands and fight quite close in for a man of his height and reach, which can be dangerous stepping into the upper echelons of the division. Certainly against a fighter sitting back and waiting for the counter like Muhammad Lawal, it can be dangerous to give up a reach advantage through over aggression.
No one in Bellator's light heavyweight division has been able to stop a reinvigorated and confident Mr. Wonderful so far. If Liam McGeary can that will legitimize his place as at least a top ten light heavyweight in the world. But it's no mean feat—Davis hasn't been finished through his entire career despite being in with tremendous hitters like Anthony Johnson, and it is hard to even think of an occasion when he was close to being submitted. Whatever happens, get back here Monday for the recap.
Check out these related stories:
Dos Anjos vs. Ferguson: No Such Thing as Retreat
Tony Ferguson: The Growth of El Cucuy
Glory 34: Enter 'The Style Bender'