McGregor vs Dos Anjos and Holm vs Tate Reportedly Set for UFC 197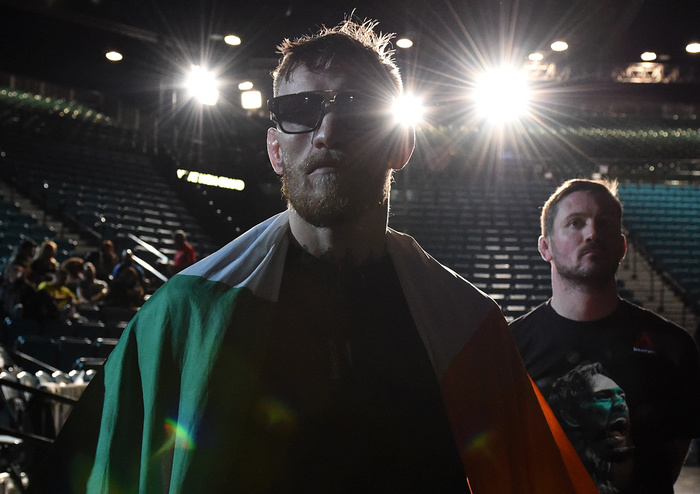 Social media threads went into convulsion last night as Bleacher Report's Jeremy Botter revealed that lightweight champion Rafael Dos Anjos would welcome Conor McGregor into the 155 lbs ranks at UFC 197 on March 5. To add to that, Botter also claimed that Holly Holm would make her first defense of her bantamweight title when she meets Meisha Tate at the Las Vegas event.
We speculated this week that Frankie Edgar's pessimism with regard to being the next man to take on McGregor pointed to a lightweight debut being next for the Irishman and Botter's revelation adds even more substance to that. After Dana White claimed that Holm would have another opponent before her rematch with Ronda Rousey the majority of the MMA world expected Tate to get a shot, and again, Botter's social media post verified that common expectancy.
The fact that the official 'UFC on Fox' page, Holly Holm and her team, Jackson and Winklejohn, posted on social media sites with the same information as Botter poured more fuel to fire surrounding UFC 197.
Super Fight
In combat sports, there are very few angles that sell as well as 'Champion versus Champion.' Ever since the UFC 189 World Tour, McGregor has insisted that his goal was to see both Jose Aldo and Rafael Dos Anjos off their championship pedestals, and it appears as though UFC 197 will be another opportunity for the Irishman to fulfill one of his prophecies.
Dana White insisted that McGregor's next opponent would come from Dos Anjos and Cerrone's championship meeting on December 19. Although Charles Oliveira and, a somewhat more convincing, Nate Diaz did their best to put their names in the hat for the sought after date with the Irishman, after blitzing 'Cowboy' in the first round the Brazilian champion looked to align himself with McGregor too.
"Hey Mr. McGregor!" he boomed into the microphone in the middle of the Octagon in Florida. "If you want to come to the lightweight division, this is my division, man. It's better for you to stay in the featherweight division."
Dos Anjos continued to declare an interest in meeting McGregor in the event's post-fight press conference: "Conor McGregor has been saying that he wants to come to my division and I think it's not going to be a smart decision for him. If he wants to come, I will be happy to help him (come into the division)."
With both champions coming off stunning first round finishes there is sure to be ample anticipation ahead of UFC 197 should the super fight be confirmed by the promotion.
Tate Out to Prove a Point
After losing out on a third bout with Ronda Rousey to Holly Holm at UFC 193, Meisha Tate was so dejected that she considered retirement. The very public pass up by the UFC undoubtedly frustrated Tate, but according to last night's reports, the former contender will get a chance to prove her worth as Holm looks to defend her title for a first time on March 5.
Knowing that claiming the title will hinder the expected rematch between Holm and Rousey at July's blockbuster UFC 200 event, Tate will be doing her best to guarantee her place alongside Rousey at the marquee show at the all-new MGM Stadium.
Holm has previously commented on how she perceives Tate as an opponent. The bantamweight champion shares the common opinion that 'Cupcake' presents a whole new set of problems for her.
"Meisha Tate is a whole different fight than Ronda," said Holm at UFC 194. "Every fight is different. I feel like she's pretty well-rounded. She's one of those scrappy fighters in every position so we would train completely different for it. I obviously, like always, feel like I can win. Otherwise, why would I be taking these fights? But with that comes a lot of hard work and you have to perform."
Risk for UFC 200
Should the heavily reported event be announced by UFC, it will undoubtedly be a very brave move by the promotion. UFC 200 has been teased for a very long time and as the first sporting event set to take place in the all-new MGM Stadium, UFC are hoping to break their pay-per-view and gate records at the July 9 show.
Having claimed the MGM Grand Garden Arena's attendance and gate records, McGregor and his travelling Green Army will undoubtedly be called on to bolster the event. Furthermore, UFC had made no secrets of their wish that Ronda Rousey will take to the Octagon on the same night. Having recorded the third most bought pay-per-view alongside Holm in Melbourne, the combination of Rousey and McGregor is likely to challenge the current buy record set at UFC 100 back in July 2009 (1.6 million).
Dana White and Co will surely be watching UFC 197 through their fingers if McGregor and Holm are on duty that night. McGregor's frenzied Irish support have become a key selling point to the Dubliner's fights in Sin City and if Tate beats Holm, the lucrative rematch with Rousey will undoubtedly suffer.
Check out these related stories:
Frankie's Fury Points to Lightweight Debut for McGregor
UFC Ready to Risk Holm Before Ronda Rematch
McGregor Was on the Tip of a Lot of Tongues in Florida