Media Manufactured Retirement Talk Hindered Brad Pickett in London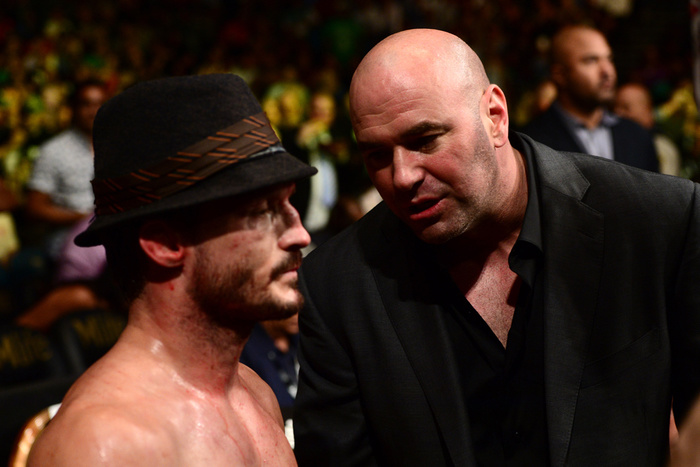 Brad 'One Punch' Pickett's retirement was one of the talking points ahead of UFC London earlier this year, but that had nothing to do with the hometown hero who was preparing for his bout with Francisco Rivera.
As the Londoner remembers it, the constant inquiries from the media as to when he would be hanging up his gloves allowed the topic to gain legs in February.
"I wasn't even thinking about retirement ahead of that fight, it was the media that put it into my head," he said.
"Every single interview I did before the fight they asked me the same question— 'Are you retiring?'—and honestly, I was thinking, 'What the fuck'?"
"It got into my head and I really started to doubt myself. I was thinking that maybe I should give up because all of these people keep asking me about it."
Pickett explained how he became a lot more self-conscious after the questioning started regarding his future, leading him to ponder his relevancy in the sport.
"I had come back up to bantamweight and I was coming off a loss to a top tier fighter in Thomas Almeida. Then I started to think about how it had been two years since I had won in the Octagon," he said.
"It kind of had me thinking that my ship had sailed and maybe I hadn't got it anymore. It was the most my head had been messed with ahead of fight ever.
"I don't entirely blame the media. In a way, I can understand why they did it because it made for a good story—me finishing my career in my hometown.
"I definitely don't feel like I'm ready for retirement. I feel great. I love my job."
The Englishman has never backed down from a challenge and is infamous in the MMA community for his grit and resilience in the most electrifying exchanges.
Dana White once famously used Pickett as an example of a fighter with the most unshakeable heart when lambasting the approach of hot-and-cold striking standout, Uriah Hall.
'One Punch' prides himself on his mental toughness, but admitted that the for the first time, the manufactured retirement talk made him feel a lot of pressure going into his clash with Rivera.
According to Pickett, the retirement stipulation made the London fight one of the most difficult situations he had ever found himself in during his career.
He said: "I consider myself one of the mentally tough fighters in the game, but honestly, it was the hardest thing I've ever dealt with going into a fight.
"It was nothing about my opponent. I could be going into a fight with the world champion, Dominique Cruz, or even a killer like Mike Tyson or the postman, whoever, and I wouldn't be afraid.
"There was just an overwhelming pressure that was hanging on the result of the fight because of all of the talk. It really was a massive weight on my shoulders."
The bout with Rivera was a close affair, which couldn't have helped Pickett's nerves as he stood in the middle of the Octagon awaiting the decision.
The first round to Rivera and a third round to Pickett seemed to be the common feeling among the press at Octagon-side, but it was the tricky middle stanza that divided opinion.
Anyone that didn't understand the significance of the victory for Pickett got a great insight into his mood when the announcement of his win rang around the 02 Arena.
"You can see the relief written all over my face when the result was read out. When I got the nod from the judges it was a really great feeling after such a tough time.
"I was crying. I was really in bits. I was even crying backstage after the fight, it was a very emotional win. I really was an emotional wreck after it.
"They say that's what having kids will do to you, so maybe that's what happened there. I probably have too much estrogen in my body now," he laughed.
Pickett's unbelievable mental resilience will be on display again at UFC Manchester when he takes on Iuri Alcântara. Despite being ruled out of UFC Hamburg due to a back injury, Pickett will boast a fractured spine into his rescheduled meeting with the Brazilian on October 8 in Manchester.
"To be honest, it sounds a lot worse than it is," he said.
"I do have a fractured spine but I've been dealing with back injuries throughout my career. Every now and then I tweak my back and I'll take a day or two off and then I will be fine.
"I went to see a specialist and he did some X-rays. He identified the fracture on the x-ray, but they thought it could have been there for a long time. We did the MRI and we knew then that it was a very old fracture.
"The pain I was feeling was because of disc inflammation. I probably could have fought at UFC Hamburg but I knew that I wouldn't be firing on all cylinders. I asked could we move the fight ahead five weeks and UFC allowed that to happen.
"I've been cleared by doctors and although my back never feels 100 percent, it feels exactly the same as it does when I'm usually going into a fight."
Check out these related stories:
Brad Pickett Almost Got Mauled by Monkeys on His Way Home From School
The Woman Behind the Man in the Cage