Mendes, Lamas Fighting for Second Place
UFC featherweights Chad Mendes and Ricardo Lamas have a lot more in common than their designated professional MMA weight class.
The pair of elite mixed martial artists, who made their UFC debuts in 2011 after multiple appearances in the WEC, both come from strong wrestling backgrounds, and have shared common opponents like Erik Koch and Cub Swanson. They are also the last two men to fight current featherweight champion Jose Also, both losing via unanimous decision. And after falling to the champ, Mendes and Lamas find themselves in a sort of divisional purgatory, fighting this Saturday, April 4, for what can only be described as the silver medal at 145 pounds.
For Mendes, the upcoming contest against Lamas comes on the heels of a "Fight of the Year" performance for his closely contested decision loss to Aldo in October 2014. And while Mendes looked impressive against the champ, trading punches in the pocket, even knocking Aldo down, the loss was his second straight to the incumbent, making a trilogy matchup highly unlikely.
Lamas put together a pair of wins to close out 2014, submitting Dennis Bermudez in November, after taking a decision over Harcan Diaz in June. But Lamas' 2014 campaign began on down note, when he was dominated by Aldo at UFC 169, a fight where Lamas looked timid to even exchange with the champion. And while Lamas initially sat out an entire year to receive his crack at Aldo, the landscape of the featherweight division has changed so much in the last 9 months, that even with a win over Mendes on Saturday, Lamas would need to continue stockpiling wins over legit competitors to even earn a second sniff at the belt.
So with a title shot off the table for Saturday's winner, what does the Mendes-Lamas matchup mean for the UFC featherweight division?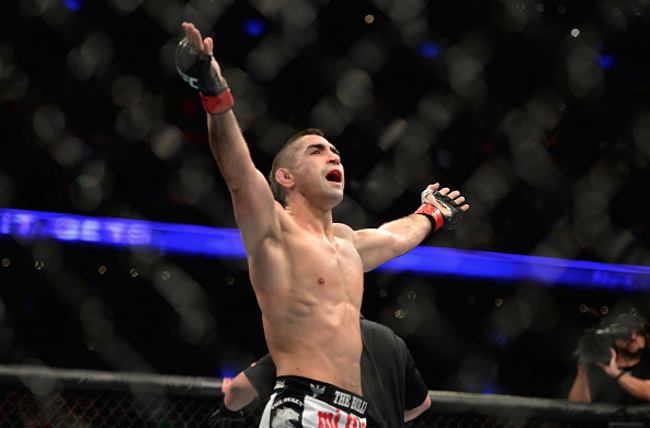 For starters, no conversation about 145-pounders can omit Conor McGregor, the surging, electric Irishman who will fight Aldo for the title on July 11 at UFC 189. Without McGregor, the featherweight division may still be under the radar. And while McGregor has not topped competition on the level of Mendes and Lamas, he has raised the division's profile, creating new enemies with every passing interview.
Both Mendes and Lamas have ended up on the wrong side of McGregor's sensationalized, never-minced words. Dating back to an October 2014 interview with BTSport, McGregor made uncouth remarks about placing his genitals on Mendes' scalp, igniting an instant rivalry.
Lamas, conversely, goaded McGregor into verbal sparring by producing a low-to-no-budget parody short entitled "'The Delirious' Conrad McGillicutty," poking comedic jabs at the Irish fighter's meteoric rise.
And while both verbal feuds stray far, far away from the codes of respect instilled in all martial artists, they ensure that both Mendes and Lamas will have legitimate, marketable fights while the belt remains out of reach.
Could the winner of Mendes-Lamas face McGregor following UFC 189? It's quite possible. Even the loser could be paired with McGregor, given the UFC's general preference to pit fighters coming off losses against each other.
But what if Conor McGregor somehow dethrones Jose Aldo in July? Surely there will be an immediate rematch for the seven-time defending champ. In fact, just yesterday, while on the road promoting UFC 189 in Dublin, UFC President Dana White mentioned a possible date at the 80,000-seat Croke Park stadium for later in 2015. This would be the ideal location for McGregor-Aldo II, leaving Mendes and Lamas without dance partners for the foreseeable future.
One likely scenario revolves around perennial top-10, and current number-two ranked, Frankie Edgar, who will face Urijah Faber on May 16.
Should Edgar beat Faber, he would be an ideal matchup for the winner of Mendes-Lamas, given the provision that McGregor beats Aldo. However, if Aldo retains his belt in July, Edgar would likely be propelled to championship status, leaving the Mendes-Lamas victor with no one to fight.
Of course, should Dennis Bermudez top Jeremy Stephens at UFC 189, he could become a viable matchup for Mendes, although fighters do have a way of avoiding lower-ranked opponents at every possible opportunity.
Then there is the case of Nik Lentz, the oft-injured wrestler who has had difficulty finding opponents of late. Having already lost a matchup to Mendes in 2013, Lentz could become a possible foe for Lamas, although this may be one of the least entertaining contests imaginable, as both Lamas and Lentz have a predilection for a slow-grinding top game and controlling position.
Without another chance at the belt dangling in front of Mendes and Lamas, the options become limited, boiling down to McGregor, Edgar, Bermudez, and Lentz. There is also the off chance that former featherweight staple Dustin Poirier returns to the division after making his lightweight debut on Saturday. And while Poirier would make for a good matchup with both Mendes and Lamas, it's uncertain if he'll ever return to 145-pound territory.
So there it is; Chad Mendes and Ricardo Lamas are playing against a stacked deck. The set of cards is limited, making not just a victory, but an impressive and exciting victory at that, essential on Saturday. Although, at best, they'll be fighting for second place.
But who knows, Jose Aldo has already made reference to a big announcement following UFC 189. Perhaps he'll vacate his title and blow up the entire division. It would surely open things up for Mendes and Lamas.
Check out these related stories:
Chad Mendes, Ricardo Lamas and the Shifting Path to Featherweight Gold
Chad Mendes Hopes for a McGregor Win Over Aldo
Ricardo Lamas Seeks Knockout Win On Saturday