M.I.A.'s New Music Video Features 36,000 Kung Fu Fighters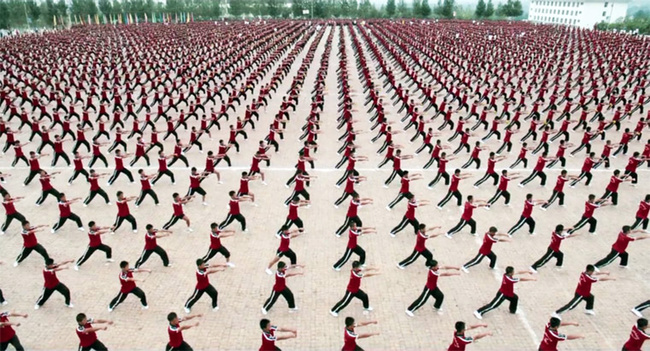 We have written about martial arts and appearing in music videos before. We even ranked some of our favorites. There's a lot of good one's out there, including Cat Power's "King Rides By," that consists entirely of Manny Pacquiao hitting a speed bag in slow motion.
Honorable mentions include 90s classic "The World's Greatest," in which R. Kelly struts around a boxing ring, and Joyce Manor's "Catalina Fight Song," which features the band getting thrown around by BJJ instructors.
The list goes on but there's a new champion of martial arts related music videos, and it's Gener8ion and M.I.A.'s "The New International Sound Pt. II."
The video begins with an overhead shot of an army of 36,000 Chinese students from the Shaolin Tagoudo Martial Arts School practicing kung fu forms in unison. It continues with great scenes from within the largest martial arts school in China, which according to the Daily Telegraph, was built in 1978 in response to revival of kung fu due to the Jet Li film Shaolin Temple.
Inigo Westmeier, who also made a film in 2013 about Chinese women training to become kung fu fighters called Dragon Girls, directed the piece. Check it out below:
Check out these related stories:
The Best (and Worst) Martial Arts Themed Music Videos
Shia LaBeouf's Interpretive Dance-Fighting
Arianny Celeste Fights and Showers in New NSFW Music Video