Mixed Martial Arts at the Turn of the Century
The year 2000 was a strange time for MMA. The top talent was spread across multiple organizations and the legality of MMA itself was shaky in the United States allowing the Japanese promotion Pride FC to accumulate a large number of big names and make a play to become the premier combat promotion.
Although established in 1997, they'd only put on eight events and the 2000 GP launched Pride into the major leagues. On May 1st, 2000 the final rounds of the tournament played out. One man would have to win 3 times that night to be crowned champion on the biggest stage in MMA before close to 40,000 fans.
Those favored to win the tourney were "The Smashing Machine," Mark Kerr who was undefeated at the time at 12-0 and Igor Vovchanchyan, a Ukrainian knockout artist with over 40 professional fights who hadn't lost since 1995.
But before the winners and losers are discussed, let's look back at the most intriguing fight of that night:
Royce Gracie and Kazushi Sakuraba were placed on the same side of the Pride Fighting Championship open-weight grand prix tournament bracket, presumably so Gracie could exact revenge for his older brother Royler's submission loss to Sakuraba six months earlier. That loss had been the first for the legendary Gracie family in decades, so they sent their golden child, undefeated former UFC champion Royce, to take on the man who'd shamed them. Special rules were put in place and time limits were thrown out the window—the fight would only end with a submission or a knockout. The result was the longest fight in MMA history.
The fight also signaled something of a sea change in MMA, with Gracie's once dominant BJJ-dependent style neutralized by the wrestling, balance, and variety of a more well-rounded fighter. Taking advantage of the "no rules" setup, Sakuraba grabbed hold of a standing kimura early in the fight and pulled Royce outside the ring ropes in the opening minutes, threatening an early night for the legend [pic above]. The action-packed first round almost saw another finish by the Japanese wrestler when he attempted a kneebar. Gracie responded with vicious heel kicks.
Throughout the second, third, and fourth rounds Gracie was unable to take Sakuraba down or pull guard, and the fighters entered into lengthy clinch wars, exchanging knees and waiting for the other to make a mistake.
While neither fighter had an exceptional striking game, dozens of leg kicks from Sakuraba wore down Gracie's lead leg over the course of the fight, limiting his mobility and speed. By the fifth round, Sakuraba was regularly getting the better of the striking exchanges and showed no signs of fatigue. Gracie, meanwhile, was considerably hobbled, and his attempts to initiate grappling exchanges produced some of the most enduring images of the fight: Sakuraba grabbing the seat of Royce's pants, flipping him on his head, and delivering a straight right to the grappler's face...
... and later leaping into Royce's guard with a punch straight out of an action movie.
In the end, after six grueling rounds, and under the stoic gaze of Royce's father--the grand old man of Brazilian jiu-jitsu, Helio—the Gracie family was forced to throw in the towel.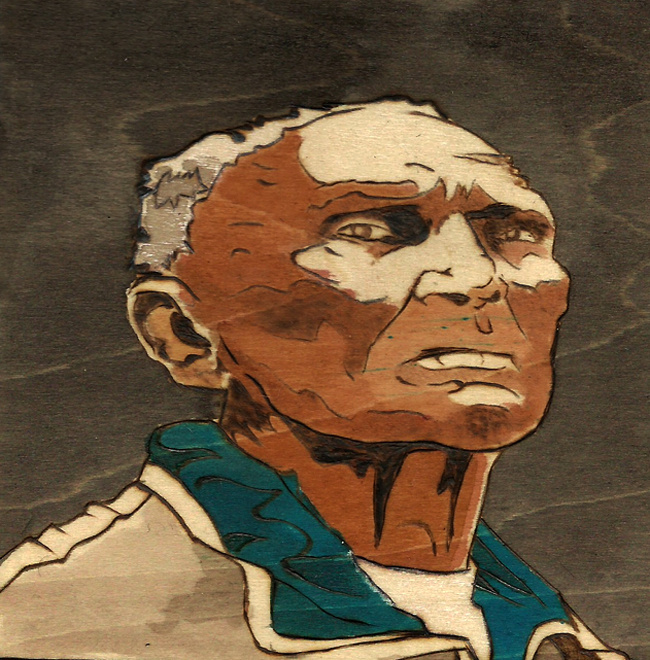 While this all played out, Igor Vovchanchyan set about doing what he always did: demolishing men with his fists. The Ukrainian kickboxer met Gary "Big Daddy" Goodridge to start the night and the two heavyweights slugged each other mercilessly. In the end though, Vovchanchyan's more experienced hands found the mark more often and at ten minutes in a series of overhand rights put Goodridge on queer street. Stumbling across the ring, Goodridge was stopped only by the ropes and as he crumbled to the canvas, Vovchanchyan calmly stalked him down and finished the arm wrestling champion with strikes.
Vovchanchyan woud next face the game Sakuraba who chose to continue fighting even after his 90 minute marathon with the legendary Gracie fighter. Most of those in attendance would have given the Japanese wrestler a pass if he'd have bowed out but were instead treated to a near upset. MMA's eternal prankster met Vovchanchyan in the middle of the ring, exchanged punches and took the kickboxer down. Stuck in Sakuraba's game Vovchanchya might have lost an upset had fatigue not been eating away at Sakuraba's offensive ability. Getting back to his feet Vovchanchyan grabbed his opponent, suplexed him and started to pound away, opening up him up with hooks through the guard.
The two men laughed and hugged at the end of the round, Vovchanchyan marveling at his opponent's heart. Sakuraba seemed to laugh at the absurdity that he was still fighting... he had been for 105 minutes that night. Because of the weight differential, Pride scoring gave an advantage to the lighter opponent (these were special tournament rules) and because of this the 15 minute round was scored a draw and a second round was requested. Sakuraba's corner immediately threw in the towel as his fatigue was too much. Both men raised each other's hand and the crowd applauded their valor.
Mark Kerr had been absolutely demolishing his opponents since arriving in MMA entered the tournament as a heavy favorite. The American wrestler combined explosive speed with a heavyweight's size and strength that was aided by a rule set that allowed knees to the head of a grounded opponent. Watch his first fight against Paul Varelans if you'd curious how much punishment a 300 pound man can absorb before he crumbles.
In the one major upset of the whole tournament, Kazuyuki Fujita would come back from an early onslaught to defeat the heavily favored Kerr. The man known as Iron Head was blitzed early in the fight and ate a few knees to the face as Kerr, looking like He-Man sought an early stoppage. Then in a scene that MMA fans would come to recognize, the guy with the movie star muscles gassed out. Fujita got off of his back and the normally placed Japanese audience erupted in cheers as Iron Head got on top of Kerr who'd tried to avoid damage in the turtle position. With no gas left in the tank Kerr took his medicine, absorbed strikes until the bell rang and exited with a stone face while 40,000 fans in attendance showered the one time professional wrestler with only 3 professional fights with cheers and adulation. Fujita seemed energized by the win and it's possible that this fight became the springboard that allowed his career to include fights against the legends Ken Shamrock, Mirko CroCop Filipovic, and Fedor Emilianenko.
What none of those cheering fans knew at the time was that Fujita had blown out his knee and this would have a profound effect on the next round when he faced Mark Coleman. This information was relayed to Coleman by Kerr backstage between fights.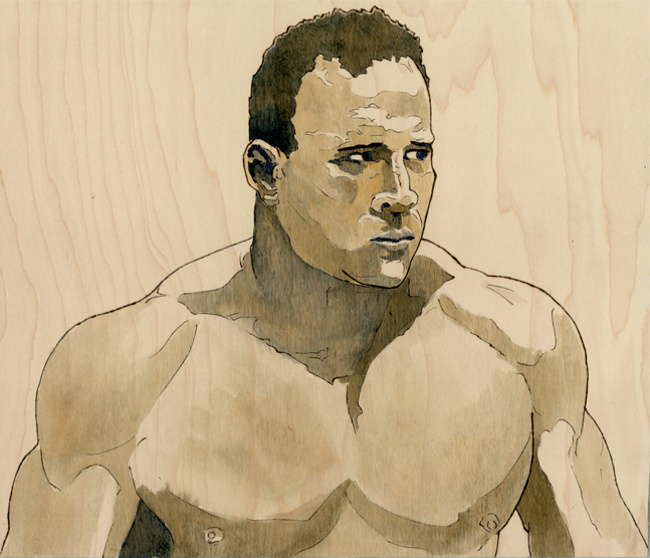 Old dog, new tricks. Mark Coleman entered the Grand Prix with a huge monkey on his back. The former UFC heavyweight champion was 35 years old with a record of 1-4 in his last five fights. He was regarded as old and his protégé Kerr was viewed as the heir to his mantle. He trained extensively at Ohio State for this tournament and is fighting for both his financial well being as well as a legacy that is in jeopardy. In Coleman's first fight of the tournament he showed signs of his old form, instantly taking down Masaaki Satake and submitting him with a neck crank in 1:14, in similar fashion to his victory over Dan Severn in 1997 at UFC 12.
When Coleman faced Akira Shoji that night in May he surprised all in attendance with a new weapon: a jab. Striking on the feet had never been Coleman's forte but now he was using it to his advantage. Expecting a takedown, Shoji ate a number of hard jabs to the face and soon found himself clinching with Coleman who then took his opponent down and began punishing his ribs with dozens of right hooks. Over and over the camera crew put closeups of Shoji's ribs on the bigscreen and the crown groaned in unison. Neither man would give in and the judges would be called upon to render a decision, finding Coleman victorious.
The next fight is the fight that never was. Coleman and Fujita entered the ring and when the referee signaled for the fight to begin Fujita raced forward for a takedown. Simultaneously his cornerman stood on the apron and threw in the towel. All could see in a few seconds that Fujita was severely hobbled and his left leg was taped up from his upper thigh down to his calf. Coleman had been given a gift by the MMA gods.
In the finals two battle worn men faced off for a chance at glory. Igor Vovchanchyan though was no match for an energized Mark Coleman. The Ukrainian knockout artist could not stop Coleman's powerful takedowns. This final moment was where Mark Coleman left nothing behind. He lifted his opponent into the air and put him on his back.
It is Coleman's most impressive and dominant victory in years. He is a man from another time, with skills that are too brutal for today. The headbutts had already been banned but when Coleman put Vovchanchyan on his back the knees he landed were almost absurd. Pinning his adversary upside down, he raised one leg high in the air and brought the knee down over and over to the top of Vovchanchyan's head. Close to a dozen landed before the TKO was called.
Finally, Mark Coleman had solidified his legacy. The crowd burst out in applause and his celebratory leaping dance has played out over hundreds of message board threads. It's the dance of man who has nothing left. No fear, no shame, no worry about his status or future as a fighter. It is a man who has fought, and won.
Check out this related story: