Mixed Martial Arts through Drawing: An Interview with Lucky Nakazawa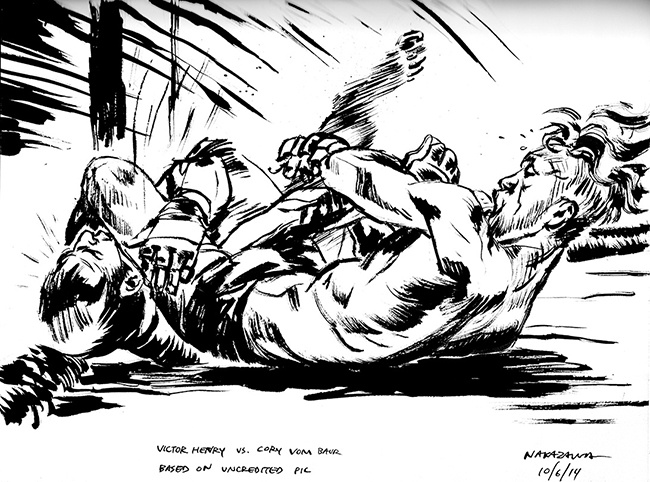 Kiyoshi Nakazawa found enough inspiration in comics, cartoons, advertisements, album covers and the visual culture of punk and rock and roll to consecrate himself as an artist, but it was seeing his grandfather paint that gave him the motivation and influence necessary to begin drawing.
Lucky Nakazawa—the alias by which he is known, and which demonstrates the potpourri of cultures and identities that guard his past and present—currently works in animation, illustration and comics. His work—both commercial and artistic—is a documentation of what happens in his life. Making the client happy is a necessity, but he always looks to include his mind and heart in the process.
He often works around the conflicts and themes of opposition that generate rivalries in their own rights: man versus nature, man versus machine, man versus god, and, of course, man versus himself. This is why he is so interested in mixed martial arts and other combat sports.
"I don't like complicated stories, I don't like a complicated personal life," Lucky tells me. "I distill my themes. I simplify my imagery because I have a clear understanding of what I am saying and of what I explore."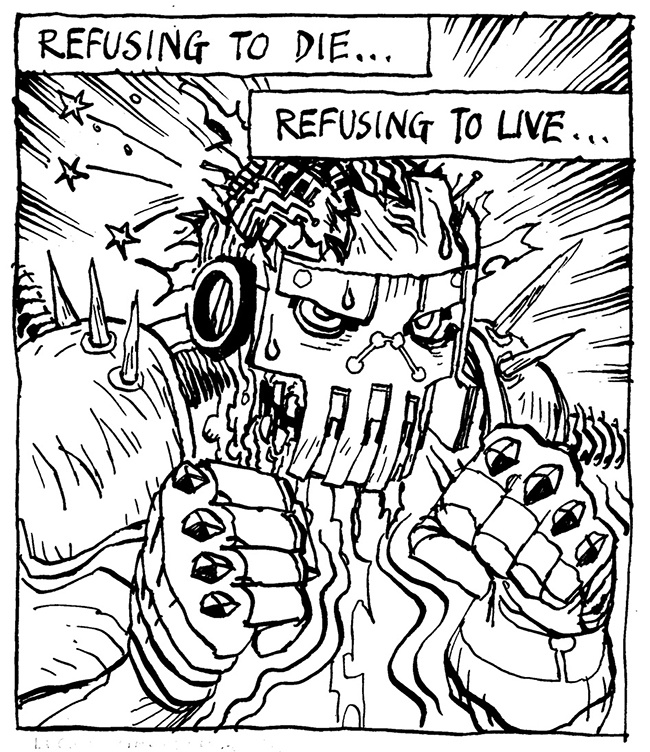 The Japanese-American artist is a third-generation judoka. His grandfather, father and brother were all successful competitors. He stopped training in high school because he took on drawing. It took him almost ten years to take up training again and he attributes that decision to the fourth installment of the UFC, which he saw live. He specifically remembers the fight between Royce Gracie and Dan Severn, where the thin Brazilian jiu jitsu player faced a muscular and experienced fighter, finishing him with a triangle choke—a classic submission technique in mixed martial arts. At the time, Lucky had to watch a replay a few times because he couldn't understand what had just happened.
"I talked to my friends who practiced martial arts and we started training in a garden, with a mix of kickboxing, judo and karate—disciplines each of us knew and practiced. It was stupid and dangerous. We trained on concrete and grass, it was a disaster," Lucky tells me about getting into the sport. "I worked as security at bars and I learned how to hold people. I rekindled my interest in judo and learned about jiu jitsu. Since 1996, I've been training at Tenri Dojo in Los Angeles with Sensei Tokuzo Takahashi."
Some time later he learned catch-wrestling from Josh Barnett, and now he prefers to train in martial arts over going to the gym or running because it keeps him sane physically and mentally. Lucky had his first exhibition catch wrestling match in September on Combat Submission Wrestling, where Josh Barnett was the referee.
"I think catch wrestling is more pragmatic. You can never let your opponent fight from below. Even if you have a finish with which to work, you have to punish and bother by any means necessary. It will not be comfortable working from below," Lucky said.
During a judo tournament, Lucky injured his elbow with an arm lock, and since then he says he's become more cautious about injuries for fear of affecting his ability to draw. Nevertheless, he elaborates that you cannot train or fight fearing that you might be injured—it isn't the right attitude. That attitude would only destroy you, he explains.
Currently, Lucky explores combat sports by drawing them: "Some fighters have incredible faces between their cauliflower ears and broken noses. You can be a spectator, a fighter, or you can just see the spectacle, trying to represent it. Explore it with artistic images."
Beside his relationship with martial arts, Lucky is a collaborator for a punk fanzine called Razorcake, which he assures is the only not-for-profit punk magazine in the United States and where he regularly publishes a comic column. It's his way of giving back to the community, he tells me proudly.
"That's my way of being punk. The most important thing I learned from punk is the DIY ethic. Do it yourself. That's what it means to be punk. Punk is the substance that alters my mind. Others would take LSD, and I would take punk rock. It's the sonic art form that opened my mind in a visual manner."
Lucky Nakazawa also has his own fanzine called Drunken Master, where he publishes a mixed martial arts comic. PRIZE is the story of an amateur Japanese-American fighter in search of his place in the world of professional mixed martial arts. It's focused on what happens in the Octagon and how to relay—in static images—the movement that occurs in a fight. It's a technical and emotional exhibition that explores the idea of time for fighters, but it isn't a work of fantasy.
"I know and deal with professional fighters. I'm more involved in fight culture. I have a more realistic vision of what happens in a fighter's heart, and that's what I'm trying to portray in the comic. I gained more experience while I made it. Fighting became more important to me, more real."
When asked which fighters he admires, he mentions some more old school guys, like "Rampage" Jackson, Chuck Lidell, Wanderlei Silva, Mark Kerr, Mark Coleman, and, of course, Fedor Emelianenko. Nevertheless, he also maintains a logical link to fighters who have or share Asian heritage such as Enson Inoue, Dennis Kan, Lyoto Machida and Benson Henderson. And like any competitor, he pays attention to fighters in his weight class—between 135 and 155 pounds—imagining himself facing those athletes as a professional.
"I really like Benson Henderson because he's in my weight class and he likes comics. Although I think he dropped a weight class, so—Benson, I challenge you to go up 15 pounds and fight me. I'll make a comic as to how he gives me a whooping. Maybe I'll stand a chance if it's a drawing battle."
Check out these related stories:
Superheroes and Martial Artists: An Interview with Illustrator Dan Panosian
The Greatest Fight of All Time: Muhammad Ali vs. Superman
Ryu vs. Lyoto: Bryan Lee's Fantasy Matchmaking