Muay Thai in the New Year
January 1, 2016
Surin Province, Thailand
The turn of the year in Thailand is a multi-day celebration, same as it is around the world. But for many in Thailand's Muay Thai community, the days surrounding the New Year are devoted to fights. Thousands of fights happen all over the country, and especially in Thailand's northeastern region of Isaan.
In Isaan, a region known for producing most of Thailand's Muay Thai fighters, it's common for contenders of all ages to fight multiple times during holidays. Promoters are able to put on more events during these holidays than other times of the year, mostly due to local governments footing the bill for the events. Local citizens donate extra to their temples on holidays, and the temples give back by hosting free fights.
For those in the Muay Thai community, it's a hectic but exciting time. For the fighters themselves, it's a time to earn extra money for their families, to gain experience in the ring. Gym owners and promoters use it as a time to network and build their name.
"A lot of the fighters around here fight once a month and that's enough," says Boom Watthanaya, owner of Wor. Watthana, a small gym in a rural village in Khorat Province. "But sometimes the problem is there aren't many promotions happening, or the fighters are at the wrong experience level or weight class. It can be hard for some of them to find good matches. So they have to jump on fight opportunities when they can."
As a former fighter himself, Boom has firsthand experience fighting back-to-back during the holidays. He knows what his fighters are going through.
"It's not good for their body for sure," Boom says. It's hard for all the fighters, he says, regardless of age or experience level. "The fighters might get hurt. There's not enough time to rest."
The saving grace is that for the most part, this happens only a few times a year, mostly during the days around New Year, Songkran, and Loi Krathong.
High-frequency fighting centered around holidays happens mainly in the countryside, far away from the big venues in Bangkok. Fighters must adhere to a mandatory three weeks between fights, but in the countryside, laws like this are not regularly enforced.
It's easy to be matched up this time of year. Many of the fights on these holiday promotions are for entertainment, not climbing up the rankings. Ex-fighters jump into the ring again, looking to make extra cash. New fighters get vital early-career matches. For many, it could be their first foray into fighting. With so many wild cards, the variety of fight quality means excitement for the audience.
Some fighters accept matches every day over the New Year holidays, sustaining cuts, bruises, fractures, concussions. Some emerge unharmed. Some step into the ring twice in one day, a car ride between events their only time to rest. They do it because they can. For some of them, they do it because they must.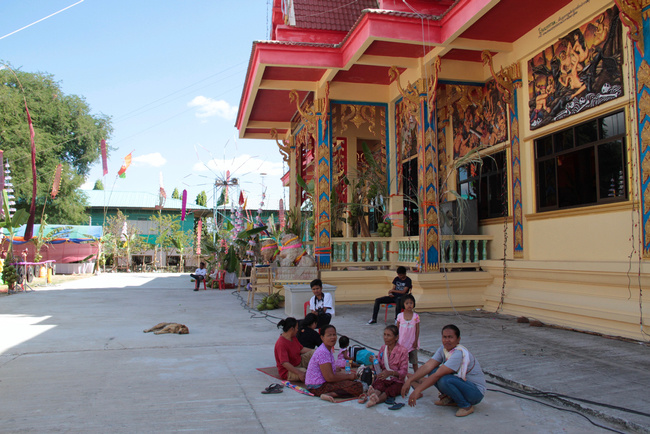 Check out these related stories:
Banchamek Surin: Inside Buakaw's Gym in Rural Isaan
Born Too Early: Reflections on Muay Thai's Golden Era
Muay Thai and Marigolds: Festival Fights at the Botanic Gardens of Northern Thailand