MVP Is Being Spoon-Fed Opponents
Evangelista 'Cyborg' Santos was supposed to be Michael 'Venom' Page's toughest opponent to date when they met at Bellator 158.
The spectacular striker has made a name for himself by pulling off highlight reel finishes against but one of his ten opponents, and the former Pride and Strikeforce fighter was deemed to be a step up for the Brit.
Having faced greats like Nick Diaz, Maurício 'Shogun' Rua and Gegard Mousasi the 38-year-old Brazilian was forecasted to bring a new level of competition to 'Venom'. Despite the experience he brought to the table, he contested his 39th pro fight at London's 02 Arena on Saturday, 'Cyborg' became another edition to Page's list of greatest hits.
Of course, competing in front of his hometown crowd at the height of his popularity, the promotion would have wanted the people to go home happy. Yet, the final blow not only highlighted how sensational the sport karate proponent is, but it also forced us to question whether 'Cyborg' was even a genuine test of the 29-year-old.
Overcommitting on a lead right hand, Page met Santos' head with a devastating leaping knee. The fans roared as the veteran went down as if a bullet had hit him. Clutching his forehead, clearly in agony, Cyborg was immediately treated by medics as Page reemerged wearing a Pokemon inspired baseball and rolled a 'Pokeball' in the direction of his counterpart.
Moments after the final blow had been landed, film of the spine-tingling knockout went viral. Just two days after the event, the YouTube clip of the stoppage has already been viewed nearly 1.5 million times.
Bellator color commentator Jimmy Smith tweeted that the medical professionals who treated 'Cyborg' immediately after the bout likened the injury to something that would occur in a car crash.
"A cut man who had worked as an EMT saw Cyborg after and told me he had only seen an injury like that in a severe car crash," he wrote.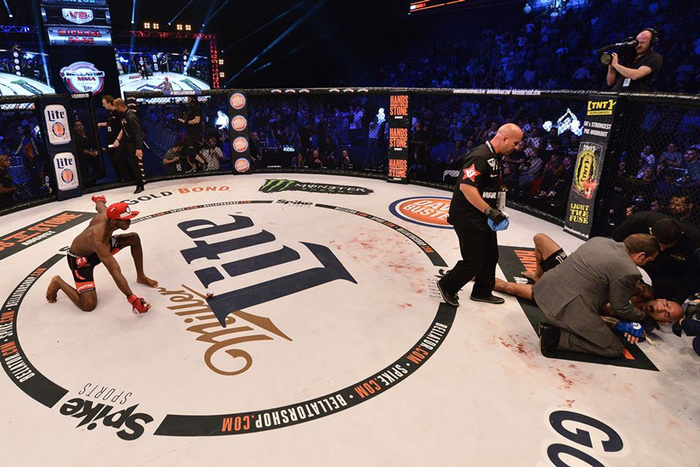 The following day, Cris 'Cyborg' Justino posted an image of her ex-husband from a UK hospital with a massive dent in his forehead where MVP's knee landed, along with an x-ray image that showed that the blow had fractured his skull.
"Cyborg is still in the hospital in the UK, and they are not sure when he will be able to fly again. He has not had surgery yet and there is worry the brain can continue to swell causing more damage."
Justino also provided a link in her Instagram post for people to donate towards a Go Fund Me account to help Santos financially.
At the time of writing, the account of was just $1440 dollars shy of it's $20000 dollar target, which the page outlines will help pay for medical costs and help Santos's family as the fighter be "unable to work for some time."
Later, Scott Coker told MMAJunkie.com that Bellator would pay the Brazilian's medical bills as well as provide him with a win bonus "to help him find a little extra comfort throughout his recovery process."
No More Soft Balls
Really, the only thing that we learned from MVP's last fight is the same thing that we knew already – he is one of the most devastating and unorthodox strikers in the fight game.
While Bellator billed the bout as a big test for the Englishman, a previously retired veteran of the sport who had a pretty much even record going into the bout (21-17) was never going to provide him with it. Page's blow was the eleventh time that he has been finished by strikes in his career.
The fact that he suffered an injury that will likely end his career really brings the message crashing home that MVP needs a massive step up in competition against a fighter who is relevant and somewhat savvier in the striking realms.
Should the promotion continue to choose spectacle over sport in terms of the matchups made for 'MVP', it isn't beyond the realms of possibility to see more devastating injuries suffered by his opponents given the potency of his attacks.
At 11-0, it is time to see how the 29-year-old stacks up in terms of the rest of the middleweight in the world. Everybody knew that he was capable of bringing an end to contest in the dramatic fashion he did on Saturday night, and to be honest, given his striking pedigree, he should be able to pull off similar feats given the right amount of space and time against any opponent.
With the greatest respect, Santos was nothing more than a passenger in the contest last weekend. He backed up throughout the two rounds and offered little more than failed spinning back fists in terms of striking offense. On the three occasions that he threw it, he missed the target by inches.
It's clearly time to up the stakes for the striking sensation.
Check out this related story:
How Bellator London Taught Me That I Don't Care About Knockouts