No More Brazilians for Anderson Silva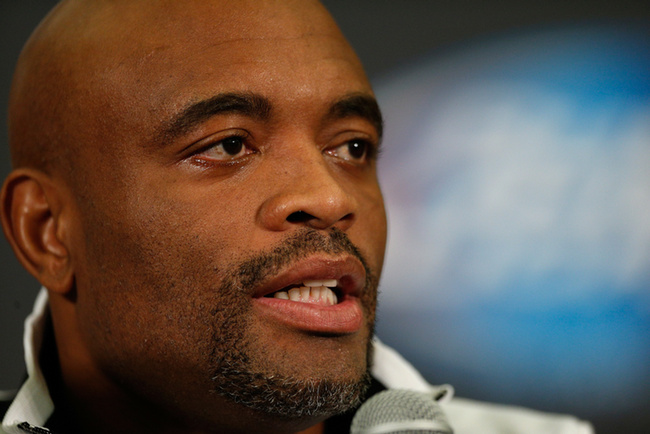 Amidst his training to return to the Octagon at the end of next month, Anderson Silva gave an interview to Brazilian sports program SportTV Repórter, where he provides an in-depth look at what his year away from the UFC was like. In the episode, his family is interviewed, questioned about their feelings when they saw their father and husband suffer that life-changing injury against Chris Weidman just over a year ago. In short, it was almost as if the world stopped.
It's a compelling near hour-long conversation and in it, Anderson Silva expresses very powerful sentiments toward a future in which he will not face a Brazilian opponent ever again. A championship belt, to Anderson Silva, is a national patrimony—a legacy that the Brazilian people can be proud of having as a part of their recent history, inasmuch as the national soccer team brings pride and joy to the country whenever it the scores tip in their favor.
In the interview, Anderson explains where he stands in his personal and professional evolution, stating the following:
"I'm in another phase. I want to find myself again. If I get my credentials back up again and have the chance to fight for the title again against Chris Weidman, or any other athlete who isn't Brazilian, I'd fight for sure."
Um grande beijo no coração de todos os meus amigos e fãs obrigado por tudo Sportv obrigado pela homenagem pic.twitter.com/DbKmcuiWPe

— Anderson Silva (@SpiderAnderson) December 23, 2014
Having been the keeper of the middleweight title belt for seven years, between 2006 and 2013, Silva hopes that the title goes back to Brazil. In February, Chris Weidman will attempt to defend his title against Vitor Belfort, who's been away from the UFC's Octagon since beating Dan Henderson via head kick knockout in November of 2013.
For Belfort, Silva had nothing but flowers and respect:
"Vitor has been active in the UFC longer than anyone. He was champion when he was 19, and he deserves this opportunity. I believe that he will win his fight against Weidman. Brazil needs to cheer for him. The title is a Brazilian legacy, it needs to stay here."
Belfort won the UFC 12 tournament in 1997, before Frank and Lorenzo Fertitta and Dana White took over the reins of the flailing fringe promotion, and as such Jon Jones is the youngest champion ever. By now, however, there is no denying Vitor Belfort is a legend of the sport.
A few months ago, Chris Weidman said that he feels there is a lack of patriotic sentiment in American fans, and that when he fought Anderson Silva, and even Lyoto Machida, Brazilian fans went wild for their compatriots, while their American counterparts had no definitive loyalty—some pulled for him, while others pulled for either of the Brazilian icons.
When it comes to sporting events, I think there is no higher stake than national pride. So I agree with Weidman. Only because it would most likely make things more fun and high-stakes seeming. I get it, these are big fights between two really incredible athletes. But wouldn't it be so much more exciting if the stands at a UFC fight had more stadium vibes, where fans are equally split? Freedom of choice is supposedly what makes America great, definitely. But what Anderson said about title belts being a national patrimony is true. Rivalries exist in America as they do anywhere else in the world, however, when your compatriot is stepping to fight someone who's got their entire nation behind them—as Anderson Silva has, and as Silva hopes Vitor will have when he fights in February—don't you get a tiny flame burning up in your plexus that says you should stand up for your boy/girl?
Maybe Anderson's move to not take fights with Brazilians will induce that sentiment in the other men who share his flag, and they'll stop taking fights with each other, too. Well, that's most likely not going to happen yet, as it would probably put a big stop to the match-making machine. In the future, though—imagine the national pride the Irish show when their people fight in every other represented country's fans. Events would explode! What if Pay-per-view events had the same feel of World Cups?
The danger of patriotism in mixed martial arts are the unintelligent masses which—like in every sport—just damage the reputation and the essence of something that is otherwise beautiful. But let's assume we have a pool of the most considerate and reasonable, yet die-hard fans.
Circumstantially, mixed martial arts require two individuals to step to each other and battle until one's gotta call it a day. MMA is an individual sport. Training in MMA, aside from the people who help the fighter achieve his or her utmost potential, is a lonesome activity. You're given feedback and direction while you train, and you're pepped and hyped up before the match, but as we all know you're stepping in there on your own, to face another man or woman who also stepped in there alone.
But with this in mind, how would a fighter's performance change if he was certain that every man and woman flying the same flag as him or her was there to show support? Is this—maybe—the reason why Brazilian fighters have been so successful in the sport, besides being privy to the jiu jitsu and the unrivaled rhythm that courses through them?
Check out these related stories:
The Importance of Anderson Silva's Return
Anderson Silva on Racism, Homosexuality, Police Brutality, and Ballet
Now I Am the Master: Anderson Silva's Obsession with Roy Jones Jr.