No One Puts Hendo in the Corner
Dan Henderson may as well be 10 feet tall, with fists of stone and the heart of a real life lion, shooting fireballs and lightning bolts. A two-time Olympian and two-division PRIDE champion, Henderson has reached mythic and cult-like status in mixed martial arts, his epic list of career achievements, accolades, and H-bombs the thing of legend.
But since 2011, Henderson's gone just 1-5; he's been knocked out, choked out, and beaten every which way imaginable. And still, nothing seems to take the fight out of the 18-year MMA veteran. Nothing.
With his middleweight clash against 13th-ranked Tim Boetsch set to headline this weekend's UFC New Orleans card, Henderson will attempt to score his first win at 185 pounds since 2009. It was then, at UFC 100, that Hendo collected perhaps his most famous career highlight-reel finish, landing a flush right to the chin of Michael Bisping that set the Englishman stiff.
Henderson is hoping to turn in a similar performance this Saturday.
In Boetsch, Henderson may have received a gift from UFC matchmaker Joe Silva. It's not that "The Barbarian" is an easy fight – he's not, Boetsch, a rough and tumble veteran, has slugged it out with Hector Lombard, Phil Davis, Mark Munoz, and Luke Rockhold to name a few – but his forward-prodding, brawling style may be the ideal opposition for Henderson, who has basically transformed his mixed martial arts game into head hunting and finding a home for his vicious right hand.
Therein lies the story with Dan Henderson.
At this point, after 43 pro fights and multiple titles, Hendo is looking for the knockout blow with every swing. Without it, he's defending in the clinch he perfected on the Greco-Roman mats, looking for space and the occasional knee. It's that mere thought of separation and landing the right, that has kept Henderson fighting into his mid-40s.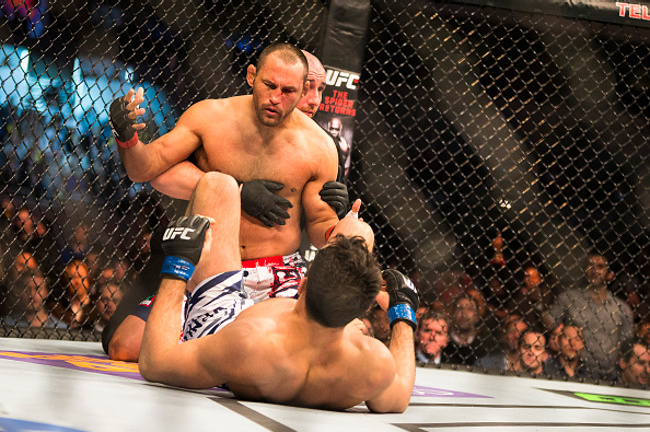 So what can we really expect from Hendo, especially after his abbreviated loss to Gegard Mousasi in January? What is the relevance of a fighter who is four years removed from his last championship? Is it even realistic to think that Henderson can eventually move his way up the middleweight ladder?
In all honesty, probably not. But what Henderson can do, and will keep doing, is serve as a bridge between three eras of MMA, linking together the UFC's earliest days, when he won the UFC 17 middleweight tournament, to PRIDE, when he topped the likes of Wanderlei Silva, Vitor Belfort, and Renzo Gracie, to the present, when he not only took the Strikeforce light heavyweight strap, but also knocked out Fedor Emelianenko.
Henderson has become more than just a fighter and wrestler with a devastating right hand. He's an emblem for mixed martial arts, whose life chronicles the history of the sport, from the No Holds Barred cages of Mobile, Alabama to stadiums in Japan and Sweden, and this is exactly why he remains important.
Sure, there will always be talk about why aging fighters should hang up their gloves. Brain trauma studies are becoming undeniable, and, quite frankly, there's been a competitive drop off. But if you think of the list of legends still hanging around, it doesn't seem that outrageous that Henderson may even fight for another 4-5 years. Heck, his longtime Team Quest teammate Randy Couture did it.
Consider names like Belfort, Mauricio "Shogun" Rua, Frank Mir, and the Nogueira brothers. All of these former champions and veterans will headline cards, fight for titles, or at least compete near the top of major cards in 2015. They are the names that continue to bring interest to MMA, helping to open eyes and raise public awareness of what younger athletes are doing in the modern era of mixed martial arts.
Dan Henderson is no different.
Come Saturday, there's no certainty that Hendo will look any better than he did his last two times out (hopefully though, that fight against Mousasi was a stinker for sure). But every time he gets back into that cage and disregards the constant clamoring of retirement, Henderson is pushing MMA forward by serving as relic of the sport's former self.
Check out these related stories:
Gegard Mousasi Could Be Dan Henderson's Last Fight in the UFC