Ottavia Bourdain Goes Vegan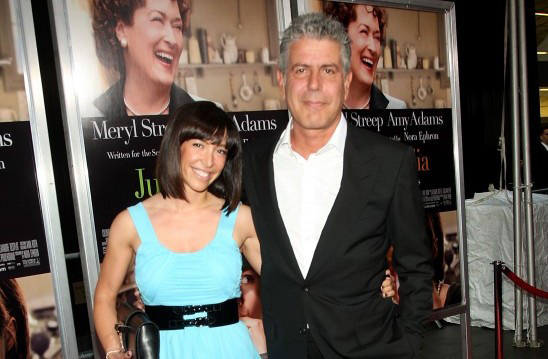 When I was a kid, while my parents were teaching me how to read, write, and ride a bicycle, my grandma taught me what she believed to be equally necessary skills, like how to kill chickens and skin rabbits.
Growing up in a small town in Italy we raised animals in our backyard; our neighbors raised cows and pigs, so I always knew where my dinner was coming from. The very idea of not eating meat has always been pretty much inconceivable to me. Of course I knew about vegetarianism in a religious context, and I respected and understood it, but not eating meat for any other reason just didn't make any sense to me.
And, frankly, it still doesn't. Until fairly recently, meat, where I come from, was a luxury. If you were lucky enough to have it, even a little of it, you sure as shit ate it. If it wasn't the best piece of meat, you made do and you learned to make something delicious out of it.
These days, ours is a family of wolves. My husband and I are huge carnivores; as a Brazilian jiu-jitsu practitioner on an all-protein diet, meat is the common denominator between my and my husband's more omnivorous appetites. Date night is steak night or yakitori or Korean BBQ. Our refrigerator is stocked with all kinds of delicious animal protein. Friends know that if they want to send something over, a meat basket is always appreciated. My husband has been famously bashing vegetarians and vegans for years.
I have my own food peculiarities: I eat tons of meats, but I always need to know where it comes from; it has to be hormone- and antibiotic-free and preferably from grass-fed, humanely raised animals. Mass-produced meat tastes like funky road kill to me. I don't eat any gluten and I follow a very low- to no-carb diet. So yeah, I'm a fucking pain in the ass when it comes to food. I'm the last person who's going to judge what other people eat. Especially if I don't have to deal with them.
I've never had any vegetarian friends. I didn't even know any vegetarians. During the years I worked in the restaurant business I had to deal with some of them and they all looked sad and malnourished, with an irritating attitude of smug superiority. Until recently, I'd never met a vegetarian I liked.
However, to my surprise, in the past few months I've met a few vegetarians and vegans I actually get along with. Among them, UFC fighter Akira Corassani and MMA photographer Ryan Loco.
Ryan is a quasi vegetarian. He told me he started avoiding meat because he likes to challenge himself. "As someone who loves meat, I thought it would be fun to try being a vegetarian for 30 days, " he told me. "It stuck ever since. I have my occasional slip-ups; I don't let it rule my life. If I want to have meat in a meal, I do. But it happens rarely. I can feel a difference the next day if I have meat. I noticed I just felt better overall. Hard to explain. The feeling after eating a full meal of just fruit/vegetables is fantastic. I believe I sleep better and my cardio has improved. Plus I have a rosy glow."
Akira Corassani, meanwhile, is a training machine. When I get to the Renzo Gracie Academy early in the morning I see him taking the no gi class taught by John Danaher, and when I'm already exhausted and ready to go home, he's still there taking the Muay Thai class.
I asked Akira about his diet after he got back from Sweden, fresh off his UFC win against Robert Peralta.
"For many years, I've studied nutrition, and I've always been interested in the correlation between nutrition and health, and specifically for me, performance. I come from a family of doctors. All four siblings are in the medical profession, and after long nights of discussing with them, I noticed that we, as a human race, treat the symptoms of disease, not the cause. The idea of eating meat was no longer resonating with me. I am, and always have been, an animal lover. Not to mention, I learned how the animals were treated. My choice is a combination of what is most beneficial for my health, what is the best fuel for my fire regarding performance, and what is environmentally responsible.
"I definitely saw differences in my body at first, and the 'cleansing' process (which is real!) takes a bit of time, but once I got through that period, it was a piece of (vegan) cake.
"The physical advantages that I now experience make me think sometimes: 'Damn! Why didn't I do this 7 years ago?!' I have more energy, my recovery is incredibly fast, and I have cardio that can go for days. Sometimes, on a Saturday, I have to look back on my week and see if I really trained because I feel great. And then I look at my schedule and I did several three-session days with the best in the world!"
I find Akira's argument compelling. I'm two weeks away from competing at the IBJJF New York Open, so this is probably the worst time for me to start a new diet, but I like a challenge on top of a challenge, so for the purpose of this article, my own morbid curiosity, and to scare the shit out of my husband, I'm going to give this vegan thing a try and see how long I can keep it up. My goal is seven days.
My husband thinks I've completely lost my mind. I promise him it's only for a few days and that I'm really doing it so I can finally write about a favorite topic of mine: my bowel movements. He's still concerned.
Day 1
It's Sunday, I'm not training today and I'll be around the house a lot. I regret not eating all the meat in the refrigerator yesterday. Those lamb chops are calling my name.
All I have on hand is cauliflower, beans, peas, brown rice, and soy creamer. For lunch I cook a couple of pounds of cauliflower. I'm obviously not prepared. I need to go back to the supermarket.
The vegan aisle at the market is a disgrace. Bacon-style veggie protein strip? Bologna-style veggie protein slices? "Gourmet, meatless and delicious!" Who the fuck are you kidding? If you crave meat, eat meat, I'm thinking, but I suspend my disbelief and buy some faux hot dogs.
At dinner I wave my husband and my daughter goodbye. They are off to the magical meat land called Shake Shack. I'm left here with my canned legumes and fake wieners. This is so sad. The hotdogs have a nasty burnt plastic taste. One bite and they are in the garbage. I think people who eat this stuff must really hate food and probably hate themselves as well. I end up eating bananas and peanut butter.
Day 2
I'm having oatmeal before hitting the mats. I like oatmeal. I can live with this. For lunch I'm having some brown rice and peas. Meh.
For dinner I organize a romantic date with my husband at a nearby vegetarian restaurant. He wants no part in it. The fact that it's a Michelin Guide-recommended place isn't convincing him. I have to bribe him with narcotics. An hour before dinnertime, he announces he has to go downstairs and buy a magazine. Totally suspicious. Maybe he's having a smoking relapse. When he comes back I sniff him and he smells like pepperoni pizza. He confesses that he sneaked into the pizza joint around the corner for a couple of slices, just in case. I can't blame the man. But I have faith. Just because I'm totally clueless and can't get one single decent vegan meal together doesn't mean the professionals can't make something delicious. In this case I was wrong.
During the meal my husband looks up at me over his sludgy brown rice and says, "We've never been so close to divorce." I hope he's kidding, but looking at him, I'm not so sure. After we get home he elaborates:
"It was an appalling dinner. And depressing. First of all, how about cooking something? Can these people cook anything? Certainly not vegetables! Or rice! Everything was underseasoned. Every self-respecting steakhouse could serve better vegetables. They use broccoli in every single course. It's asparagus season; there's fava bean and peas. If you choose to embrace vegetables there's still a lot of room to work with. Every single dish tasted the same, a mix of ginger, garlic, soy, and tamari. I'm furious. They choose not to cook vegetables well or celebrate vegetables at all! They are completely impervious to the seasons. That sizzling soy cutlet, that fake chicken--makes me want to kill myself thinking about anyone eating it. To celebrate the natural world and then serve something so grotesquely artificial is a disgrace. That was one of the worst meals in history. It tasted of hippie. It tasted of my last weed dealer's apartment. I hate the world now. Please kill me."
Day 3
I wake up and my face is a mess. It looks like a slab of pancetta that's been shotgunned. Which is to say it makes me kind of hungry. I haven't had this much acne in 20 years. I already know what vegans are going to say: "It's the meat toxins coming out!" What's really trying to come out of me is all that vegan shit from last night. My meat crap, if you'll excuse the specifics, is usually a compact, fairly ballistic affair, a free-falling object. Vegan shit compares badly and arrives in multiple, seemingly never-ending sittings. It is, how shall I put this, less heroically defined, less … convenient. Who has all this time to spend on the toilet?!
For dinner I convince my husband to try a different vegetarian restaurant. Maybe last night we just had bad luck. Every time I pass by this one place it's always full, so it must be good, right?
Not really. But it is definitely better than the previous night.
Half of the people in the restaurant are again eating fake-meat items. My husband is comforted by the fact that at least they have some Indian options, but he's still shocked by the fact that the restaurant seems oblivious to the seasons. "It's spring," he tells me. "Every restaurant in New York is going bat shit for ramps; that's what's in season. Do you see them at any of these restaurants? No. It's like they don't care about vegetables, they care about something else, like ruining my good time."
Everyone in the restaurant does seem a little sad; there isn't a lot of laughter. The dining room is heavy with the anticipation of many loose stools.
Day 4
I'm not even done making my first cup of coffee and I'm already on the crapper. I should just leave my laptop in the bathroom.
I'm dreading tonight. It's the launch party for my husband's new show. The party is at one of my favorite steakhouses. I spend the day filling up on rice and veggies, hoping I'll be too full to be tempted. Also I'm mildly concerned about possible outbreaks of uncontrollable flatulence in front of my husband's new colleagues.
When we get there, the smell of meat is intoxicating. I feel like a vampire in the throes of blood withdrawal. Trays of perfectly cooked, rare, bleeding slices of meat are being passed around in every direction. My carnivore friends are wondering what's wrong with me. When I tell them about my vegan experiment they all laugh in my face. "Vegan? You?"
The chef, moved by pity perhaps, sends me a bowl of fava beans, which definitely taste better than anything I had at those vegetarian restaurants the past two nights. I meet a food writer who had his own vegan experiment and he suggests a handful of restaurants that he guarantees will not disappoint.
Day 5
I'm very proud of myself for not cheating last night. But with all the rice and peanut butter I've been eating to feel full, this morning I am two pounds heavier than when I started. Although chances are, after what is becoming an all-too-common session on the thunder bucket, I'll probably be five pounds lighter.
I try to find someone to accompany me to one of the restaurants that were suggested to me last night. My husband is looking at me like I have three heads. He runs away if it even looks like I'm going to ask him to dinner. My friends are not cooperating either. The only person left is my long-suffering yoga instructor. He's all excited thinking I'm finally starting to embrace his hippie lifestyle.
The restaurant is Korean and it's really nice. The customers look happy. Everything on the menu sounds delicious. I order wheat-free kale pancakes, silky tofu in clay pot, pumpkin porridge, and organic brown rice stone bowl. The food is fantastic! So flavorful. I don't miss meat one bit tonight. I even order some kale pancakes to go.
I'm excited. There is hope.
Day 6
My pizza face is finally subsiding.
I'm feeling good. My energy level is still the same and the new diet hasn't seemed to have affected my training. Well … besides the fact that I'm always trying to suppress a fart. My husband, always the mirth-master, suggests harnessing my methane powers as a strategic advantage: "Even an attempted triangle [choke] could be a finisher," he suggests.
After my successful Korean experience, I order Indian for dinner. Eggplants, cabbage, potatoes, chickpeas. I tell the guy who takes my order I'd like it as spicy as he would eat it. Indian-style vegetarian is reliably delicious.
Day 7
This is supposedly my last day. But surprisingly, I'm not craving any meat. It's a little frightening and for some reason a little embarrassing to admit, but I do feel good. It's only seven more days until competition. I might as well stick with this until then.
Day 14
I win gold at the New York Open. To celebrate I want a burger. But instead of four patties I'll just have one.
It is, I found out, at least possible to embrace a vegan lifestyle and still have delicious meals. As long as you care about food. But it seems to me that far too many vegans don't. I still don't think this is something I could do every day for every meal, but from now on I will probably have a little less meat. We could easily adjust the ratio of meat to vegetables in our diets, in the same proportion the Korean, Japanese, and Chinese have always done, and still have great food and live well. In fact, it would probably be a good idea. Even my husband agrees with that.
Check out Ottavia's other columns: