Paulie Malignaggi Considers Retirement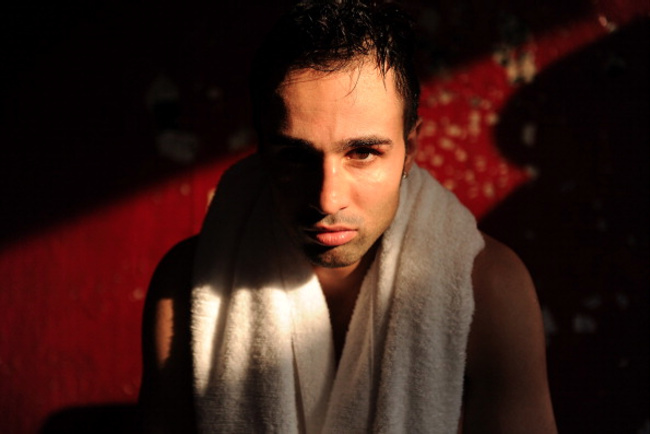 Boxing may have seen one of its greatest personalities in the ring for the last time when Paulie Malignaggi suffered a 9th round KO loss at the hands of Danny Garcia last weekend on ESPN. Though the New York native put up a good effort, he was ultimately outmatched and outpunched by a younger, stronger opponent. While nothing officially has been announced, Malignaggi alluded after the fight that there's good chance he'd be exiting out of the sport.
"The last fourteen years have been fun—a lot of ups and downs—a rollercoaster, but if it has to end in Brooklyn, at least it ends at home," said Malignaggi during the post-fight presser. "It started in Brooklyn. If it ends in Brooklyn, I got no regrets."
Malignaggi is the type of guy that if you tell him he can't do something, he'll go out and try to do it anyway. And if he doesn't succeed, the effort he put forth will at least garner your respect. Such is the way to sum up Malignaggi's career. As someone who carries a KO percentage in the mere teens, Malignaggi has always found a way to surpass his shortcomings and step into the ring against the sport's elite countless times. The first was when he faced off against then undefeated Miguel Cotto for the WBO super lightweight title. Though Malignaggi was outgunned, out-skilled and during the fight, beaten from pillar to post, he saw the match to the final bell, despite knowing early on that he had little chance of winning. It takes a certain amount of heart to do such a thing.
Afterwards, Malignaggi's career has very much been the rollercoaster he described. He went on to capture title belts in two different weight classes, and treaded through an impressive (and dangerous) landscape of contenders. In total, Malignaggi fought Miguel Cotto, Ricky Hatton, Juan Diaz (twice), Amir Khan, Adrien Broner, Zab Judah, Shawn Porter, and Danny Garcia. That is by no means an easy ledger of fighters to face in a career, let alone fight the last four names consecutively. Though he came out on the losing end to the majority of those matchups, it's worth mentioning that Malignaggi fought most of those fighters at the peak of their careers, and despite being deemed a stepping-stone before going into the match, performed with a spirited intention to win each and every time.
Perhaps the one thing more appealing than Malignaggi's heart is his ability to perceive and analyze the entirety of boxing. He's gotten rave reviews as one of the main commentators for Showtime, and received praise for his knowledge on the sport by none other than Floyd Mayweather Jr. himself. More importantly, Malignaggi isn't afraid to call out the establishment. Dial back to when he dropped a controversial decision loss to Juan Diaz back in 2009 (a match that for all intents and purposes was setup for the young Texan fighter to win), and you'll see Malignaggi let his feelings be known in an unapologetically honest (and kind of hilarious) post-fight interview. Normally, a wronged fighter on the short-end of a controversial decision is passed on and forgotten, but in Malignaggi's case, the comments seemingly struck such a nerve that it earned him a rematch that he went on to win. It's one of the few times in boxing where I've seen a wronged fighter righted in redemption.
Paulie Malignaggi has been fighting his entire life. His father left him at the age of 6, was kicked out by an abusive stepfather in his teens, and found boxing to stay out of trouble and make something of himself. He's broken hands, has permanent damage to his face and neck from fighting, and by all accounts doesn't need to do any of it; he has plenty of smarts and options outside of boxing to make it in the world, but continues simply because he loves the sport.
That fact is seen not only the way he shows up in the ring, but also in how he treats his fellow members of the boxing community. A particularly touching anecdote I once read in a great piece written by Thomas Hauser made me a Malignaggi fan for life. It read:
"On August 16, 2008, a young man named Ronnie Vargas was shot to death. Vargas was a promising young fighter; a three-time New York Golden Gloves champion with an 8-and-0 professional record.
Four days later, Paulie visited the Ortiz Funeral Home in the Bronx (where the family was sitting) and gave his IBF championship belt to Vargas's father so Ronnie could be buried as a champion."
While Malignaggi might not make it into the Boxing Hall of Fame or be remembered as one of the great champs of his era, he should be remembered as a decent human being who said and did the right things when they mattered most. Boxing would be better off with more guys like him.
Check out these related stories:
Sergey Kovalev: The Other Most Feared Fighter in Boxing
Road to the Undisputed: Gennady Golovkin Will Face David Lemieux in Unification Bout
Carl 'The Cobra' Froch Retires from Boxing