Pause: Holly Holm Signed to the UFC

Photo by Steve Snowden/Getty Images North America
After Ronda "Rowdy" Rousey took Alexis Davis out in 16 seconds, a lot of talk has been floating around women's mixed martial arts. Why is Ronda Rousey so dominant? Why is there no one good in the 135 lbs division? The questions are pretty silly—I think the division is fine, and sure enough we'll see someone step up to Rowdy. And holy f—Cristiane "Cyborg" Justino just announced that she'll fight at bantamweight—surely in pursuit of Rowdy's belt and supremacy.
More importantly, however—if you're really worried about there not being enough good athletes in the division—Holly Holm, the undefeated bantamweight champ just signed to the Ultimate Fighting Championship. If Rowdy Rousey didn't have competition before, she definitely has it now.
A former boxer and kickboxer, Holly "The Preacher's Daughter" Holm is a striking specialist and holds several titles. This girl is hard. She's got two world championships in the World Boxing Federation as a light welterweight and as a welterweight, as well as titles in those weight classes in the World Boxing Council, Global Boxing Union, Women's International Boxing Association, World Boxing Association, International Female Boxers Association… the list goes on, and this is just boxing. Her record is 32-2. That's incredible. She passed on a lot of loot when she chose to commit herself to mixed martial arts—I'd say she's looking to prove herself in the UFC, so you know she's going to bring that fire.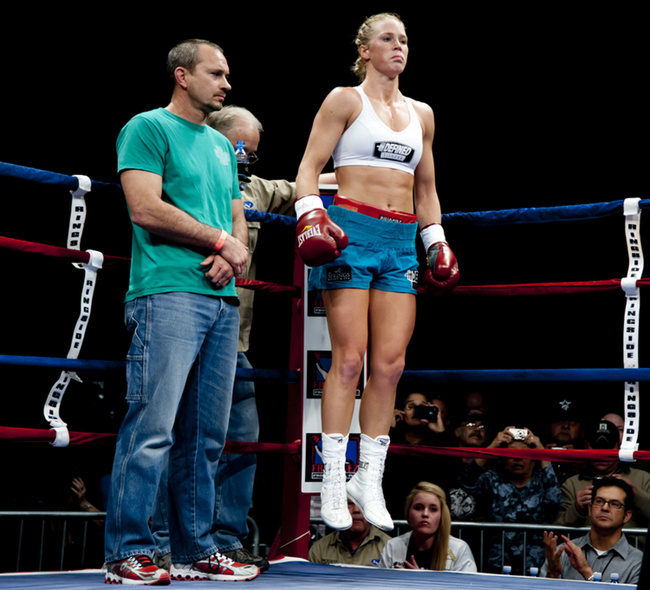 Photo by Steve Snowden/Getty Images North America
Also a really powerful kickboxer, she's currently keeping her undefeated MMA record at seven wins and no losses. I can't forget to note that her boxing prowess has carried over rather nicely, as six of those wins are by knockout.
We still have to see how she'll perform in the UFC, but judging from her last win at Legacy FC 30 against Juliana Werner, I'd say she'll do more than all right. We have seen Ronda tested against other elite level grapplers, but Holm might be the first striker she has faced that is just on a completely different level.
To spice things up, she's training at the Jackson-Winklejohn's camp in Albuquerque, New Mexico—an MMA promised land, notorious for its production of champions. She'll be training on the same mats as Ali Bagautinov, Jon Jones, Alistair Overeem, Clay Guida, Frank Mir, Travis Browne, Sarah Kaufman…the list goes on. Surely she'll be on the receiving end of some really positive MMA vibes. And she'll be getting a lot of pretty good ground practice from coach Greg Jackson.

Photo by Steve Snowden/Getty Images North America
Let's just see how that's going to translate on fight night in the Octagon. There are some heads crossing their fingers for the UFC to match her up against Rowdy pretty soon, because another possible contender, Bethe Correia is probably going to be working on taking out the rest of the Horsewomen before coming for Ronda.
Things are looking awesome for women's mixed martial arts. Seems like the UFC is really working hard to create a championship as competitive as can possibly be. I can't wait to see The Preacher's Daughter do work on the mat. You should catch up on some of her previous performances—in all those martial arts she's so damn good at.
I'm down for you Holly.
Check out these related stories:
I Watched My Friend Get Beaten up by Holly Holm - Part 1