Povetkin vs. Stiverne Heavyweight Title Fight to Go Ahead Despite Failed Drug Test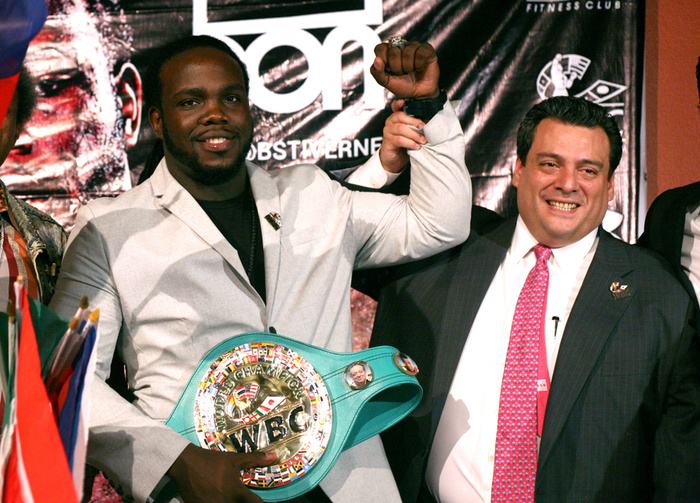 The World Boxing Council (WBC) announced its former world heavyweight champion Bermane Stiverne failed a drug test ahead of their sanctioned bout pitting him against Russian heavyweight Alexander Povetkin on December 17th in Yekaterinburg, Russia.
Haitian-Canadian Stiverne's positive test for methylhexaneamine, a stimulant also known as dimethyamylamine or DMAA, is a substance prohibited by the World Anti-Doping Agency (WADA) since 2010.
So why is this fight going ahead? As this fight is happening in Russia, who do not provide drug testing protocol to the same level that of the various state athletic commissions in the United States, the WBC have utilised VADA, the Voluntary Anti-Doping Agency, to mete out their drug testing program for them, with the WBC having the final say on punishment for any potential test violations which occur for fights outside of the USA.
As a result, the punishment for Stiverne's failed drug test is a $75,000 fine—which is to be paid directly to the WBC, of course—along with the requirement Stiverne carries out some community service and teach kids of the dangers of performance enhancing drugs. Considering he's set to pocket a reported purse close to $1.5million, Stiverne has done well out of this deal made on his behalf. He will, however, be assigned his own specific testing protocol designed by VADA, which will run until six months after Stiverne's fight against Povetkin. If he were to fail that, the WBC stated he will be suspended from the organization's sanctioned fights indefinitely.
It's a loophole which leaves a bad taste in everyone's mouth. But, even more bizarrely, the WBC also attributed their soft stance on a failed drug test to the exemplary character of Stiverne's and his clean track record, having not failed a test before. "There is no evidence that Stiverne intentionally or even knowingly ingested a banned substance with the purpose of enhancing his performance in any fashion," the WBC's official press release stated. "Stiverne's ingestion of DMAA was purely accidental."
The press release continues: "Throughout the investigative process, Stiverne has been extremely cooperative and 100 percent forthcoming. Stiverne informed the WBC that on the day of the test, in order to facilitate urination, he took a dietary supplement called Superharm in front of the sample collector. He reported the ingestion of that supplement in the declaration of medication use section of the doping control form he filled in connection with the test."
Considering how most, if not all, failed drug tests are attributed to a form of "accidental" ingestion, this reasoning doesn't exactly wash with those who follow combat sports closely. If anything, it makes a mockery of the WBC's championed "Clean Boxing Program," which is administered by VADA.
According to the WBC, they "will not withdraw its sanction of the bout at this point in light of the fact that there is sufficient time to put in place preventative and remedial measures to protect the health and safety of the bout's participants." Not only does this stance pose a lot of problems for the fight against PEDs in combat sports, it essentially champions off-season doping and suggests a failed drug test just a month ahead of a fight is all kosher. Impressive stuff from the WBC PR machine.
The above mess aside, the winner of this now-tainted bout will become the WBC interim heavyweight champion and will be named the mandatory challenger for Deontay Wilder's WBC world championship. Wilder is presently on an ongoing hiatus while nursing bicep and hand injuries which were aggravated in his successful title defence against Chris Arreola.
Wilder won his world heavyweight title against Stiverne in one of the most entertaining heavyweight championship fights of recent times. Povetkin was due to face Wilder for his belt earlier in 2016, but he also failed a drug test—this time for meldonium: the substance which has caught out many Russian athletes—just nine days before their fight which was promptly cancelled. Povetkin's suspension was soon overturned after it was determined WADA and VADA's decision to class meldonium as a prohibited substance was a hasty one, given how the substance stays in an athlete's system for indeterminate amounts of time even if not ingested since the ban was enforced at the beginning of 2016.
Two heavy hitters will indeed square off in December after all. WBC Silver heavyweight tileholder Povetkin is riding a four-fight winning streak, all by knockout, since his losing effort against Wladimir Klitschko in 2013. Meanwhile, Stiverne, who has earned 21 of his 25 wins by knockout, is fighting with some momentum following a unanimous decision win over Derric Rossy which followed his aforementioned loss to Wilder.
It's certainly an exciting fight. But, this latest episode from the WBC is as absurd as it is wretched and certainly taints what should have been a top end-of-year heavyweight contest.
Check out these related stories:
The Messy Rise of Sergey Kovalev
Manny Pacquiao Makes Triumphant Return to the Ring
Anthony Joshua Set to Face Wladimir Klitschko in 2017... If He Gets Past Eric Molina