Quick Results: Action Packed Main Event Tops WSOF 23
The 23rd installment of the World Series of Fighting saw a number of firsts. Renowned MMA loudmouth Chael Sonnen took his speaking abilities out of trash-talking and into commentary for the first time, and made a solid debut, showing plenty of technical knowledge, accurate color, and appeared at ease behind the mike. It was also the inaugural debut of the WSOF's light heavyweight championship, and the first time one of their fighters would be crowned in two divisions simultaneously. What wasn't a first was the action seen in the main event as Justin Gaethje and Luis Palomino put on a brilliant performance to follow-up their memorable first encounter.
Here's a recap on the action for those that missed it.
The Main Card:
Justin Gaethje stops Luis Palomino in action-packed main event
Undefeated WSOF lightweight champion Justin Gaethje stepped into the cage for the second time against Luis Palomino in what many hoped would be a repeat of their action-packed first meeting. Fans would not be disappointed.
Each fighter measured the other in the opening with Gaethje throwing leg checks as Palomino responded upstairs with his fists. Gaethje was stunned early and spent a few seconds dazed around the cage, but returned the favor by dropping Palomino with an uppercut later in the round. Action in the first continued in that fashion as both fighters found themselves hurt, only to hurt the other moments later. Ability on the ground matched action seen standing up, as both fighters would switch between having their opponent in precarious positions. Overall, great back and forth action throughout the first round.
Second round exploded with Palomino dominating the early exchanges, only to be put back onto the ground by yet another uppercut from Gaethje. Palomino rose to his feet almost immediately, and his ability to recover and take flush shots was truly impressive. A beautiful exchange of punches was made in the middle of the round, and a sneak right hand from Gaethje snapped back the head of Palomino, putting him yet again on the canvas. Though Palomino showed hints of defensive consciousness on the ground, the third man in the cage stepped in to prevent further damage as Gaethje rained down fists on a very open Palomino.
Both fighters showed great sportsmanship in the post-fight interview, embracing each other a number of times in such a way that one would never think they had just finished pummeling one another. Palomino showed plenty of humility in his interview, but also confirmed that he could have continued had the ref let it. He will be given a chance to redeem himself, however, as WSOF management confirmed Palomino's participation in a one-night, eight man tournament to fight for the right to face Gaethje for the championship.
David Branch submits Teddy Holder via rear-naked choke
Current WSOF middleweight champ David Branch moved up a division to challenge Teddy Holder for the organization's inaugural light heavyweight title. Tonight was also the first time a WSOF fighter attempted to claim two belts in two different weight divisions simultaneously. Leading up to the bout, Holder had won all his previous fights by KO or submission, with his longest bout clocking in at a mere 3.5 minutes. That record would not be broken.
Branch quickly took the fight to the ground within the first minute, and kept the action there for the remainder of the fight. Holder appeared rather lost at close range. About halfway into the round, Branch managed to get Holder's back and successfully locked in a rear-naked choke to finish the fight at 2:39 of the first round. In the post-fight interview, Branch mentioned taking the rest of the year off, but planned on defending both belts in his next outing.
Timur Valiev earns unanimous decision over Tito Jones
Two-time regional Golden Gloves boxing champion Tito Jones took on Russian native Timur Valiev to close out the undercard in what turned out to be more methodical than entertaining. The two spent the opening half-minute measuring each other up before the first punch was thrown, and aside from a flash knockdown scored by Jones, the first round was spent with Valiev unsuccessfully chasing Jones around the cage. Jones' hesitancy would be his downfall as he continued on the backfoot, throwing one punch at a time. Action heated up a bit midway through the third round as both fighters exchanged exact blows across the face, and Valiev later speared Jones to the canvas, holding dominate ground position for the remainder of the fight. Valiev earned the nod on all three judges scorecards with no complaints from the corner of Jones.
Ben Fodor submits Roberto Yong by scissor choke in first round.
Seattle crime-fighter Ben Fodor a.k.a. Phoenix Jones made his return to the WSOF against Roberto Yong in the second bout of the evening. Much hype had been following Fodor for his WSOF debut last April before he dropped a unanimous decision to Emmanuel Walo. A win tonight was crucial for his career.
Yong answered the bell with an explosive flurry of punches and kicks as Fodor defended by tying him up against the fence. The fight remained in that sequence as Yong would have the striking advantage standing up, but appeared lost when the fight came in a grappler's distance. A lull in the action came when Fodor nearly locked in a guillotine before Yong broke free and rocked Fodor against the cage. The speed of Yong appeared to cause problems for Fodor, and the Seattle native was nearly out on his feet in the exchanges. Midway through the round, Fodor slammed his opponent onto the ground, nearly earning an armbar, then nearly locking a kimura, before finally forcing the tap by scissor choke. Sonnen made a comment that the choke wasn't completely locked in, but Yong also appeared uninspired to continue at close range.
Fodor opened his post fight interview by calling out his previous opponent, and offered a free "Emmanuel Walo Sucks!" t-shirt with every purchase of a Phoenix Jones one. Looks like there will be an entertaining WSOF rivalry brewing between the two.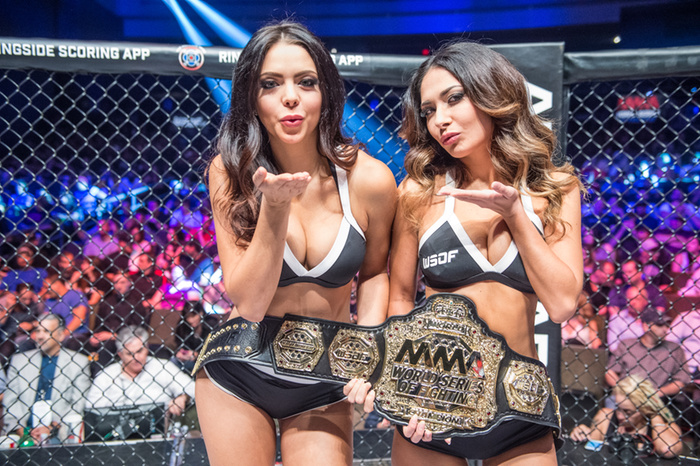 Brian Foster knocks out LaRuse Burley in devastating fashion
Opening the card, undefeated LaRuse Burley took on hard-hitting Brian Foster in a lightweight bout. Not much to say about this one since it only endured 32-seconds, but the action was good while it lasted. Premonitions to the final outcome would come early as Burley got buckled by a right hand soon after the opening bell, but managed to give a spirited response. Soon after, Foster caught Burley with a sharp straight left that dropped Burley like a bag of bricks. Post-fight interview Foster called out the main event winner and went on to improve to 23-7 with 10 KOs. Burley suffered his first loss and dropped to 6-1.
The Prelims:
Benny Madrid def. Jeff Fletcher via Submission (Rear-Naked Choke) R1 1:26
Joey Miolla def. Randy Steinke via KO (Head Kick) R2 3:55
David Nuzzo def. Andres Ponce via Unanimous Decision (30-27, 30-27, 29-28) R3 5:00
Matthew Frincu def. Danny Davis Jr. via Split Decision (30-27, 29-28, 28-29) R3 5:00
Clifford Starks def. Krasimir Mladenov via Unanimous Decision (30-27, 30-27, 29-28) R3 5:00
Vagab Vagabov def. Brian Grinnell via TKO (Punches and Knees) R2 2:29
Check out these related stories:
Phoenix Jones: Portrait of a Superhero
Palhares Suspended and Stripped of WSOF Title