Reza Madadi Robs His Way Into European MMA Lore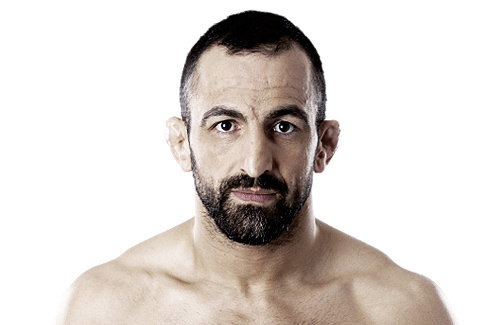 At the UFC of Fuel 9 event in Stockholm in April, Reza Madadi was a fan favourite. Confident and charismatic, the Tehran-born lightweight fighter had moved to Sweden as a child, and the nation's MMA masses had taken to him as much as they had native light-heavyweight contender Alexander Gustafsson. Madadi repaid their love that night with a third-round submission victory over American Michael Johnson.
Unfortunately, the glow may be wearing off the Reza Madadi legend. Earlier this week the adopted Swede was arrested for stealing designer handbags and other high-priced items worth a reported $150,000 from a luxury store before leading the police on a high-speed chase through the streets of Stockholm. At the moment Madadi is the only one of three suspects detained in the case not to have been charged, and his attorney, Ivan Fialdini, insists Reza has an alibi.
But Madadi has been linked to serious crime before. In 2009, he was arrested in connection with an audacious cash depot heist that involved a group of men flying a helicopter onto a roof before abseiling down into the vault and making off with millions. (Check out footage of the heist here.) And the 31-year-old has also been charged with assault in the past. The problem for MMA (and Madadi) fans is, anyone with a criminal record will find it hard getting his visa accepted upon arriving in the USA. (Just ask Mark Hunt.) Which is why Madadi's three UFC fights have all taken place outside of the U.S. and also why his scheduled showdown with American fighter Michael Chiesa at UFC on FOX 8 in Seattle was cancelled earlier this month.
Here's the other problem: The Reza Madadi handbag incident is only the latest in a long, worrying trend in the European MMA scene. Several of the continent's best MMA fighters have been accused of and/or found guilty of committing elaborate acts of larceny over the years. Just this month, Paul Kelly--one of the UK's best-known fighters and a veteran of nine fights in the UFC--was convicted of leading a criminal organisation responsible for importing and distributing heroin in his native England.
Then there's Lee Murray. Once one of the UK's premier MMA fighters, Murray was found guilty of masterminding the 2006 Kent Securitas raid, which saw a group of men dressed as police officers abduct employees of the company and make off with £53,000,000 ($80,600,000) in the largest bank heist in history. Murray is currently serving time in Morocco after eluding the UK's attempts to get him extradited back to the island.
And it's not only British or Swedish fighters who have been accused of crimes. Take Viacheslav Datsik.
After building a modest 6-11 MMA record, the Russian was locked up after a series of robberies on mobile phone shops in St. Petersburg in 2007. After a few years, Datsik was put into a high-security mental institution after claiming Jesus was a Mossad agent. Doctors promptly diagnosed the fighter with schizophrenia. Datsik went on to escape a low-security mental health clinic and was later found in Norway, where he'd gone to seek asylum. The Russian's last words before crossing into the country were "I am not a nationalist, but a racist." He was arrested after being found with an arsenal of illegal weapons and extradited back to Russia, where, Datsik claimed, the authorities use torture on prisoners.
All of which is to say that if Reza Madadi is found guilty of stealing those handbags, he will be the latest in long line of European MMA fighters-turned-criminals, but hardly the greatest.