Rikki Rockett: From Poison to Pan-Ams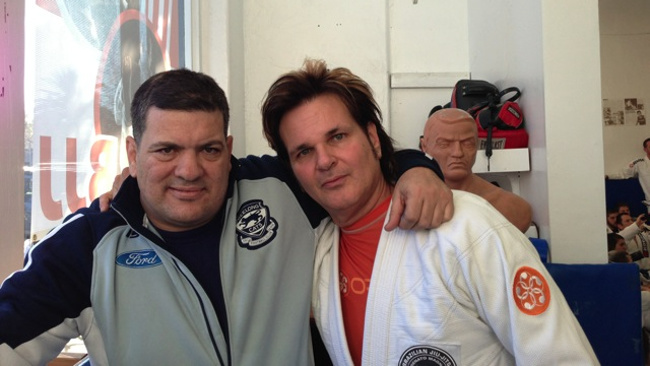 Last month, we made the rather bold claim that Van Halen's David Lee Roth was the best martial artist in rock and we stand by that. Mostly. When it comes to incorporating martial arts moves into the rock and roll world, nobody does it like the roundhouse kick-throwing, self-knockout-delivering Diamond Dave.
But not all rockers like to mix their sonic and martial arts. Some prefer to keep the rocking to the stage and the rolling to the mats. Take Rikki Rockett, for example. If you were to watch him at his day job as the drummer of the beloved hair metal band Poison, pulling off elaborate solos and providing the beat to hits like "Unskinny Bop," and "Talk Dirty To Me," you'd have no idea that the 53-year-old musician was a second degree black belt in Brazilian jiu jitsu under Renato Magno and had a background in wrestling, boxing, and Silat. In fact, the only time you'll see Rockett perform his combat-related skills in public is at a BJJ tournament. Like when competed at the famed Pan-American Championship in 2010.
Rockett began flirting with martial arts training as a child when he found himself in need of self-defense skills. "I was getting pushed around in the playground when I was a kid and so I told my Dad," he told JiuJitsuSweep.com in 2012. "He showed me a Osota Gari that he learned in the Marine Corp. I used it and it worked!"
In high school, he spent a year on the wrestling team, and only lost one match. But music was his main focus. When Rockett, bassist Bobby Dall, and a member of their crew named Russ were attacked at knifepoint by a group of men in the early days of Poison, though, the drummer started thinking about combat training again.
"I vowed that when we made money, I would learn to defend against the knife," Rockett told 8 Count News in August, 2012)
Once Poison broke, he made good on his vow and took up Silat, the Indonesian and Filipino art that involves strikes, throws, and bladed weaponry, under Cass Magda for five years.
Those newly-honed skills came in handy when Poison first rose to success in the late 80s and early 90s. "Back in the day, people either wanted to fuck us or fight us," Rockett said with a laugh on 8 Count News. "I'm proud of that because that's what rock and roll is supposed to do. It's supposed to burn a little when it goes down."
Then, in 1993, Rockett started watching a new promotion called The Ultimate Fighting Championship. At first he was frustrated by the success of a young grappler named Royce Gracie. As a martial artist from a striking background, he just couldn't wrap his head around what was happening. "The first two UFCs, I was like 'Would somebody hit this frickin' guy?'" he joked to 8 Count. When he started to notice his dad's old trick, the Osota Gari, being used, though, his interest was piqued. "That rekindled my interest in Jiu-Jitsu," he told JiuJitsuSweep.com.
When he met Rigan and Jean Jacques Machado at a rally in 1998, the Brazilian brothers invited him to their school. "I had roots in wrestling and some ground fighting skills and thought I'd do just fine," Rockett writes on his official website. "I got tapped out by their students more times than I can remember! I signed up the next day and have been an avid student ever since."
Rockett earned his purple belt under the Machado brothers through a combination of group classes and private lessons from Renato Magno. When Magno opened his own gym, Street Sports Brazilian Jiu-Jitsu in Santa Monica, the drummer followed him there.
"Renato is really the best!" Rockett gushed to JiuJitsuSweep.com. "I travel 60 miles each way to train with him because it's worth it. The club and it's students are worth it. We have everyone from competitive Jiu-Jitsu guys and world class boxers like Ray "Boom Boom" Mancini to seasoned actors and producers like David Mamet a couple of Doctors, roofers and mechanics. It's all over the place, but it's all about the Jiu-Jitsu when we are there and training. When you are in a Gi, you aren't in True Religion jeans, a hard hat or a suit so everyone is the same in there. We don't bow or say Sensei. We train, we say thank you, good job, right on and most of all, can I help you? No room for egos. Renato created that world and we all live in it!"
After 12 years of training, Rockett earned his black belt under Magno at Street Sports. The hardest challenge, he says, was balancing BJJ with touring as a rock star. Not that he does anything too wild on the road these days. But even if you're living a fairly quiet rock star life, you're still away from the gym for months at a time, and it's impossible to maintain both your cardio and skill that way.
This is part of why he hasn't competed more. He enjoyed his time at the Pan-Ams in 2010, even though he lost on points, but BJJ competition season was at odds with Poison's touring season in the earlier part of this decade. As he told JiuJitsuSweep.com on the verge of his band's massive tour with Motley Crue in 2012:
"I doubt I'll do this year's Pan Ams as I have a tour to do very close to that competition. I have a ton on my mind preparing for a tour. If my mind isn't going to be there, my body won't be either. There are more competitions around the corner. I get one tour with Poison and Motley Crue! However, I will diet and do the preparation like I'm going there to compete. What I will do is help my fellow students who will be competing with whatever they need and I WILL attend."
Rockett is also contemplating a future away from competition, and what his continued existence in BJJ will look like over the years. In addition to his own training, which includes BJJ and boxing these days, he's also helping out his teammates by sponsoring athletes through his company, Rockett Drum Works.

He checks out the occasional Metamoris event. And he's thinking about coaching. He shared his thought process on that matter with JiuJitsuSweep.com:
"Ya know, last year I thought to myself, I said, 'Self, you have been training the amount of time equivalent to that of a guy who has his PHD in something, now what are you going to do with it, old man?' Fact is, I am not going to be a high level Jiu-Jitsu competitor at my age. I am not going to switch over to MMA and compete. Teaching is obviously the next logical step for me. Even though I have had only one competition in Jiu-Jitsu, I have had several when I wrestled in school. Being in front of crowds is natural to me as well. Still, with my wild schedule, how would that work? Well, I have decided that I will start with making people who are in professions like mine feel comfortable on the mat and to realize that you can train regularly without injury. Help them advance themselves in their body, mind and spirit. Direct them to the right coaches for consistent training. Bruce Lee said, 'To find your true spiritual self, you must first step through the physical door.' That has been my motto as well. This is true with Jiu-Jitsu, Karate or Yoga. Whatever it is, pushing your body results in transformation of your mind and finally your spirit. It's part of balancing your life. For me, the more I train, the more balanced I feel. I know that the bizarre pressure that exists in the acting world, music world, etc need to be balanced with an activity like Jiu-Jitsu. It isn't for everyone, but for those of us who plug into it, there is really nothing that compares!"
Check out these related stories:
Cassius Clay, Here I Come: Bob Dylan and Boxing
David Lee Roth Is The Best Martial Artist in Rock
David Bowie and the Boxing Coach Who Showed Him the Ropes
Don't Hit Me in the Mouth, I Gotta Play Tonight: Miles Davis and Boxing