Rocky Star Tony Burton Dies at 78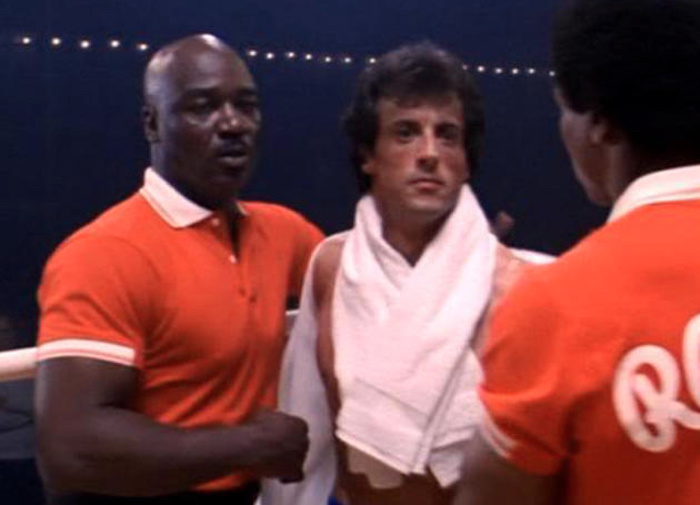 Tony Burton, the boxer-turned-actor who played coach Tony "Duke" Evers in the first six Rocky films, died yesterday at 78.
According to his sister Loretta "Peaches" Kelly, who spoke to Michigan's MLive last night, Burton had been in poor health for some time. He spent large portions of the last year of his life in the hospital, but was unable to receive an official diagnosis. Sadly, his ailments prevented him from being able to see a screening of the latest installment in the franchise, Creed, which included a small tribute to him.
"There's a scene in the restaurant of that movie where his picture is on the wall," Kelley told MLive. "We didn't talk about [Rocky] a lot. I mean we were excited, but other people were more excited. Whenever he would come home [to Flint] other people would just come over."
Burton was born in Flint, Michigan in 1937. He spent his childhood playing baseball for local little league teams and enjoyed great success as both a baseball and football player throughout high school. In his late teens, Burton turned to boxing. He won the Flint Golden Gloves light heavyweight championship in 1955 and 1957. He went on to claim the State Golden Gloves Light heavyweight championship in Nevada 1957, but lost in the semi-finals of the Chicago Tournament of Champions later that year. Burton turned pro in 1958 and spent the following year racking up a record of 4 wins, 3 losses, and 1 disqualification on various cards throughout California. He was inducted into the Greater Flint Afro-American Hall of Fame in 1993 for all of his athletic efforts.
Unfortunately, the fighter was unable to support himself on boxing alone, and turned to crime to supplement his income. Theft charges eventually landed him in prison. While serving three and a half years in the California Institution for Men in Chino, California, though, he was able to turn his life around.
"Prison for me was productive because I applied myself while I was there," Burton told the Daily News in 1988. "I got my high-school diploma and a degree from the University of California. But most important, I got myself together and found out who I was and how I could proceed without destroying myself."
He also developed a fondness for acting thanks to a prison group that used psychodrama as a form of therapy, and found an agent soon after his release. When one of his agent's other clients, Carl Weathers, began working on a promising new boxing film, both the agent and Weathers realized that Burton would be perfect for one of the roles.
They were right. Burton went on to play Apollo Creed's (and, eventually, Rocky's) coach, Duke, in Rocky I-V and Rocky Balboa. He also received the aforementioned acknowledgement in last year's Creed.
While the actor might not have regaled his sister with many stories of Rocky, he remained incredibly fond of the franchise. He held on to Duke's trademark cross and brought it back for each new film. He even knew how to wear it just right so that the pendant would appear in any close-ups. Despite a CV that looks like a who's who of cult classic television, included Kojak, The A-Team, and Twin Peaks, and a film career that featured a prominent role in The Shining (he also played – and won– chess games with director Stanley Kubrick between takes), the deeply religious Burton considered a deleted scene from Rocky IV the best moment of his entire career.
"My fondest memory is something that people don't know about, and that's why Apollo died," Burton told Nuke The Fridge in a 2008 interview. "Apollo died because he sacrificed himself. The night before he fought Drago, he had a visitation from the lord. And the lord asked him to sacrifice himself, to impact of the fight between Rocky and Drago so that the possibility of peace would be furthered between these two world powers. And that was so enjoyable, to have that secret added driving force."
He is remembered equally fondly by his Rocky co-stars. When informed of the news of his co-star and agent-mate's death yesterday, Carl Weathers tweeted "Sad news. RIP Tony Burton. His intensity and talent helped make the Rocky movies successful."
Check out these related stories:
Sylvester Stallone Teases a Return for Apollo in the Creed Sequel
Analyzing Every Technique Used in Rocky's Training Montages
From Ring to Screen and Back: How Rocky's Real-Life Boxers Fared