Rolling for Respect: How Brazil's First Parajiujitsu Tournament Levels the Playing Field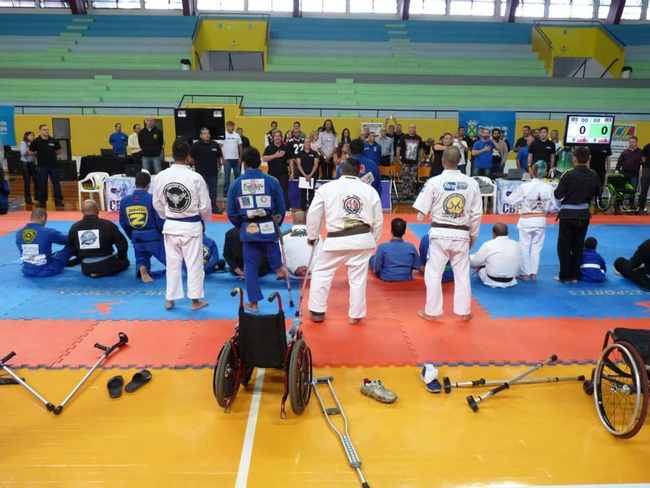 At the end of May 2015, Fightland revealed "BJJ's Next Frontier" in a story that chronicled Grappler's Heart—North America's first Brazilian jiu jitsu tournament exclusive to competitors with disabilities.
Turns out, such a thing is not an American invention. In retrospect, it's only natural that the country that created the sport would also be the first to open it up to those with disabilities and that they'd do it a full year ahead of North America.
After all, it was Brazilian jiu jitsu co-founder Helio Gracie who said, "I would like to make it clear that of course I am in favor of the sportive practice and technical refinement of all athletes, whatever their specialty may be... The primary objective of jiu jitsu is to empower the weak who, for not having the physical attributes, are often intimidated."
That intimidation loomed over many Brazilian grapplers who claimed they were discouraged from competing in local BJJ championships because of their disabilities, so this first tournament in Brazil was created, at least in part, to counter that apparent discrimination.
"I do not have any disabilities," says Ricardo Dembowski, a 46-year-old third degree black belt from Santo Andre, Sao Paulo, Brazil who has been practicing BJJ for over 20 years and was responsible for putting together that first tournament.
"My involvement with disabled people became greater when [at local championships] I was approached by those that complained of the treatment they received. They often complained that they were unable to attend the event on the grounds that 'they could shock the audience.' Often, they received a medal and a shirt exclusive to the event. These facts touched my heart and I decided I should do something about it."
So, not only did he organize the first Brazilian jiu jitsu tournament for athletes with disabilities, he also created the world's first governing body to oversee all parajiujitsu competitions in Brazil. It's called the Confederação Brasileira Paradesportiva de jiu jitsu (CBPJJ) and it's the first of its kind anywhere on earth.
Eligible disabilities fit into the broad categories of motor, hearing, visual and intellectual. The motor category is then further split into 13 specific classifications, each one defining a specific physical disability, while the visual category is also split into three distinct classifications, separating different degrees of visual impairment.
To join the CBPJJ, and be eligible to compete in all their annual tournaments, all the prospective athlete needs to do is register for membership with a medical certificate proving disability and accompanying supporting documentation explaining the nature of their impairment. Once the application is approved by the CBPJJ Board of Directors, the athlete can compete in CBPJJ tournaments in perpetuity.
"CBPJJ intends to ensure that the practice of jiu jitsu is used as a tool for the integral development of people with disabilities as self-governing citizens and participants in society, while also showcasing to the Brazilian public the abilities of these athletes through their tournament results," says Dembowski.
One such athlete is Mario Edson Oliveira Silva. The BJJ black belt from Canarana, Brazil became a below the knee, right leg amputee thanks to a motorcycle accident in 2004. He is also CBPJJ's first champion, winning both its inaugural tournaments.
He'd already been training in Brazilian jiu jitsu for eleven years before his accident. He learned under Paulo César Venâncio who is the vice-president of the Confederação Brasileira de Jiu jitsu Esportivo. [CBJJE] He credits a strong belief in God, as well as the discipline that comes with a lifetime of being steeped in the martial arts, including boxing, capoeira, karate and MMA, with getting him through the trauma of losing his leg. As he says, "I may have lost a leg, but I gained a new life."
"I knew immediately that I would have to adapt," says Oliveira Silva, as he talks, not just about his life, but his life on the mats as well. "God has given me such great strength, I never once thought about quitting jiu jitsu."
Instead of getting frustrated and feeling sorry for himself, Oliveira Silva committed to becoming an inspiration to others, especially those with disabilities.
"I wanted to help Brazilians see that life does not end just because we lose a leg, or an arm, or use a wheelchair," he says.
Little did he know, Ricardo Dembowski would provide him with the greatest opportunity to prove just that.
Dembowski happened to be a close friend of Oliveira Silva's Professor Venâncio and that's how the black belt without a leg was invited to compete in the first CBPJJ tournament—The Brazilian Parajiujitsu Championship.
"The CBPJJ is in a great position to show nothing is impossible and that when you have a strong will, everything excels. It's through them that I can encourage people with disabilities to never give up," says Oliveira Silva.
Featuring the participation of 35 disabled athletes, it took place on September 27, 2014 with the World Parajiujitsu Championship not far behind on November 29, 2014. There, 60 athletes with disabilities participated and both competitions took place at Pedro Dell'Antonia Gym in Santé Andre, São Paulo.
With so many athletes participating and over 450,000 people tracking the results and videos online, you'd think Oliveira would be overwhelmed by what these tournaments could mean for the future of the over 400 disabled grapplers training in Brazil. But to him—a guy that fights for eight to ten Championships a year and has already won three other confederation world titles in that country—such a challenge was normal and familiar.
"The advantage I have is surprise," he says. "No one expects to be overthrown by a guy who fights without a leg."
And he always fights standing, so there's no doubt an assumption of weakness from some of his opponents when they see a guy hopping into position before the match. This is probably why they're not exactly set when he goes for that patented single-leg takedown right into side control. After that, well... when asked how he's able to win so many championships on one leg he would only respond, "Have you seen me fight?"
So why don't you see for yourself?
Needless to say, he won both CBPJJ Championship matches on points—accepting the gold medal on the world's first fully-accessible jiu jitsu podium, featuring a ramp leading to each platform space.
"It was a fantastic experience!" says Oliveira Silva. "The most free I've ever felt competing in a jiu jitsu tournament."
Though Oliveira Silva disagrees with Ricardo Dembowski that local tournament organizers would discourage entry by disabled grapplers for fear they would "shock the audience," he does believe Brazil's BJJ community still has some work to do in its recognition of fighters with disabilities.
"Sometimes organizers think I'm at the tournament for an exhibition match and it's not until I hit the mat that they realize I'm there to win."
However, he doesn't blame the BJJ community for the brush off. For him, the responsibility lies with all grapplers with disabilities to prove their worth.
"It's understandable that Brazilians have a little trepidation over our physical integrity," says Oliveira Silva.
"In Brazil, like other countries, we have many problems in relation to the poor and people with disabilities get lumped in with that pitying perception. We have to show them that we are not fragile. We have to assert ourselves and show that we do not need pity, but respect."
Oliveira believes that respect will grow as the CBPJJ grows as a confederation.
"The CBPJJ goes a long way in showing everyone what we're made of and I believe parajiujitsu itself is key to the acceptance process."
Good thing because it looks like CBPJJ has big plans for the future.
"We want to make parajiujitsu a paralympic sport," says Dembowski "Though the championships are the most visible part of the project at this time. As we grow, CBPJJ bets that in the near future, we will become an interdisciplinary organization to assist in the integral development of our participants through a team of physical education, physical therapy, psychology, educational psychology and nutrition experts."
"In the future, I believe we will be recognized," says Oliveira Silva. "For the most part, people with disabilities are treated very well in Brazil, but the idea of disabled grapplers is new to everyone and like us, they're all just trying to adapt."
In the meantime, Oliveira Silva plans to keep coaching his team, Cowboy Jiujitsu, and plans to keep competing. Next year, he is taking the journey to America to compete in The Worlds. Before that, he'll defend his Brazilian Parajiujitsu Championship at the next CBPJJ tournament on August 29, 2015.
"My hope is that CBPJJ will become a great Confederation and recognized for their work," says Oliveira Silva.
"As for me, I have a responsibility to set a good example and show everyone that a disability is not the end, but rather, the beginning."
Check out these related stories:
BJJ's New Frontier: Grapplers with Disabilities
A Fighter's Chance: The Adaptive Athletes of MMA
No Easy Life: Brazilian Jiu-Jitsu and Cerebral Palsy