Rory MacDonald Is Finally Getting a Title Shot!
In today's Ultimate Fighting Championship press conference, the promotion's president Dana White and the chairman and chief executive officer Lorenzo Fertitta offered some of their insight into the current performance-enhancing drug epidemic that is wreaking havoc in the the promotion.
Several of the UFC's highest level athletes have tested positive for PEDs in the past, but the past few months have been a bit worse than usual, especially with the difficult fall from grace that the sport's greatest fighter, Anderson Silva, so recently endured.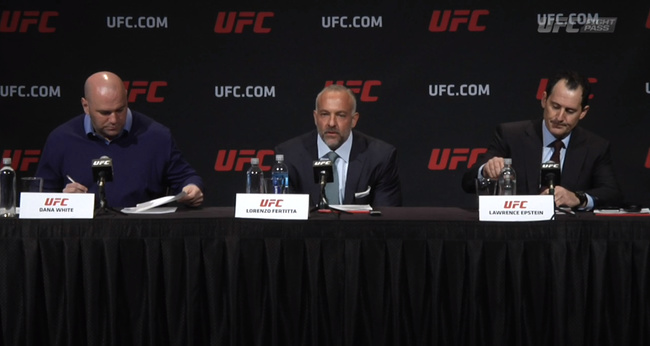 After expressing that the UFC is indeed a responsible organization, being the only promoter in history to provide comprehensive insurance to everyone on its roster. He also touched upon a partnership with the Cleveland Clinic in an effort to advance brain injury research. Lorenzo Fertitta addressed the issue and said that the UFC understands that it can do a much better job when testing their athletes, and that they understand that the UFC is no more immune to these issues than any other sport. As such, Fertitta pledges that the promotion seeks to be a leader not just in the world of mixed martial arts, but in the world of professional sports as a whole, aiming to lead commissions worldwide in taking out performance-enhancing drugs from the sport, in turn continuing toward integrity and safety. Between 2013-2014, the UFC spent half of a million dollars in drug testing. The UFC will commit a few more million, considering that they will increase testing tenfold.
Dana White cleared up some of the air around the Jon Jones drama, explaining that his cocaine-positive test results came from out of competition testing. Everyone who got in trouble for smoking weed—Nick Diaz, Matt Riddle, whoever—did so because they got high and tested in competition. But that's neither her nor there. In the end, he got fined US$ 25,000 for breaking the code of conduct, and the money was donated to an organization assisting children who are victims of drug abuse.
Also, as we all by now know, Anderson Silva buried his chances of redemption by getting popped a second time for the same drostanolone the first test found, this time in his fight night drug test. Hector Lombard also tested positive for steroids following his triumphant UFC 182 performance against Josh Burkman.
Now, the UFC wants 100% of fighters tested on the day of the fight. If a commission can't afford it, the UFC will pick up the tab. They are also advocating for harsher penalties.
Good news, however, were delivered in this otherwise to the point, yet somber, affair. After Hector Lombard got popped for steroids following his UFC 182 fight, his fight with Rory MacDonald was scrapped, leaving the Canadian boy without an opponent yet again. After dropping Hector's name, Dana White said that Rory MacDonald would be fighting Robbie Lawler for the belt on July 11th.
Crazy. Now, José Aldo will defend his featherweight title versus Conor McGregor on the same night that Rory MacDonald challenges Robbie Lawler.
Check out these related stories:
Fightland Meets: Rory MacDonald
Rory McDonald's Long Road to the Belt