Rule Britannia: How Michael Bisping Became the UFC's Middleweight Monarch
Michael Bisping grew up down the road from me in the house on the corner. We would run into each other at the pub from time to time and we would always exchange a nod. We were never close but we knew the same people, ran in the same groups, even dated the same girls. In fact the haircut he has now was mine first. When I heard jammy Mike had blagged his way into a fight for the UFC middleweight title on short notice I called him up. I said "Michael, I know you've probably got your own ideas, but why don't you try sitting down on your punches just this once". Later, when he winked and pulled on his ear just before the camera cut away to check on the fallen Luke Rockhold, that was him saying "Thanks, Jack." These are among the many, many lies I will shamelessly tell my grandchildren in years to come now that we finally have a British UFC champion.
Yes, today you find your humble servant sipping Earl Grey tea from his celebratory china and smearing a crescent of clotted cream across the bottom half of a scone on a Charles and Diana "Together Forever" commemorative plate. Pull up a chair and I will be more than happy to regale you with the tale of how His Fistic Majesty, Michael Bisping walked off of a film set and into the biggest fight of his life, starching the American playboy, Luke Rockhold for blighty.
Counted Out
Of course I'm being flippant. Whether you're a Briton booing anyone from another country, an American chanting "U.S.A, U.S.A" at the first opportunity, or a Brazilian chanting, "you're going to die," you should probably knock it off. This is an individual sport, and everyone ends up training with American or Eastern European wrestling coaches, Thai or Dutch kickboxing coaches and Brazilian grappling instructors anyway. Bisping himself has made the best strides of his career since moving to the United States. Fighting is a universal, nationless pastime. A glorious no man's land. Patriotism has just always been the number one way to get the man on the street through the door. But jingoism aside, Michael Bisping's victory over Luke Rockhold at UFC 199 was sensational any way you look at it.
Bisping has had a hard time being taken seriously over the years. He used to turn up on British cards to beat the breaks off of middling fighters like Chris Leben and Yoshihiro Akiyama, but he would inevitably falter when he faced one of the big names. After making Jason Miller look like he didn't belong in the big leagues back in December of 2011, Bisping's record slid from 22-3 to 25-7 by November of 2014. After being held down by Tim Kennedy and beaten up by Luke Rockhold it seemed like Bisping's days as a 'prospect' were over and he was into the twilight of his career. But once Bisping quietly gained victories over C.B. Dolloway and Thales Leites, he was booked to fight the old middleweight king, Anderson Silva in February of 2016.
A few in the fight business had wanted to see Bisping get a crack at Silva for a long time while the latter was middleweight champion, but Bisping couldn't put together the top quality victories to justify it. It's unlikely that anyone thought Bisping would give Silva a beating, but his style was exactly the sort of thing that would make Silva's usual job of laid back counter fighting very difficult. Bisping has always driven a high pace, thrown dozens of feints, and worked well with non-committal blows. The result of the fight is still a raw nerve for some but Bisping did exactly what most never imagined he could: in a perfect example of styles and wiles making fights, he kickboxed Anderson Silva for the majority of the bout and made him whiff on his counters.

The value of non-commital offense against a dangerous counterfighter.
Even in that performance, however, Bisping was hurt severely on two occasions so when The Count stepped in to replace Chris Weidman in a title fight with Rockhold things seemed bleak. Rockhold had destroyed Bisping in their previous bout and had gone on to batter Weidman in their first fight. Personally I thought this match up was so uninteresting that I didn't bother to write any kind of preview. I had watched Bisping chase after Rockhold in the first fight and fall short as the much rangier Rockhold skipped straight backwards and hammered Bisping with check hooks. When old pillow-fists Bisping decked Rockhold in under four minutes it seemed as if everything we knew about the division had been turned on its head.
Bisping is a man with a few unique quirks. There's the way that he retreats from the pocket by immediately breaking stance and placing his left foot behind him, running backwards. He also used to have the Andrei Arlovski response to being attacked—sticking both of his hands out in front of him to keep his opponent away—but this has been brought under control and he now pushes opponents off of him when they are close enough and stays tight when that's not an option.
One of the strange things about Bisping is that he has fought his entire career with his back foot sticking out at ninety degrees. That's plain enough in a regular stance, but when throwing a right hand most will get up on the ball of their back foot, bringing his right knee down and allowing them to perform a driving motion with his leg into the floor. This is how you 'punch from the floor', driving your hips and bringing your full weight into play. When Bisping throws his right hand his back foot stays pointing out, reducing the range of motion in his hips and one would imagine the weight in his right handed blows.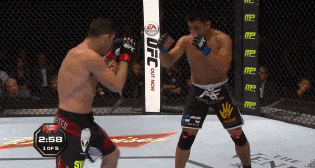 What Bisping has always owned is a really good, non-committal jab. There are a few fighters with the kind of left straight which can flatten and opponent's nose, but many of them will commit their weight to do so. Bisping is very good at staying upright and moving his weight, but staying over his hips and avoiding lunging onto counters. His lead goes ahead of him. He is also accurate and throws his jab out with little effort—economy of motion in a jab leads to the ability to throw good volume over a fight. Watching his bout with Cung Le, for instance, Bisping's jab was so accurate that when he shot it into Le's eye socket, Le believed he had been thumbed.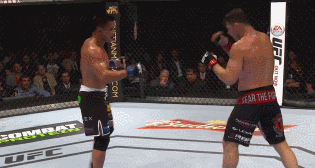 In Bisping's very recent career you will notice that he has begun utilizing his left hook far more often, particularly a long left hook—the kind used to follow a jab and fly around the parry of an anxious opponent. Because of his stance Bisping gets a surprising amount of hip and weight into some of these seeming nothing blows when compared to his right hands. He caught Anderson Silva dipping with one of these and followed up to send him to the mat. An interesting development as Bisping's left hook was second fiddle for much of his career, now his two biggest victories have hinged on it.
Bisping has also shown a marked improvement in the pocket. It used to be that he could be panicked by a man pressing in on him. Bisping has now begun to slip and fire back in order to keep opponents from simply rushing in on him as Wanderlei Silva did. This was noticeable against Thales Leites and against Anderson Silva who famously puts on bursts of action at the end of rounds. As Silva advanced and attempted to fluster Bisping, the latter would move his head and swing back and even stunned Silva at one point while doing this. For a man who was always criticized for having pillow fists this is a good development because the bum rush is the scourge of the light handed technician.
Bisping had two problems in his first fight with Rockhold. He would chase after the taller man and eat check hooks on the way in. When he didn't chase, he suffered kicks on the arms and body which quickly took a toll.
In the second fight, despite having limited time to prepare for those issues, Bisping did a great job mitigating them. Firstly he feinted more. This is vital against a man who wants to time a counter and it is what kept Bisping safe when he stepped in on Silva. But feinting is about playing with the opponent's trigger finger, Bisping still got clipped with a hard check hook when he made his step in obvious.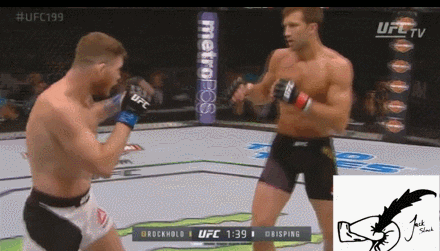 For the most part though, Rockhold was leaning back and looking to swing with very little effect. Swinging at air can be tiring and embarrassing (as Renan Barao found out against T. J. Dillashaw) and most fighters are not stubborn enough to do that each time the opponent moves so they will take their finger off the trigger a little and suddenly the threat of the perfect counter is no longer there.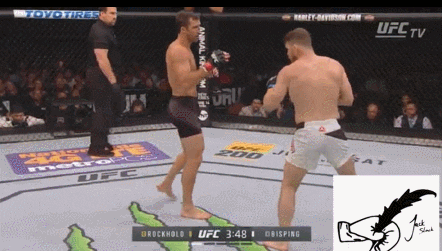 So much solid stuff in this sequence: Bisping keeps circling away from Rockhold's power leg, Rockhold bites on a feint, Bisping enters with a low line side kick and throws a couple of punches, Rockhold returns and it is Bisping's counter left hook that lands.
The second key choice was that Bisping was always circling away from Rockhold's left leg. He still got bumped with it a couple of times but in the first fight he fell into the downward spiral of "charge, get countered, pause and eat a kick".
By not running after Rockhold and making himself a mobile target, Bisping made Rockhold come to him instead. While many were touting Rockhold as a perfect all around fighter, outside of his counter right hook his boxing has always been bland and a little wild. As he hand fought with Bisping and followed him around the cage, Rockhold looked uncomfortable.

It is also worth noting Bisping's use of side kicks to the lead leg to keep Rockhold light on it, and this nice low kick as Rockhold does his usual retreat from range.
Bisping was able to land a couple of jabs and hooks stepping inside of Rockhold's lead foot. He used these well against Silva.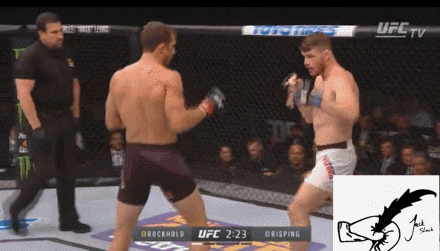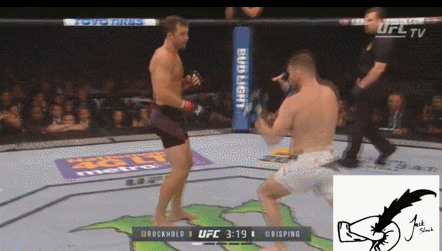 Rockhold decided he wanted to do the same, except each time Rockhold did it, he would commit his weight, miss the jab, and then duck down to his left to protect himself from a counter before he tried to back out. He almost got caught a couple of times, and then he did. Bisping followed, kept his elbows in and avoided getting clinched, and pushed Rockhold away just in time to land a perfect punch which sent the champion to the mat.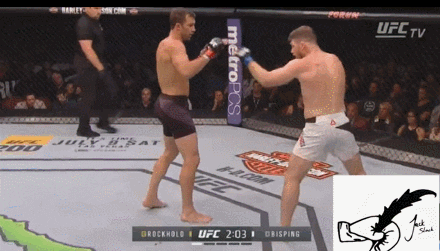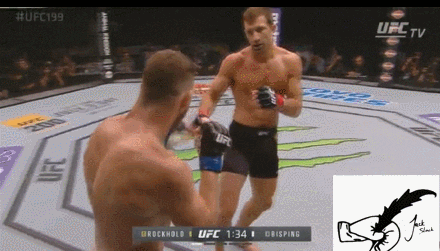 And that's all there was to it. The mood around the Internet is now, "Bisping got lucky, he'll never defend the belt." The second part might turn out to be true, but "lucky"? The constant theme of our Killing the King articles has been that a challenger should do his utmost to take away the champion's A-game. Almost every time a challenger is able to find one way or another in which to do that, they win. Take away the A game and the champion will start doing things they haven't had to practice as much and aren't as good at. Bisping did his best to neutralize Rockhold's punishing left leg kicking game, and to not give the champion the easy counters that he did in their first fight. Rockhold, finding little joy with his two proven methods, started stepping in to punch. You can call it arrogance or buying his own hype or a tactical error, but the course of the fight encouraged that to happen. He will get a rematch at some point I'm sure, and if he has anyone talking sense in his ear he will probably win it as he has every advantage in the clinch on the mat, in physical attributes and in age. But Bisping refused to give Rockhold anything easily: he made Rockhold come to him, and despite a lifetime of being called a pillow-fisted B-lister he starched the hottest commodity in the middleweight division at the earliest chance he got.
Am I brimming with national pride now that the United Kingdom has its first UFC champion? Nope. But after a week in which we lost Muhammad Ali, the UFC attempted to blacklist reporters for doing their jobs, and Kimbo Slice passed away out of nowhere, I have recalled the joy of Bisping's victory time and time again to break through the fog of gloom. The man lived in his car to chase the dumb dream of being a fighter in a sport which had zero money going at the time. He suffered the most memorable knockout in UFC history and became a laughing stock, and he broke the record for the most UFC victories without being granted a title shot two years and five fights ago. At this point he's fighting with one eye, for Christ's sake! Bisping wasn't even supposed to be in the cage on Saturday night, it's hard not to think about that and get a little joy out of it regardless of who issued your passport.
Pick up Jack's new kindle book, Finding the Art, or find him at his blog, Fights Gone By.
Check out these related stories:
UFC 199 Quick Results: Bisping Wins Title On Incredible Night of Fighting
Suddenly, Everybody Is a Michael Bisping Fan