Sangmorakot Gym: The Shining Emerald of Bangkok
Last year, I visited a number of Muay Thai gyms in Bangkok as part of a group of international bloggers sponsored for a week by the Tourism Authority of Thailand, their mission to promote Thailand as a health, fitness, and adventure-travel destination. On the last day of our Muay Thai tour, after seeing the recently renovated Petchyindee, the sparkling new Legend Gym, and the Muay Thai Chaiya haven of Baan Chang Thai, the organizers brought us to Sangmorakot.
It wasn't fancy, wasn't new, didn't look anything like the other gyms we'd visited. I was impressed that the Tourism Authority included a gym like this on our itinerary. Sangmorakot wasn't repackaging Muay Thai to appeal to rich Thais or Western fitness tourists. Sangmorakot was a proper Bangkok gym focused on developing its fighters, as any good, serious fighters' gym should be.
During our brief afternoon visit, gym owner Jar Tui told us a bit about the gym and himself through a volunteer interpreter, who had trouble expressing the nuances of Jar Tui's story in English. With Jar Tui's life experience as a military official in the Royal Thai Air Force, now a gym owner and professional gambler, I knew this would be an oral history I'd need to pursue in the future.
Most of the information our volunteer interpreter was able to relate to us, however, involved only the lightest scrapings of Jar Tui's life and the history of Sangmorakot. We foreigners crowded around Jar Tui and our interpreter in the center of the training area near the ring, straining to hear over the sounds of pads being smashed and boxers responding to combinations called. In the background, I noticed a rather pudgy young coach whose fleshy middle sharply contrasted with the chiseled physique of his Thai student. When time came to ask questions, the volunteer interpreter offered only modest help when I asked about Jar Tui's experiences in the air force, or the effects of gambling on Muay Thai, though she easily cleared up my questions about the fat trainer.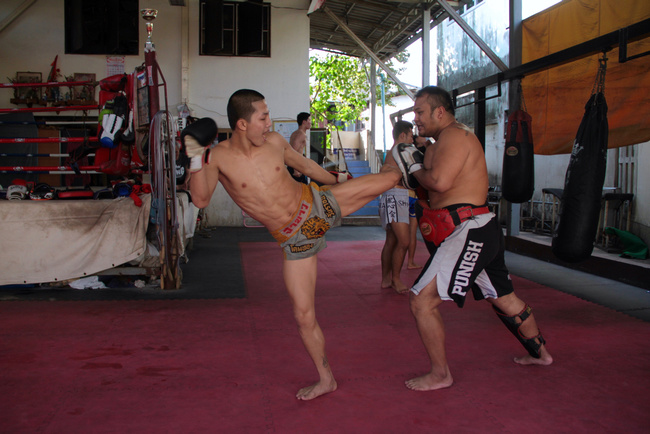 "Oh, him? He used to be a fighter but he quit four years ago," Jar Tui said through the interpreter. "Being bigger is better for a trainer because they're sturdier when they hold pads."
"Did he try to get fat because he wants to be a good trainer?" I asked, only a quarter joking. The interpreter laughed.
"No. It just kind of happened," Jar Tui said.
Our group snapped a few more photos and we said goodbye. Most of the seven other sponsored bloggers left Thailand the next day and went back to writing about whatever they'd been writing about before the Tourism Authority got hold of them.
I returned to Sangmorakot almost a year and a half later. The gym looked similar to how I remembered it, same shadowy lights even on a bright day, same messy area right outside the front. After a year and a half, what changed for me was my appreciation of the gym, and my ability, slowly improving, to communicate directly with owner Jar Tui in Thai.
Sangmorakot translates into "shining emerald" in English, but the gym itself isn't particularly shiny. It's boxlike—walled or fenced on three sides, perpetually shady though with a calm slant of light in the early mornings and evenings. Only one side is wide open, but that one side is facing Wat Sitaram, and the sun reflecting off the golden temple illuminates Sangmorakot like its name suggests.
It's no coincidence that Sangmorakot sits in such close proximity to a temple. In Thailand, temples and Muay Thai are inextricably linked. As owner Jar Tui explains it, temples were historically a gathering place for villagers, especially those with no homes or few places to go. Over the years, hosting Muay Thai fights in temples became increasingly popular. Gyms popped up in and around temples. Sangmorakot is one such gym, as is its other location, a little-known branch in Hua Hin, also in a temple.
When asked how Sangmorakot is different from other Bangkok gyms, Jar Tui states the obvious: his gym is in a temple. But more than that, he says, his gym is "like family." He points out that unlike many other prominent Bangkok gyms, Sangmorakot doesn't buy its fighters. "Our fighters come here of their own accord," he says. "The younger ones are here usually because their parents want them to come here." The parents know Sangmorakot's reputation for encouraging its kid fighters to attend school, for taking care of them when they're sick or injured.
Originally from Bangkok, Jar Tui quit his own Muay Thai fighting career when he was a teenager to join the Royal Thai Air Force. After 15 years in the service, Jar Tui returned to Muay Thai, this time as a gym owner.
With only two bags and a small training space, the first Sangmorakot was in a tiny corner by the Prince Palace Hotel, a short walk from where the current Sangmorakot sits. Word of a new gym quickly spread in the neighborhood, more and more children showed up to train, and Jar Tui started looking for a larger space.
Luckily, the chief monk at nearby Wat Sitaram also had his own small gym and invited Jar Tui to combine their gyms. Slowly, over the next 25 years and in the shadows of the temple, the new Sangmorakot grew into what it is today.
Jar Tui reports that his modest gym costs about 40,000 to 50,000 baht a month to operate. Sangmorakot doesn't take too much money from its fighters—purses are split fifty-fifty—and it isn't reliant solely on income from its few foreign students, who come and go with the seasons.
Instead, Jar Tui funds Sangmorakot largely from professional gambling. He's a regular all over Bangkok, gambles on Muay Thai nearly every day. Everyone knows him at the stadia; he doesn't pay door charges. And he never bets on his own fighters. "I don't bet on my fighters and I don't buy them," he laughs. It's a policy that has served him well over the years.
To obtain fighters, Jar Tui works with a network of gyms outside Bangkok. They're what's known as "feeder gyms"—when fighters from these small gyms progress to a suitable weight and level, the gyms send them to Sangmorakot for further Muay Thai development.
It's a good move for qualified fighters. Many of the best Muay Thai opportunities are in Bangkok, and a gym like Sangmorakot, with its military/gambler/promoter owner, is a powerful boss with a host of connections.
Jar Tui is also known as a fair boss. Stories of abuse perpetrated against young, vulnerable boxers abound in the culture of Muay Thai, but by all accounts, Sangmorakot's owner is generous and caring. Like a handful of other Muay Thai gym owners with philanthropic leanings, Jar Tui is known to take in young boxers whose parents are no longer able to care for them. On instances when his team performs well at the stadium, Jar Tui rewards his fighters and trainers by treating them to a fancy seafood dinner at the gym.
Sangmorakot also prioritizes the career development of its employees. Trainers come through on a rotating basis, and with the gym's help, many of them accept short- or long-term positions at gyms abroad, mostly in Australia and Japan. Currently, Sangmorakot is home to about a half-dozen trainers, with a whopping 15 working abroad.
Sangmorakot is known for its high-ranking fighters, but neighborhood kids interested in learning their cultural martial art are also welcome. During our interview, while Jar Tui offers me jackfruit and teaches me gambling hand signals, two little 13-year-olds joyfully kick the bags and each other off to the side. Beem and Bik, who both attend the adjacent school, have been coming here multiple times a week for the last few years. Neither has fought yet, neither is sure he wants to fight. For now, they're having fun. Jar Tui happily allows the trainers to take them on pads despite their noncommittal nature with competitive Muay Thai. "Kids come here from all around the area," Jar Tui says. "They just show up and play. The trainers teach them, and it's free. If they want to fight, we'll find one when their abilities get up to par."When they're ready, Jar Tui will have no problem getting them a fight. As a promoter at Lumpinee and Omnoi Stadium, as well as with Thai Fight, finding opportunities for his boxers is rarely an issue. For this reason, he's popular with foreign contenders seeking a no-nonsense fighters' gym with good connections and authentic training in Thailand.
Sangmorakot is not fancy, offers no "holiday Muay Thai" package, and little daily support in English, but there's a reason it's popular and well-respected among fighters, both Thai and foreign, looking to build careers in Bangkok.
Check out these related stories:
On the Fringes of Tourism: The Hidden Gym in Pai Valley
Musings of a Middle-School Dropout: Yodwicha's Life of Muay Thai
How to Run a Muay Thai Gym in Thailand: Santai