Sittichai Sitsongpeenong and the Economics of Fighting Abroad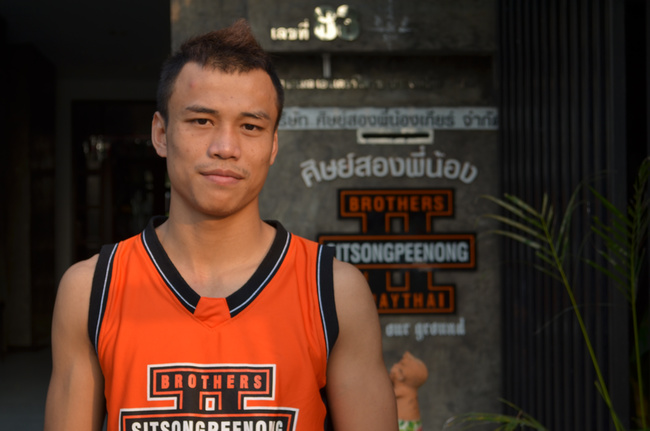 The first time Sittichai Sitsongpeenong left his home country of Thailand to fight was for a four-man tournament in France in 2010. He won the tournament, beating famous French fighter Fabio Pinca in the first bout and later Anuwat Kaewsamrit in the final. Sittichai was only 18, already making a name for himself in the international Muay Thai circuit.
The son of a poor family from Buriram in Thailand's northeastern Isaan region, Sittichai is a poster child for the Muay Thai dream: sacrificing a high school education in pursuit of fighting, now earning thousands of dollars a year as a fighter and sending money back to his family in Buriram. His parents, who worked as laborers and small-scale farmers when Sittichai was growing up, bought a new rice plow and pickup truck with their son's fight money during his early years in Bangkok. Now following Sittichai's success abroad, they've invested in land near their home and are almost finished constructing a new house.
The current welterweight champion of both Thailand and Lumpinee Stadium, Sittichai dropped out of high school after ninth grade to focus on fighting. Now 23, he spends his weekends studying for his high school equivalency degree with some other boys from the gym who also left school for their fight careers. In Sittichai's case, leaving school was a lucrative decision—he's one of Thailand's top-grossing Muay Thai fighters, commanding hundreds of thousands of baht for most fights. His first overseas competition of 2015 alone, a four-man tournament in China, saw him walk away with US $40,000.
Like many of Thailand's fighters, Sittichai came from a poor Isaan background and got into fighting at a young age. He started training mainly with his father and brother at 11-years-old. A local school teacher, Kru Yiem, owned a small camp in Sittichai's village and was able to arrange match-ups through his connections in Bangkok, and Sittichai was able to start fighting in the country's two major stadia.
The only person really benefitting financially from this arrangement, however, was Kru Yiem. When Sittichai had to travel for a fight, he and his father were often the ones left to pay for transportation, accommodations, and food, expenses normally covered by the camp. The young fighter and his father would take the bus to matches and find their own cheap lodging. Despite shirking his obligation as camp owner to fund the fighter's education, training, and fight-related expenses, Kru Yiem always deducted fifty percent of Sittichai's purse.
This unfair treatment resulted in a falling out between Sittichai's father and Kru Yiem, though breaking connections entirely was not an option at that point—Yiem was their only link to the promoters in Bangkok. Eventually Yiem's mismanagement of his fighters caught up with him. Word spread in the community; many of his fighters received attractive deals at other prominent camps. His fighters dispersed, fewer and fewer new fighters arrived to replace them, and eventually the camp closed.
A scout/matchmaker working for Petchyindee put the teenage Sittichai in touch with what would be his future home gym in Bangkok. Sittichai had already been fighting under the Petchyindee promotion, so the decision was made to sell his contract to Sitsongpeenong, a then-new gym with connections to Petchyindee. Sitsongpeenong was in its infancy and looking for new fighters, including training partners for their top fighter Kem. Sittichai, only 17 at the time, showed promise. He arrived at the gym in 2009.
By early 2010, he was fighting abroad. Over the next few years, as his international and domestic wins piled up, so too did the amount of his purses. Fighting internationally became a better financial opportunity for him than in Thailand, and his gym began coaching him on how to fight specifically for an international audience.
According to Sitsongpeenong Gym owner Tim, it took years for Sittichai to develop a fighting style that would appeal to foreign audiences. "His mindset before was that when he hurt somebody and the fight was won, he would just leave them alone and back off," Tim said. This is standard ring behavior for many fighters in Thailand and often regarded as good sportsmanship. Thai fighters will often communicate with each other during a bout. Once a fighter concedes, his opponent will back off, no longer wishing to inflict more damage than necessary. The fighters will circle each other, alert but not actively engaging in hard fighting, and finish the round quietly. Confident of what the judges' call will be, the gamblers often exchange money before the final bell is rung.
Sittichai, who grew up fighting for Thai gamblers, was coached on aggressively finishing fights for a foreign audience. "Holding back is a Thai thing, done for gambling," Tim said, "but it's not good for fighting overseas. People come for entertainment, to see people get knocked out. If you want to be popular overseas, that's what you have to do. It was a hard adjustment for Sittichai. We told him over and over again what he had to do, we told him, 'You have to finish them. No mercy. If you don't kill them, they'll kill you.' it took him years to get that into his head. He doesn't seem to have qualms about it anymore, though. Maybe his increased age and maturity over time have also contributed to this mindset."
Aside from appealing to an international audience, Sittichai also had to get used to the foreign style and rhythm of fighting. In an average Thai fight in a Bangkok stadium, the contenders hang back the first round, often not getting up to full fighting speed until the second or third. Most foreigners, however, don't follow the slow pattern of the Thais, and Sittichai has learned to adjust his game accordingly, coming out strong from the very beginning. "Foreigners are more difficult to fight because they're unpredictable, unorthodox in a lot of what they do," Sittichai said. "But this faster style is good, though. If I get a chance to finish the fight, I finish it."
Now in 2015, nearly all of Sittichai's fights are outside Thailand. Of his last 35 fights abroad, he has had only one loss, and a controversial one at that. The success is changing his marketability. It's increasingly hard for him to find opponents. He fought only eight times in 2014. "The more often he fights, the better," Tim said. "Then we all make more money. But as the money and his level go up, there will be fewer fights." Normally fighting around 67 kg, he's now having to accept fights in a higher weight bracket, usually around 70 kg.
Proper match-ups are no longer easy to find in Thailand. "He's just too good," Tim said. Tim, who puts together the rankings for WBC Muay Thai, maintains that there are few opponents in Thailand at his weight who could give Sittichai a good enough fight to attract the attention of gamblers. And in Thailand, gamblers are all that matter. Plus, purses in Thailand are rarely high enough for Sittichai to consider. Why settle for 80,000 to 100,000 baht (about US $2,400 to $3,000) for a fight in Bangkok when you could be making around his standard US $12,000 abroad?
Sittichai does still take the occasional fight in Thailand, though. "We like to have him fight once or twice a year in Bangkok in order to defend his titles," Tim said. "So for those fights, I'm happy with the lower purse. But for special events like MAX Muay Thai or Thai Fight, we would ask for at least double or close to what he gets overseas. Still, fights overseas are our priority and the best option for us."
Sittichai says his biggest fear is not having any fights lined up; no fights means no income. Injuries are a major concern. In 2011, Sittichai broke his collarbone in a freak accident during a tournament: a head clash to his collarbone sent him to the hospital and laid him up for six months. "He's since recovered, but we probably lost three or four million baht off that," Tim lamented. That particular fight had been for the Fuktien tournament in Omnoi stadium, the winner of which would progress to the Isuzu tournament, and then on to a Thai Fight tournament. Tim maintains that had it not been for the breaking of his collarbone, Sittichai would have won all three tournaments. "He was dominating his opponent in the Omnoi fight up until the point his collarbone was broken," Tim said. "He had already beaten all the other tournament competitors in previous fights. The guy who eventually won the Isuzu tournament, Sittichai had already beaten him too."
In the following year, 2012, Sittichai had his comeback fight in France. Of all the countries in which Sittichai has fought, he says he likes France the best, mostly because of the large purses. France likes him too—he was voted 2014's most popular international fighter in a poll through online French magazine Boxemag, ahead of even Buakaw Banchamek and and Yodsanklai Fairtex.
A world-class fighter now at the top of his game in Muay Thai, most of Sittichai's future fights will likely be under K-1 and Glory rules. "There are more opportunities for him at this stage in kickboxing," Tim said. "More opponents and more money."
Tim sees Sittichai as an unexpected contender, finding great success as a fighter even without the mental inclination. "He's naturally a very placid person. I don't believe it was in his true nature to be a fighter. But he took this path through necessity more than anything else. If he hadn't grown up poor, he never would have come to fighting on his own accord."
Check out these related stories:
Life After Fighting: Muay Thai Legend Pornsanae Sitmonchai Retires
The Long Road to Bangkok: A Young Fighter's Struggle to Win in the Capital
Born into Fighting: Away from Home at Singpatong