So You Want to Be a Promoter - Ed Soares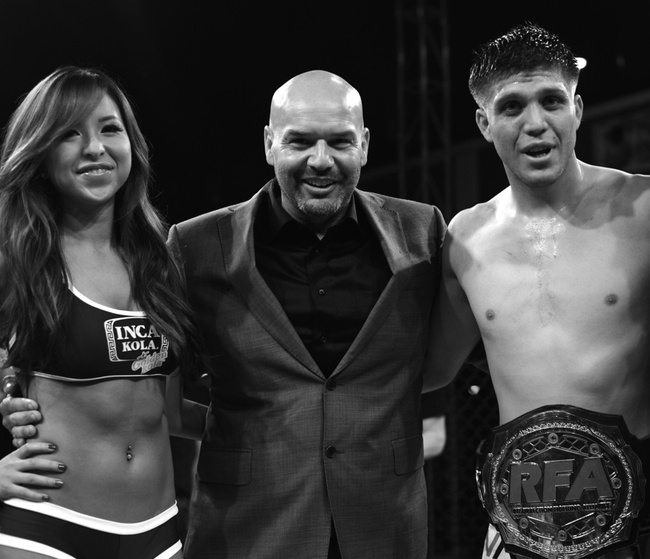 Ed Soares, RFA President, with ring girl and Brian Ortega
Fighting is a tough gig. Instead of punching a clock, you spend countless hours training, dieting, nursing injuries, all in service to that penultimate moment—fight night. But an even more harrowing job than fighter, is that of promoter. Risking reputation and capital, the promoter works round-the-clock to ensure that fans leave the arena both awed and clamoring for the next show. This is our tribute to the smaller MMA shows.

Ed Soares is a Mixed Martial Arts polymath. He not only manages top UFC fighters, including Anderson Silva, Lyoto Machida, and GloverTeixeira, he also owns the elite Black House training facility, and serves as President of the Resurrection Fighting Alliance (RFA).
Skim the previous articles in this 'Promoter' series and you'll see the common thread linking Bas Rutten and Savant Young is their desire to secure bouts for fighters from their respective gyms.

Rener Gracie, coaching
Soares is no different. Numerous fighters from the Black House family scrap for RFA, and recent RFA champions, including Brian Ortega and Pedro Munhoz, have transitioned into the UFC.
This is no accident. I recently visited Ed at Black House and while touring the gym, he explained that RFA's primary mission is to serve as a feeder league for the UFC.

Pedro Munhoz, now a UFC bantamweight fighter
I enjoy the relaxed atmosphere at lower-level MMA events, as much as I enjoy the the scrappy fights—but I'm always on the lookout for the next big thing.

Ortega, attacking with an armbar

Ortega, going inverted
During RFA 12, a few months ago, I saw it in Brian Ortega, when he defeated Keoni Kochfor the promotion's Featherweight championship. As a sport jiu jitsu fan, I particularly enjoy high-level grappling in the cage. Ortega did not disappoint. In fact, he put on a modern BJJ clinic, continually going inverted while attacking his opponent's legs and attempting sweeps. I've never seen such tactics inside the cage. 'Those fancy sport's techniques don't work in MMA," is a common phrase spat by many grapplers. Well, it worked in RFA, and hopefully we'll see if they work in the big leagues.
Unfortunately, Ortega's UFC debut versus Diego Brandao was cancelled at the last minute. More than any other emerging fighter, I'm anxious to follow Ortega's progress.

Kevin Casey backstage, awaiting the call

Lyoto Machida consoles his student after a loss
MMA fans can catch RFA 15 this Friday, June 6th,at the Veterans Memorial Auditorium in Culver City, California.
Check out these related stories:
So You Want to Be a Promoter - Bas Rutten