Strolling Through Lira: The Kickboxers of Uganda
After two decades of violence, displacement and encampment, northern Uganda is rebuilding and its people are moving on. But some pretty hefty development challenges remain. As part of a study into how young people access decent jobs in post-conflict areas, I've just spent a short period in Lira—a large-ish town in the north of the country about seven hours from the capital, Kampala. I decided to mark my final day in Lira by walking out of town to climb a big slab of stone I'd been seeing in the distance every day: Ngetta Rock.
It turned out to be a good call. The climb was straightforward and returned amazing panoramas of the northern Ugandan landscape. It was trumped only by the walk back down, when my friend Tony and I happened upon a group of young guys in the middle of kickboxing class. Spread out on a nice patch of flat rock, teacher Louis Abraham instructed and demonstrated as his students repeated, over and over. I slowly approached and asked Louis if I could take some shots—he was all for it. Thanks to him and his students for letting me do so...this is by far the coolest thing I've ever stumbled across whilst out for a walk.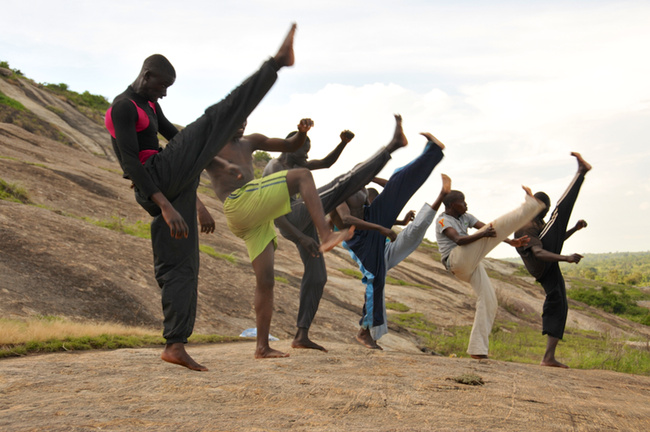 To see more of Richard's work, visit his website.
Check out this related story:
The House of Rickson: An Afternoon in Rio with Jiu Jitsu's Royal Family