Super Saiyan: New York Artist Gian Galang's MMA Paintings
Lifetime martial artist Gian Galang is an illustrator who works as an art director for The Brooklyn Brothers in New York City. We asked him to showcase some of his work here on Fightland, and talk about the inspiration behind these colorful and exciting designs of some of our favorite fighters.

Hunt Vs Nelson
Mark Hunt is one of my favorite fighters and I was insanely pumped for this fight. I thought the juxtaposition of Mark's uppercut and Roy's overhand right would make for an epic showdown. Luckily enough, Mark ended up winning by uppercut! I had to do an alternate "Super Saiyan" version as an homage to Mark's hair-dying fight ritual.

Hendricks Vs Lawler
I can't wait for this fight. This first was so tough and gritty, and I loved when they were grinning as they were throwing down. I composed the image diagonally so I could really zoom in on their expressions.

The Champs
I was inspired by group Street Fighter illustrations as a kid. I liked the way they gave little nods to each character's personality and fighting style, and how each of the characters were meticulously designed to fit together like a puzzle. I thought it would be really fun to do this with the "real" street fighters—the UFC champs.

Evil Machida
Evil Ryu was my favorite Street Fighter character, and Lyoto is my favorite UFC fighter. I wanted to pay homage to both.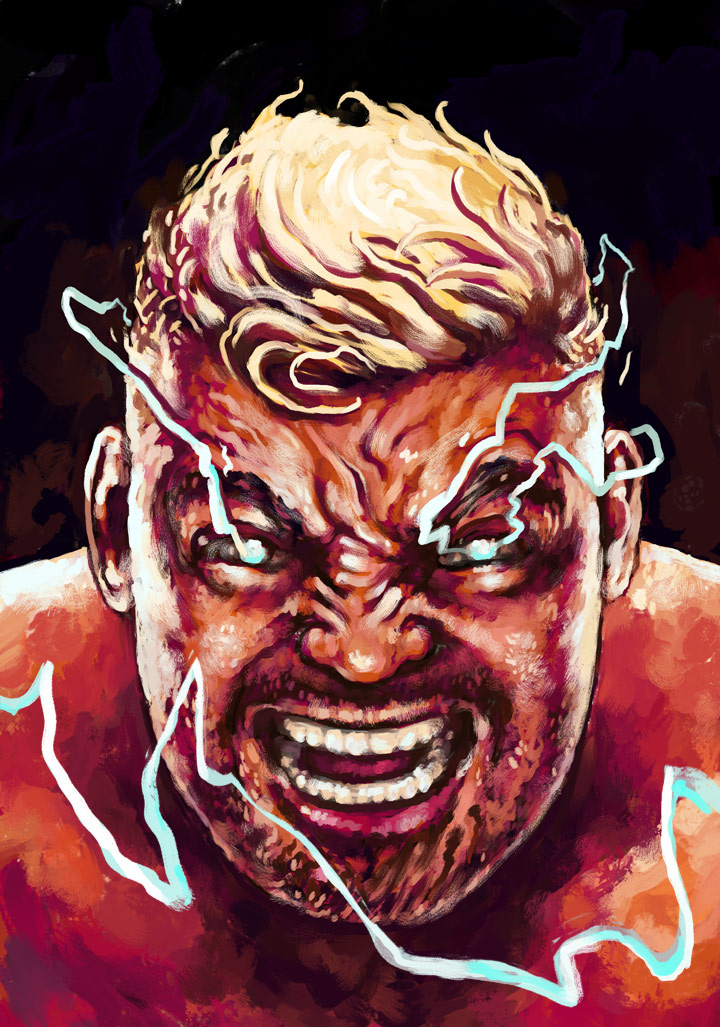 Super Saiyan Hunt
Mark Hunt dyes his hair to go "Super Saiyan" as a pre-fight ritual. I wanted to make a piece that showed him in true super saiyan form.

See more of Gian's work on his website.
Prints are available for purchase here.
Check out these related stories:
The Art of Attack: The Linocut Portraits of Matt Ward
Exclusive Poster Concept of Fight Night: Silva vs. Arlovski
The Cold Submissions of Gunnar Nelson
A Hollywood Animator's Take on MMA