Swede Alexander Gustafsson Lost a Bet to GSP, so He Had to Wear a Canadian Hockey Jersey
The Winter Olympics are over, the future of its host city is uncertain, both Canadian hockey team earned a gold medal in Sochi's balmy climes, and Georges St-Pierre defeated two UFC fighters in one week. Sort of.

After the men's semifinals, when Canada shut out the U.S. team for the first time since 1976, whoever runs GSP's Twitter account these days tweeted that former UFC lightweight and longstanding American citizen John Cholish had lost a bet with the recently retired welterweight champion. For his sins, Cholish was forced to don a Canadian hockey jersey, and St. Pierre had the photos to prove it. With Sweden in the finals opposite Canada, GSP extended the same offer to light heavyweight Alexander Gustafsson, the man who almost beat Jon Jones in September and definitely beat St. Pierre via fan vote to make his way onto the cover of the forthcoming EA Sports UFC video game.
Jersey bets are kind of weird. They presume that when a sports fan puts on a piece of apparel for a team toward which they have no affinity, there's genuine change in allegiance and thus genuine humiliation. But there's no way anyone really believes that wearing a Peyton Manning jersey in your Facebook profile photo after the Broncos beat the Patriots meant you'd suddenly disavowed Tom Brady, or vice versa. The right to keep Justin Bieber out of the country seems a far sweeter reward than public semi-humiliation.
Anyway, the Great White North snuffed out Sweden 3-0. Yesterday, Gustafsson, a true gentelman mauler, held true to the terms of the wager, then took to Facebook to one up himself. A bet's a bet after all.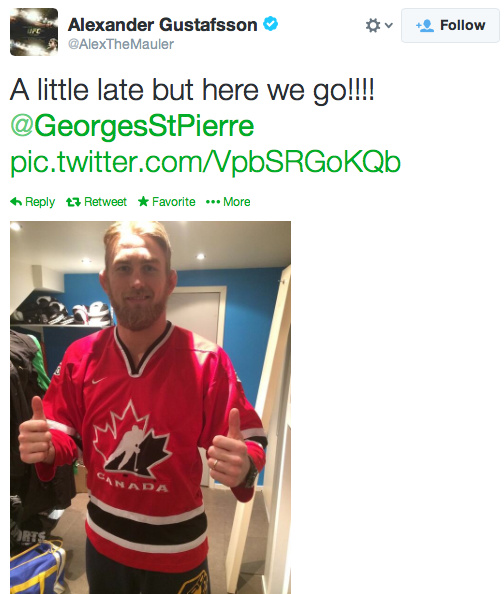 Check out these related stories:
Conservatives Take the UFC Video Game Box Cover Elections of 2013