Tales of an MMA Lifer: Training in a Ghost Town
Photos by Wilson Fox
The one thing they're loath to tell you about fighting is that a training camp, in addition to being grueling and all-encompassing of mind and spirit, can also be just so damn tedious sometimes. Pushing and pushing at a relentless pace with everything you have toward one goal is an adventure, but let's not fool ourselves--it can be deeply monotonous to be in the gym for hours and hours every day.

UFC welterweight Carlos Condit and striking coach Brandon Gibson
We all have our tricks for avoiding falling into a training rut—for some people it's picking up and moving camps entirely; for others it's bringing in new coaches or training partners, or adding a new exercise routine. For me, sometimes I just need a mini-adventure, a chance to train outside on the top of a mountain or run up a sand dune. Something in the environment around Albuquerque brings out a fire in me.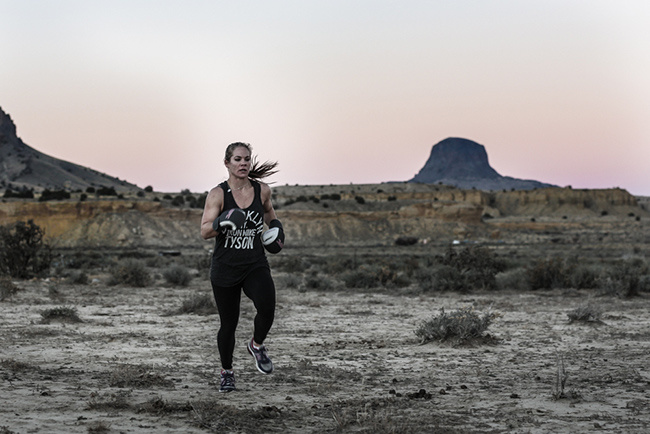 The author, UFC bantamweight Julie Kedzie
The landscape of New Mexico can change from dreary to romantic at the turn of a bend. From cactus to mountain to riverbed, the terrain offers brilliant and stark contrasts against a relentless sun and a sky that somehow seems enormous. I'm not exactly some woo-woo psychic-believing spiritualist, but I can definitely acknowledge that there is an element here that changes you, even as it constantly dares you to break. With the incredibly violent history of the Anasazi, Pueblo, and other Native American Indian groups, the subsequent Spanish colonization, Mexican War of Independence, Civil War, Comanche raids, feuds between ranching communities, and miners and new homesteaders trying to settle the Wild West, it feels as though there is a palpable tension emanating from the ground you step on. The people here either kick their heels in stubbornly to stay forever or leave so abruptly you can travel to any number of abandoned ghost towns and still find buttons on the ground from clothing rotted long ago.

UFC flyweight John Dodson
According to my striking coach Brandon Gibson, there's no better way to shake things up than a trip to a ghost town. Last Sunday he and über-talented photographer Will Fox took a group of us from Jackson's MMA to the ghost town of Ojo de Padre, which is situated near the Rio Puerco River, about an hour away from Albuquerque. There, amid the rugged grit of the desert silhouetted by the Cabezon volcano and abandoned buildings, we hit mitts, sprinted, shadowboxed, and shook ourselves from the tedium of routine.

Invicta FC atomweight champion Michelle Waterson and Gibson
As we trained and laughed and looked over our shoulders for the owner of the "Do Not Disturb" sign to chase us away with a shotgun, we felt charged and reveled in the impressions of the past. As the sun went down and we watched the moon rise over the mountains, Coach Brandon identified the mood in the air.
"Maybe it's because New Mexico is harsh, inhospitable, hard on people," he said. "There are ghost towns because the land is only for the strong; maybe that's why the best fighters are from here. There is a strength/survival element to this place and it brings it out in you.
"Not much has changed in New Mexico over the years. Wild spirits have crossed this land, like Magnas Colorado, Geronimo, Billy the Kid, Kit Carson ... "
"And," he added, smiling at us. "There are more legends to come."
Check out Julie's earlier tales: