Tarec Saffiedine and the Red Devil Leg Kicks
Photo by Josh Hedges/Forza LLC/Forza LLC via Getty Images
Chocolate, waffles, diamonds, and Jean-Claude Van Damme, that pretty much sums up 180-plus years of Belgian culture.
It's been a big year for Belgium though, with its Red Devils national soccer squad earning a quarterfinal birth in the 2014 FIFA World Cup. And this Saturday, October 4, another of one of the nation's emerging national treasures will attempt to kick his way to victory, as UFC welterweight Tarec Saffiedine takes on Rory MacDonald at Ultimate Fight Night 54 in Halifax, Nova Scotia.
On the surface, not much separates Saffiedine, 28, from a hardened hit man, his cold, death stare, deep-set eyes, and emotionless façade akin to a contract killer. Saffiedine is a calculating sniper, whipping leg kicks at opponents with paralyzing force, landing punch combinations, elbows, and knees with pin-point accuracy.
He's a decorated champion, the last man to hold the Strikeforce 170-pound title, who has never been finished in professional competition. And yet his name is rarely mentioned in the championship conversation. But why?
For starters, the last 20 months have been difficult on Saffiedine, who suffered a series of injuries that forced him to pull out of a pair of big fights against Robbie Lawler and Jake Ellenberger. And since he claimed the Strikeforce title in January 2013, the UFC's first Belgian representative has fought only once, punishing Korean up-and-comer Hyun Gyu Lim at UFN 34. The victory was expected though, as Lim, who was a late replacement for Ellenberger, was, and still is, unranked by the promotion.
But, in victory, Saffiedine, who trains out of Temecula, California's Team Quest with Dan Henderson, was able to demonstrate why his skillset is so difficult to beat, and why he just may catapult to the top of the title picture, should he best MacDonald on Saturday.
With Saffiedine, it all begins and ends with leg kicks. And much like his countrymen, the Red Devils, Saffiedine uses a heavy artillery of leg strikes to best his opponents, albeit in a much more violent approach than the footballers.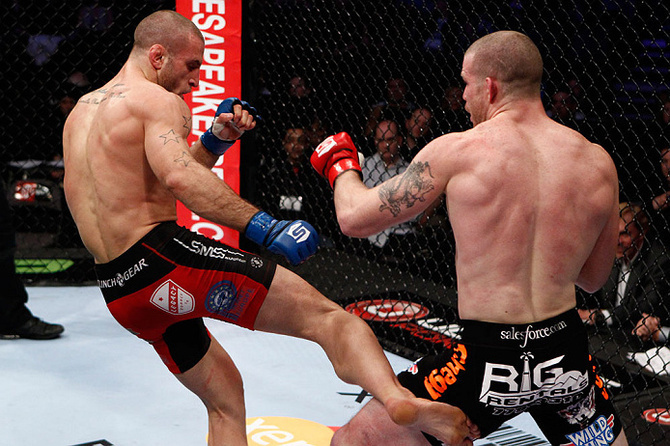 Taking a page from UFC featherweight champion Jose Aldo, Saffiedine punishes his foes on the outer thigh, knee, calf, and Achilles areas, immobilizing world-class athletes, before unloading his vast arsenal of strikes. It's a repertoire Saffiedine has been using for more than seven years of professional competition, devastating opponents, eliminating their ability to press forward or apply pressure on their own legs. And with the lower limbs eliminated, Saffiedine moves in for submissions, having already forced one third of his victims to tap out.
A karate, Wing Chun, taekwondo, and wushu practitioner since the age of 10, Saffiedine has perfected the kicking game, dancing along the perimeter of the cage, keeping grapplers at bay with well-timed strikes. He's also developed an excellent sprawl and takedown defense, understanding that the main weakness of any kick-centric fighter is the opening they leave opponents once the leg is raised.
Stylistically, this all plays out very well on paper against MacDonald, who is favored in the contest, but is also known for hesitancy. And with that type of slow pace out of the gate, Saffiedine has the ability to tactfully stop MacDonald before he even gets started, unloading leg strikes, breaking him down.
Still, many doubt Saffiedine's ability to finish a top-five opponent, especially given his thin resume, which includes a notable victory over Nate Marquardt. But with a win, everything could change for Saffiedine, and fast.
After Strikeforce officially shuttered its doors in January 2013, a handful of fighters were retained and transferred over to the UFC, including then champions Saffiedine, Luke Rockhold, Daniel Cormier, and Gilbert Melendez, the latter of whom made his UFC debut in a lightweight title affair in April 2014, and is set for his second crack at promotional gold at UFC 181.
Cormier, who won the Strikeforce heavyweight Grand Prix, has also earned a UFC title shot of his own, slated to face Jon Jones at UFC 182, but a championship fight may have come sooner had Cormier not refused a date with teammate and training partner Cain Velasquez. As for Rockhold, most believe he's just one win away from his own title bout.
And while there is no recipe for earning a shot at the belt, unification, champion-versus-champion, bouts have always stirred interest. Plus, knocking off MacDonald, the UFC's number-two-ranked challenger, would be a major statement.
Sure, there are other fights that could potentially be made. Hector Lombard is in limbo, wading in welterweight purgatory for his chance to "Showeather," or whatever that means. Matt Brown and Carlos Condit will both soon come back from injuries as well, providing a bevvy of worthy opponents. But ever since Tarec Saffiedine took the Strikeforce title, there has at least been some intrigue in him competing for the UFC belt.
Without a win over MacDonald, none of this speculating and hypothesizing really means anything; however, an impressive victory on Saturday could very well lead to a date against the winner of Johny Hendricks and Robbie Lawler, or at least a number-one contender bout. And if Saffiedine is looking sharp, it will most likely be on account of those nasty and lethal leg kicks, his own personal Red Devils.
Check out these related stories:
Fight Doctor - Nate Marquardt's Crazy Thigh Bruise