The All-American Story of Olympic Hopeful Marti Malloy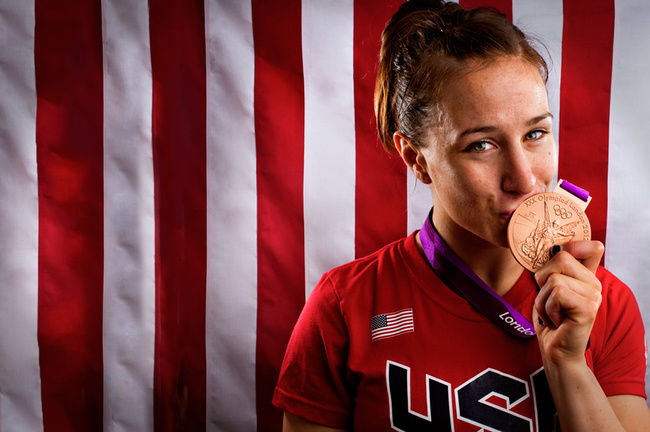 Marti Malloy is a living American story. A product of humble beginnings, Malloy has made a name for herself in the international judo scene through effort, dedication and never letting the hard times get the best of her. Currently, she is ranked 1st in the nation, 3rd in the world, and is also an Olympic hopeful for the 2016 Games in Rio de Janeiro.
Malloy grew up on Whidbey Island, a small community off the coast of Washington State, where many military families settle due to the naval base stationed on the north side of the isle. Her father was a career military officer in the Navy and the benefits of that position eventually led the offspring of the family into the sport.
"There's these gyms called MWR—Morale, Welfare and Recreation—and it's a gym that's there for the enlisted people and the dependents of their family to use. They had a judo class there and me and my brothers joined it because it was free," Malloy tells me in explaining her judoka origins. "Initially it was just fun. We had never done any kind of structured sport in our lives, and on top of that it was like having a family. There are a lot of military families on the islands, a lot of moms whose husbands had gone away deployed. My dad was in the Navy for 20 years, and when you get out you get a punch card that shows how much time you spent abroad or deployed. He spent 12 out of the 20 years away, so you have a lot of families coming together, looking for support."
She began training at the earliest age the recreational center allowed, though wanted to begin a year earlier at the age of five. Showing her promise early, Malloy won nearly every junior match she entered from her childhood into her teenage years. As any youth growing into their adolescence, however, the young judoka wanted to participate in the activities of her peers, an instinct that can easily distract any serious competitive athlete. She attributes her mother as the guiding influence that kept her on track.
"In middle school all my friends did softball, so I wanted to do softball, and my mom said, 'Ok, well the jerseys and the physical exam and all this equipment is going to cost about $250 if you want to do softball. But if you choose to do judo, we can spend that $250 and I can get you a trip to California and you can fight in the junior Olympics again. So which one do you want to do more?' And of course I was always going to pick judo," Malloy recounts. "She would always give me these ultimatums. She would say, "Do you want something temporary or something that will last?' I always wanted to do extracurricular stuff at school too, but she always made me choose."
Aside from being the parental figure teaching how to make decisions, the mother also contributed financially, rallying together any extra money to support her daughter develop further into the sport.
"We always worked hard and my dad always had a paycheck being in the military. We weren't the kind of family that went hungry, but as a family of five, you don't have the luxury of things like spending money on new school clothes. We didn't always have money, and my mom always saved dimes and coins and go to those coin machines to cash them in to pay for all my judo stuff," Malloy says describing her childhood. I ask if the family's financial situation had any influence on her performance during competition. She takes a moment to think about it before she answers.
"For me it felt like I always had to put that money somewhere, like 'Don't waste it'. Of course I always wanted to win. I was always competitive. I didn't just go to the tournaments because I thought they were fun or to just get out of my hometown. I wanted to be the best. But I also knew the hard work that my mom was putting in, all the extra money, every little extra coin she could make, doing whatever outside job it was, she was putting towards me. I think I would have felt ashamed if I didn't do my best, to make the most of that, you know?"
Her mother worked a number of odd jobs, perhaps the oddest being a part-time breeder of purebred Chihuahuas. According to Malloy, Chihuahuas with the right paperwork, history and lineage can go for anywhere from $600 to $1000, a significant side income that allowed the family to send Malloy back and forth to California once she outgrew the training capacities of the naval base. After graduating high school, she made a more permanent home of the Bay Area by enrolling at the San José State University and later becoming the first female captain of a judo team primarily composed of larger males.
"It was my job to keep these guys in line and if people were messing up, I had to yell at them and so on. At first it was hard for me because I was like, 'How do I tell a bunch of guys what to do or expect them to listen to me or respect me?' but then I realized that you lead by example. You work hard and you do morally correct things," says Malloy.
With martial arts still a predominately male venture at the time, it was uncommon for a female athlete to be appointed the lead spot, and though Malloy contests that nobody ever treated her differently due to her gender, the three years she served as team captain didn't come without its challenges.
"I always feel like I come across as kind of like a 'bitch' because it's my job. It's always the person that's in charge that's like, "an asshole" because nobody wants to be told when they're doing something wrong or when they need to be put in line, and here I was like a little 5-foot-3, 125 pound girl who had that job, so people often give that person the title "bitch" whereas if I was a guy, they would say, 'Oh, he's a strong leader,'" says Malloy. "But for me, the one thing I can always back up is that I always give 110%. I always do my best and I always try to be fair, recognize that there are two sides to every story and everyone has a different life and a different perspective that makes them react the way they do, so you have to understand that and try to look at that from both sides so you can make the right decision, whatever it is."
For Malloy, the journey to the top has been one of steady progression. In judo, the ranking process is based on a point system and those points are dependent on the number of tournaments won over the course of a career. Her international ranking began in the high teens and rose in accordance with her tournament triumphs, most recently a Gold at the 2014 Pan American Judo Championships, and of course a Bronze at the 2012 Olympics, making her the second American female to medal in judo, the first being Ronda Rousey.
"Growing up Ronda was the girl that always beat me and it killed me. She was the one I would go back to the judo club and my sensei would yell at me, 'How did you lose to her again?!' And I would say, 'She arm-barred me! What do you want?!'" Malloy laughs in reminiscence. "Sometimes we'd fight each other two to three times in one weekend because we were in two divisions and we'd fight again and she would beat me. I would tell her that she pissed me off because I could never beat her, but she told me, 'No dude, you beat me one time and I was mad at you for the longest time because you were the girl that beat me.' I don't remember. I guess we must have been really young."
In Rousey's new autobiography My Fight/Your Fight, Malloy is credited as one of the only American judokas to have ever bested the UFC champ, though Malloy downplays the significance of the anecdote since it happened when they were kids. I'd argue that regardless of age, the memory managed to leave a big enough imprint to be mentioned in the book and probably speaks to her abilities to operate at such an elite level. In fact, looking closer at their lives and respective judo careers, there are some eerie similarities between Marti Malloy and Ronda Rousey—the Olympic Bronze medal, the strict yet supportive mother-figure, the winning attitude—it seems like the Washington native could easily make the transition. However, despite their similarities, Malloy has no plans on following her predecessor into the MMA arena.
"I'm more of a judo purist, like it's the only sport I've ever done and I don't really feel any desire to do other martial arts. At my age it's not something that I would want to take on and it's also not something that I'm passionate about. I'm passionate about judo. I would just be pretending to care if I tried to do MMA," Malloy laughs. "I'm a fan of it. Not a fan of doing it."
Currently, Malloy trains twice a day, six days a week, interchanging between strength and endurance conditioning with judo practice everyday. Her immediate goals are landing a spot on the 2016 Olympic team and winning a gold at the World Judo Championships later this year in August. She is also studying for her Masters Degree in Mathematics and Computer Science at San José State University. While the tasks of pursuing a Master's degree and gunning for world championships may seem daunting enough, financially speaking, the burden has lessened. Earlier in her career, Malloy worked a number of side jobs in sandwich shops and doctors' offices to support herself through training, but once she began placing at international tournaments, sponsors and committees stepped in and now she can train as a full-time judoka. The change has been a dream come true for Malloy.
"It feels so amazing. There's so much less stress. I'm not worried everyday about whether or not I'll have to skip out on my training to go to work because I have to pay rent, or if I can buy a certain pair of running shoes for my shin splints. These are things I used to worry about and it makes me feel so grateful for how far I've come, and it makes me feel proud too because I know it came from the hard work I put in to become a better player," says Malloy. "When I was like a teenager, we were able to get a grant to buy these Dollamur mats. Those were the first judo mats I've ever worked out on, and then 20 years later I'm one of their sponsor athletes. If someone would have told me as a teenager that I wouldn't have to work and I could make judo 100% of my focus, that my job was to make sure I was in the best condition possible and someone was going to pay for me that, I wouldn't have believed them. No way."
There is a constant tinge of disbelief in the way Malloy speaks about her position in life, despite also having a complete awareness to all the effort she's put in to earn it. It is reflective of the humility she's managed to retain while reaching the top of the sport, and it is at this point that I realize that Marti Malloy represents many of the ideals this country strives for—hard work, dedication, respect and a boldness to step up and overcome the obstacles thrown at us in life. At least for me, there isn't a finer character this country could send to represent itself on a world stage.
Check out these related stories:
Ronda Rousey: From Olympic Bronze to UFC Gold
Ruh-Roh: Another Advanced Judoka Sets Sights on MMA
Judo's Empire Takes on the MMA Rebels