The Australian City of Melbourne Will Welcome the UFC's Octagon in November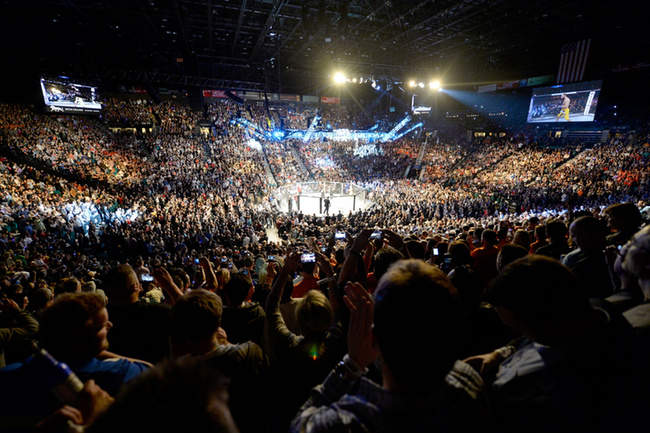 Congratulations to Australia's State of Victoria!
The battle has been won! Mixed martial arts have been legal in Victoria, but the ban over "cages" has kept the UFC away. The ruling Labor Party of the Victorian government, however, has finally lifted the ban over the use of "cages" in mixed martial arts, allowing the Ultimate Fighting Championship to make its way to Melbourne, Australia's second most populated city, and home to one of the world's most enticing venues: Docklands Stadium, which can seat up to 55,000 spectators. Talks of lifting the ban starting floating about in December of last year.
For some time now, fighters, fans and organizers have clamored for the ban to be lifted, arguing that it made no sense for the state to forbid the use of something designated to protect the well-being of athletes competing in mixed martial arts. The ban has been in place since 2008. The argument for the ban claimed that the "cage"—or a fenced-in environment—encouraged street violence and sent a negative message to the youth. Fortunately, those in charge have finally understood that the fenced-in environment is good, and that it encourages safety and protection at all times during a combat.
Australia has been host to six UFC events—one in Brisbane, one in the Gold Coast, and four in Sydney. A couple of weeks ago, the UFC announced that the city of Adelaide would be host to its first UFC event, an event that will feature New Zealander and Australia's adopted mixed martial arts hero Mark Hunt will be getting back into gear and take on the powerful Stipe Miocic, whose last fight was a formidable performance opposite Junior Cigano, a performance perched perfectly atop three consecutive wins versus Roy Nelson, Gabriel Gonzaga and Fabio Maldonado. Adelaide will also welcome Hawaiian Kailin Curran, who faces Australian favorite and astrophysicist Alex "Astrogirl" Chambers.
Now, Melbourne will be host to UFC 193, which will take place on Sunday, November 15th, but will be live in the Americas on November 14th. The card has yet to receive its fights, and an official venue has not yet been revealed.
With that in mind however, if the UFC plans on meeting its growth plans, it would make sense for them to bring this pay-per-view to Docklands Stadium.
The stadium features a retractable roof to ensure perfect conditions at all times. It can be configured into several formations to fit the needs of different sports and entertainment events. This mammoth building could help bring to life a titanic pay-per-view card, maybe even an evening that could make UFC 129 in Toronto pale by comparison.
Now that Victoria has lifted its ban, Western Australia remains as the last state still operating with a ban on "cages".
Check out these related stories:
Adelaide Gets Its First UFC Fight Night Featuring Local Heroes
Running with the Cubans: Edgar Kaliboti's Lifetime of Martial Arts
Australia's Best: The Legendary John Wayne Parr Succumbs to Toby Smith