The Fighters of El Chorrillo
Every day, Elton Brown and his younger brother Humberto walk seven blocks from their home in the notorious El Chorrillo barrio in Panama City to train mixed martial arts with two Americans.
Chorrillo was the center point of the US invasion of Panama in December 1989. Most of Manuel Noriega's paramilitary troops lived in its old Spanish-style slums alongside the descendants of African slaves who'd moved there to construct the Panama Canal in the 1800s. Bullet holes still scar the walls of the neighborhood's dilapidated buildings from the onslaught of Special Forces and Apache helicopters. Panamanians claim that around 3,000 civilians died resisting US troops and in the fires that broke out after tracer rounds hit gas grills in the kitchens of the wooden buildings.
Ten years later, the United States gave control of the city back to the Panamanian government. Since then, judicial corruption and permissive financial and privacy laws have made Panama City the quintessential intersection of global capitalism and local poverty. Development is exploding as drug cartels launder their money by purchasing luxury high-rises, rich South American families buy up real estate, and foreign banking and security industries boom in the relatively unregulated environment. Despite the presence of the canal, a $6 trillion revenue-generating asset, and despite having the smallest population in Central America to care for, Panama is plagued by poverty and crime, much of it in El Chorrillo.
The gym the Brown bothers train at, Alley Cat Fitness Foundation, is in an old monastery that has been converted into a community space called Santa Familia on the far edge of Panama City, in the "consciously" gentrified Casco Viejo. Two American ex-pats, founder Stephen Crissman, a libertarian entrepreneur from North Carolina, and his friend and fellow Brazilian jiu-jitsu instructor John Boyle, opened the academy to provide free training and youth mentoring.
Elton still remembers how surprised he was the first time he saw Crissman and Boyle at the gym. "I showed up at Alley Cat two years ago, and I was expecting to see black dudes," he said. "These two crazy gringos looked up and said, 'You here to train?' And so we just trained together really hard, and I liked it. Now we train everyday. [John and Steve] teach us from the heart, and no one else will teach us for free."
Kids run in and out of the gym all day long. There's no formal class schedule. Whenever someone shows up, John is there ready to teach. Most of the students live in Chorrillo.
After I'd been teaching BJJ classes for a couple of days at Alley Cat, the guys finally started warming up to me. When I asked to see where they lived, they nervously obliged. As Elton and Humberto (and their carefully orchestrated teammates acting as bodyguards) took me into their neighborhood, they opened up.
"I started wrestling when I was 11 years old," Humberto said. "We were in Ancon eating mangoes that fall out of the trees and someone asked us if we wanted to wrestle. Back then, the government used to provide youth wrestling programs. I fell in love and started training every day. Back then there were a lot of kids involved, but the government wanted to build a road where the gym was, so they moved it far away. Most of the kids stopped training because it was too expensive to take the bus. Only the true diehards continued. No one gave a shit about the rest of us because we are poor."
Panama's soccer team was playing Cuba that day, and the entire neighborhood was out, crowding around TVs set up on the sidewalks and in windows. Small food stands were selling grilled plantains and fried chicken, and it seemed like everyone had been drinking all day. When Panama won 6-1, the block erupted. Just as fireworks started to go off in the humid air, National Police zoomed by into the interior of the district. Two dozen marching uniformed officers with automatic weapons followed, chanting, "Doing our job comes first! Dying comes second!"
Unmoved, Humberto continued: "I started participating in MMA in 2001, when I was 17. Back then they would set up these ghetto rings in discotecas and hold no-holds-barred tournaments with no weight classes. Elton would enter them to win money. He would fight six or seven times in one night. He would go in there and just street fight and then use wrestling when it got out of control."
Before finding MMA, both brothers had been successful wrestlers, traveling to Argentina, Colombia, Italy, Turkey, and Serbia with the Panamanian national team. But after the rise of the UFC in the early 2000s it became easier, and more lucrative, to participate in MMA. In Mexico, Lucha Libre continued to dominate the market, but in Central America, people were holding their own MMA events, and gambling on them.
"Promoters would bring in fighters from other countries," Elton said. "The Russians and the Brazilians knew how to do submissions, and we didn't. My first loss was against a 260-pound Brazilian when I was 17. I got guillotined." He grinned. "It feels good to understand the ins and outs of jiu-jitsu now."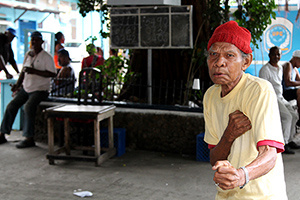 We stopped short of Calle 17, beyond which the barrio was "out of control." Upon entering, they said, I would immediately be lifted of all my possessions by one of several local drug gangs. Two months earlier, nine wooden houses had burned down on the same street. No one was hurt, and the locals believed it was just another organized demolition to force more of Panama's underprivileged out of the waterfront area and into rural housing projects.
As we walked back toward the gym, I asked Elton if he would rather have an Olympic medal or a UFC belt.
"I really want to qualify for the Olympics in Brazil," he said. "I barely missed the qualifier last time. Two years ago, before I met Stephen and John, I would not have hesitated and picked the Olympic medal. But now… I'll take both."
Check out these related stories: