The Guy Who Let Anderson Try Out for the Olympics Accused of Corruption
This Anderson Silva Olympic taekwondo story keeps taking turns for the worse for the former UFC middleweight Champion of the world. Just a week after announcing that Anderson would officially try out for a spot in the Brazilian Olympic national team, the president of the Brazilian Confederation of Taekwondo, Carlos Fernandes, is on the verge of being removed from his position on allegations that he abused the statute of his position.
Fernandes is accused of—between 2010 and 2013—revoking the membership of the Taekwondo federations of the states of Minas Gerais, Sao Paulo and Rondonia without the permission of taekwondo's Superior Tribunal of Sports Justice. The 3rd Civil Chamber of the Justice Tribunal of the State of Rio de Janeiro announced on Monday that Fernandes has five days to undo those actions. He is also accused of the fraudulent hiring of companies as well as the deviation of public monies, among other irregularities.
During his tenure, Fernandes also changed the statute to allow only Brazilians born in Brazil could be eligible for election, forbidding the candidacy of the president of the Sao Paulo Federation, a Korean man named Yeo Jun Kim. Two years ago, the alegations were brought before the Olympic Committee of Brazil, which, at the time provided a new, independent commission to investigate said irregularities. Two weeks later, the Committee gave up on its investigation.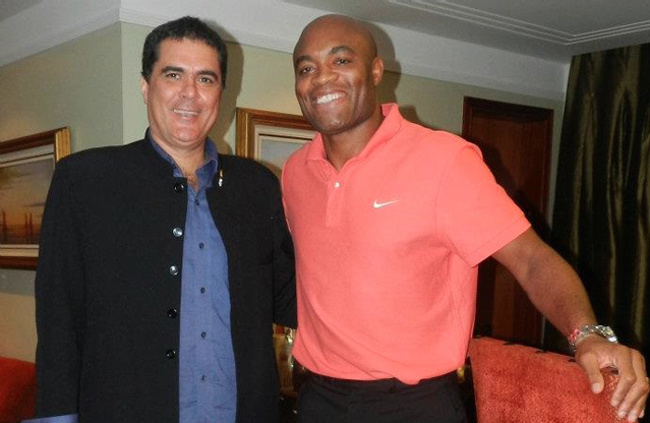 Master Marcelino Barros, former vice president of the Minas Gerais Taekwondo Federation and main plaintiff told Globo that "all it takes is a look at emails from lawyers and the confederation's executives to see that they were planning on acting fraudulently. The Brazilian Olympic Committee neglected the fact that forbidding Koreans from running for the position is unconstitutional.
Fernandes is also being investigated by the Brazilian Federal Police for engaging in unlawful purchasing of tatamis for his confederation in order to pocket some of the money. Fernandes and his confederation paid a food distributor double the price of the tatamis.
It looks like Anderson Silva got in bed with a rather corrupt man in his attempts to make it to the Olympics while he awaits trial from the Nevada State Athletic Commission on account of being flagged for performance-enhancing drugs around his UFC 183 comeback fight verus Nick Diaz. Master Marcelino pointed out what he perceives to be the folly of it all:
"We're a year and a half away from the Olympics and here comes this 40-year-old guy wanting to compete with boys aged—maximum—29-years-old, at their physiological peak. Anderson is screwing up again. He got caught doping, maybe he could just bury his career—he comes to taekwondo, I don't even know why. I see this moment with great sadness."
Check out these related stories:
Anderson Meets Opposition from Brazilian Taekwondo Star, Remains Humble
Anderson Silva Will Officially Try Out for Olympic Games